Is it possible to win big at an online casino?
Expired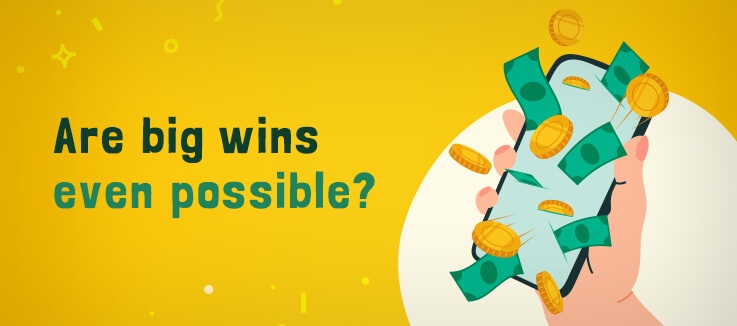 Online casinos such as Fair Go might not boast the glitz and the glamour of their land-based counterparts, but that doesn't mean we can't change your life with one big win!
In actual fact, online casinos are responsible for more online pokie and slot wins than you think.
After all, we're pretty much a mobile casino that you can carry around in your pocket and play at any time.
(Plus… nobody runs bonuses and promotions for the masses like Fair Go).
While brick and mortar casinos are only rewarding VIPs or parking your car for you, we're giving you no-deposit bonuses and daily free spins to use on your favourite games (how do you like them apples, Star City?).
Still, the question remains - is it possible to win big at an online casino?
Well, there's really only one way to find out.
Read on to discover once and for all whether playing with Fair Go pays off!
How probability effects Aussie slots
Ever seen the hit comedy movie, National Lampoon's Vegas Vacation?
Then you'll remember the scene when Clark Griswold (Chevy Chase) is being taken for a ride at the tables, all the while his son is cleaning up on the slots and winning new cars for the whole family.
On one hand, it's a memorable scene because who wouldn't want to win a new car. On the other, it proves that not all casino games (whether in-house or online) are made equal.
Aussie online slots, otherwise known as online pokies, not only offer higher probability than other types of online casino games, but they also list their winning percentage with what is called a Return to Player (RTP) percentage.
You can find this percentage on all the online pokies that we host at Fair Go.
The benefit here is that you can do an approximate calculation as to how much you will win and lose over a certain period of time.
For example, an online pokie such as Bubble Bubble 3 has an RTP of 96%, which is high when you consider all pokies available to play on the internet. Other online pokies might only have an RTP of 80% or less - stay away from those.
At the end of the day, RTP is only an indicator as to your probability of winning. You still need to play smart and take calculated risks in order to bring home the dough.
What's more, you also need to take a little something called volatility into consideration.
Winning on pokies and volatility
Whether or not you can win big at an online casino is a valid question, but have you thought about the fact that lots of accumulated small wins could also lead to a decent-sized haul?
The reason why we bring this up isn't to confuse you. For many people, when they think about winning big at an online casino, they think about that one big payout, the jackpot prize or that random win that totally changes their fortune.
What many people don't think about are pokies that pay out hard and fast but in smaller amounts.
This brings us to the topic of volatility. More specifically, how volatility can affect your ability to collect insane amounts of cash on an online pokie.
For those who don't know, volatility has to do with two things: how regular a pokie awards wins and the value of these individual wins.
A pokie that's denoted as being "high volatility" will pay out massive amounts, but it won't pay out all that frequently.
A "medium volatility" pokie will pay out generous sums more often than a high volatility game, but those payouts will still be few and far between.
A "low volatility" pokie, however, will award wins regularly. The only catch being that these wins will be much smaller than both high and medium volatility wins.
With that in mind, its sometimes possible to win big at an online casino just by playing low volatility slots.
Sure, you won't get that oh-so gratifying rush of adrenaline that accompanies an eye-popping jackpot win. What you will get though is a steady stream of cash flowing straight into your balance as win after win ticks over on your screen.
But like we said earlier - even the highest RTP and just the right volatility means nada, zip and the middle of the donut if you don't bet with your melon.
Tips and tricks to increase your odds
Speaking of betting with your melon, we spoke with VIP punters and lifelong Fair Go members about how they win big at our online casino.
Of course, most of them attributed it to luck. But when we dug a little bit deeper, it was clear that they all have special strategies and methods they use to maximise said luck.
So, without further rambling, here are tips and tricks that are guaranteed to increase your odds of winning on our online pokie offerings!
Practice with free games
Did you know for every online pokie that we host there's also a free version that comes with it?
This free version of the game can be accessed simply by clicking on it in our game lobby. You'll then be taken to the demo screen which looks exactly like the real game.
It's here you can spin the reels and get a real feel for the game in question. You won't be using real money to place these wagers mind you, nor can you win real cash. So, what's the advantage to playing these free games you ask?
Well, just like a game of footy or AFL, the more you practice playing a particular pokie, the better you will get at it.
This will lead to you making better betting decisions when it comes time to play for real cash. Not to mention the fact that you can also play with the added confidence that punting on a familiar pokie brings.
Have a betting strategy
If you want to be less like Clark Griswold and more like his son, here's a piece of advice - make sure you have a betting strategy in place.
Seriously, people underestimate the power of a betting strategy. Then they wonder how they lost all of their deposit so quickly.
A betting strategy is more than just the smart way to play. It's also a fail-safe to ensure that your balance stays in the green.
In saying that, a lot of people also don't know that betting strategies for pokies exist. Well, they do and they're incredibly easy to implement.
One of the most beloved betting strategies that our VIPs use is the Martingale system, which has been modified slightly so that it works for pokies.
Simply pick a starting amount to wager. Then, when you lose, double your stake up until you hit a winning spin, whereby you can restart and begin betting with the original starting wager once again.
The theory here is that the winning bet should recover your losses and give you extra take-home-to-the-missus-or-hubby cash!
Try it for yourself and let us know how it goes. If you do it correctly, you should eventually come out on top.
In saying that, you might already have a betting strategy that works for you. If that's the case, then why are you reading our tips and tricks?
Manage your bankroll
Upon quizzing our loyal VIPs and long-time members about tips and tricks for beginner punters, every single one of them told us that managing your bankroll is key to winning big at an online casino, but what is a bankroll?
Well, bankroll refers to the amount of money that you set aside during a gambling session for the purpose of betting.
The amount generally comes down to personal preference and for how long you believe you'll be playing. Whatever amount you settle on though, remember that it should be an amount that you're comfortable losing.
With that out of the way, we want to ask if you know how to manage your own bankroll? If not, don't stress. Kev the Koala and your mates at Fair Go have got your back.
All you need to do is work out how much you're willing to spend playing an online pokie.
You should then bet small chunks of this amount based on the aforementioned Martingale system while keeping in mind that you should never wager so much that you lose a huge portion of said bankroll in a single bet.
Of course, this sounds straightforward. The key to managing your bankroll effectively though comes down to discipline.
Members who succeed are always ready to cut their losses and try again another day. As for the perennial second-placed punters, well, we don't need to tell you how they wager.
Redeem Fair Go Bonuses
Another tip to help you win big at an online casino is also one of the easiest to do - redeem any and all Fair Go bonuses and promotions that are on offer.
This include deposit bonuses, no-deposit bonuses, daily bonuses and promotions that we may be running at any time during the year. If it's on our promo page, then you need to use it. Otherwise, you're just wasting free spins and extra cash!
What are our most popular Fair Go bonuses, you ask? See below for fan favourites:
Game of the Month - Get a bonus plus free spins on our feature pokie
New Game bonus - Score a bonus plus free spins on a new game (valid either one time or twice daily)
Fair Draw - Deposit during the week for a chance to win a $500 bonus
Cashback - Get 25% cashback on deposits that don't lead to wins
Koala Monday - Top up on a Monday and get a special bonus with a value based on your initial deposit
Bear in mind these are just a few of our promos. If you want to check out our entire range, head on through to this page. Here you'll find all of our current promotions and information on how to redeem them plus the bonus or offer conditions.
Play progressive jackpot pokies
Finally, our last tip to ensure you win big on an online casino is to play progressive jackpot pokies.
This might sound obvious, but you'd be amazed at the amount of people who bypass these pokies for other games.
We don't know why this happens. One win on a blockbuster progressive pokie will have you wining and dining in the lap of luxury for lord knows how long.
Plus, even if you don't win tens of thousands or even million of dollars, you can still enjoy substantial wins and the elevated excitement that comes with playing a progressive game.
It could be the dinosaur-themed game Megasaur, Spirit of the Inca, Shopping Spree II or Jackpot Cleopatra's Gold - take your pick!
The only thing that matters is that you play these progressives at least once or twice a week in addition to your regular go-to pokie.
Now, did we answer the question as to whether you can win big at an online casino? We sure hope so.
If you still have any doubts though, remember that you can always test the theory for yourself by betting with Fair Go casino today.
That should do the trick!
Become a Fair Go winner today - join now!