Kev the Koala's top 10 Australian summer holiday towns
Expired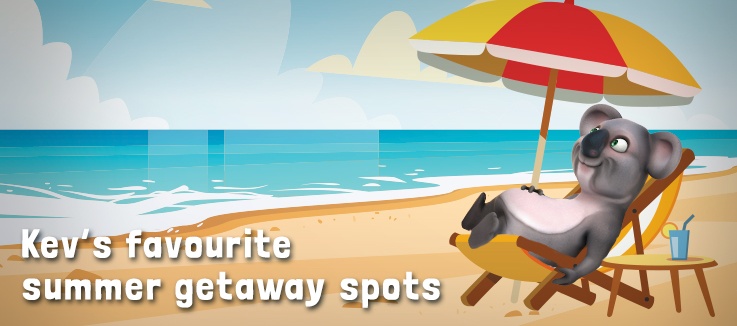 Summer is upon us and you know what Kev the Koala loves doing during the warmer months?
Hitting the road in his trusty Holden to visit some of Australia's most spectacular beach towns. On his list this summer are beachside locales of all descriptions. From chic Noosa to knockabout Gerringong, Kev the Koala cannot wait to share his favourite coastal communities with everyone at Fair Go.
If you're planning a trip this year, whether it be interstate or in your local area, Kev the Koala has you covered. Check out the following article where he breaks down the top 10 Australian summer holiday towns that you've just gotta see. Take it away, Kev…
Noosa, QLD
Noosa has got to be one of the most premier holiday destinations in Australia. It's absolutely dripping with class, which means that there's always plenty to do and look at. From its designer stores to its internationally recognised restaurants and cafes, this is where you come when you want to spoil yourself.
Spend the day strolling up and down Hastings Street and window shopping or lounge about on the white sand beach and enjoy that Queensland sunshine. There are loads of places to discover plus ample bush walking trails for when you're feeling adventurous. Go on and uncover some of Noosa's hidden gems today. And if anyone asks… tell 'em Kev sent you.
Gerringong, NSW
If you're looking for a change of pace, Gerringong is the answer. Situated between the mountains and the sea, Gerringong is an absolute treasure of the South Coast of New South Wales. Known for its local wineries, fantastic waves and excellent accommodation options, I often find myself wondering why I haven't taken up a tree house here yet.
Until I do, I'll be more than happy to spend my days hanging out in this Australian summer holiday town. As an outdoor enthusiast, I simply couldn't ask for a better mix of rural and water-based activities. It's also ideal for honeymooning couples, families and retires though, such is the pace of life in Gerringong. If you want my advice, it's the ultimate place to unwind in nature. So check it out now and book your stay. Your cortisol levels will be all the better for it.
Gracetown, WA
I don't get over to Western Australia all that often, but when I do, I go straight to Gracetown. Not to be confused with Elvis' famous hangout, Gracetown is quite literally koala heaven by the sea. There's a sweeping bay called Cowaramup that's sheltered from most of the massive swells, which means I can swim in calm, crystal clear water till my heart's content.
Not only that, but the town of Gracetown is also sprinkled with charming little fibro shacks, which gives it a real 60s feel. To me this is one of its most captivating traits, that and the fact that Gracetown is relatively quiet most of the year. Active visitors will love the 123-kilometre Cape to Cape Track – one of the most diverse walking trails on earth – just as much as they will love being only 20-minutes from world class wineries.
Yep, that's right. Margaret River is just down the road. Simply hop in your rental car and do a wine tasting, beer drinking of food scoffing tour of the area whenever you feel like it. Just down forget to bring some bottles back with you. Oh… and if you find some eucalyptus wine in this Australian summer holiday town, do let me know.
Freycinet, TAS
Love lush scenery, drop-dead gorgeous beaches and total peace and quiet? Then you're going to love Freycinet in the stunning island state of Tasmania. Surrounded by natural wonders on all sides, Freycinet will inspire, excite and amaze at every turn.
Not to sound like a broken record here, but this is certainly one of the most outrageously striking coastal Australian summer holiday towns that I've been lucky enough to visit. You can walk on over to Wineglass Bay, which is known the world over for its pristine beauty or explore the mysterious yet enchanting Tasmanian wilderness – it's totally up to you.
One thing you can look forward to is that you won't have to share Freycinet with too many other people, given that it's not often that travellers make it this far south in Australia. Take it from me though, it's worth the extra effort. Freycinet will not disappoint. Seriously… where else can you have a famous beach all to yourself? That's more or less unheard of in the modern world. So you best get there quick smart.
Glenelg, SA
Known as Adelaide's most popular beach, Glenelg has an awesome vibe that's all due to there being so many shops, heritage locations, cafes and vantage points from where to watch the dazzling sunsets. It's enough to make you forget the fact you're actually in a city.
Take a walk along the jetty and admire Adelaide from afar then pick up an ice-cream while you're strolling along the Glenelg Foreshore Playground or Moseley Square. Both of which are often buzzing with activity, which only adds to the excellent sense of atmosphere on the beach.
Perfect for families, couples and just about anyone who loves the sand between their paws, Glenelg is one of Australia's most underrated city beaches. Now that the secret is out though, it's high time you booked a flight to the City of Churches and checked it out.
Port Stephens, NSW
Remember those trips to the beach you went on as a child? Well, that's what going for a holiday at Port Stephens feels like. It's somehow the perfect representation of just about every other beachside holiday destination in Australia. This makes it feel nostalgic and familiar at the same time. You can't ask for much more when it comes to a summer escape.
Savour that carefree essence and while away your days under the sun and by the sea. Then after a big hard day of doing sweet nothing, treat yourself to an old-fashioned scone with jam and cream at Inner Light Tearooms. I always ask for some extra eucalyptus whip. It's vacation time after all and I'm expected to put on a bit of extra fuzz.
In any case, Port Stephens will feel a lot like a childhood summer holiday, except this time you're old enough to go into licensed premises. That's what I call a win-win situation.
Robe, SA
Once again, we find ourselves in a serene Australian summer holiday town. This time though we're in South Australia, in a little village that goes by the name of Robe. Steeped in seafaring traditions and flush with interesting landmarks, Robe is where I come to indulge my inner historian.
Located roughly 350 kilometres southeast of Adelaide in Guichen bay, it's the ideal place to simply walk around and lose yourself in its rich past. Pick up a map from the visitors centre and take a walk along one of the many cliff or bush trails or go four-wheel driving along the picturesque Long Beach.
Being South Australia, you can also charter a fishing boat to take you to a favourite haunt of local anglers. For lazier days though, enjoy sailing, kayaking or cruising around its tranquil lakes on a paddleboard. Or if you're the golfing type, grab your clubs or hire a set and go for a quick round at the public golf course.
Merimbula, NSW
Bermagui, Eden, Pambula and Merimbula are all absolute gems on the Sapphire Coast of New South Wales. Merimbula in particular though really shines bright, with more than enough to do and see for people of all ages and backgrounds.
I come down here to see relatives during the winter. There's hardly a soul around and I have plenty of time to catch up with the family. When I'm not yakking it up with my uncles, aunts and cousins at Poteroo Palace in nearby Eden, I'm visiting Ben Boyd National Park and getting back to my roots.
Yep, coming down to Merimbula is highly recommended. Even if you're just booking in for a few days. You'll be able to cram in a lot of activities and meet some of the friendly locals. Just remember that there's some premo camping spots along the coast, so pack a tent if you have one.
Albany, WA
Summer for me is all about enjoying the coastline and taking in the wonderful scenery that Australia has to offer. And there's practically nowhere I like doing this more than in the Western Australian town of Albany. Located at the bottom of the state, it's known for its pretty beaches, such as the secluded Little Beach in Two Peoples Bay Nature Reserve.
On top of that though, Albany is also widely known for being home to one of the preeminent whaling stations in the entire country. Called the Albany Whaling Station, this former whale processing plant is now a museum – fortunately for the whales.
In addition to the whaling station, there's also the Brig Amity, a replica of a ship that brought Albany's first settlers to the coast, plus the nearby Torndirrup National Park. For slower days, head on over to the farmers' market or grab a coffee and check out the docks. If you're there around whale migration season, you may just see some of my good mates passing by.
Make your holiday dreams a reality with Fair Go Casino today.