Meerkat Misfits pokie
Expired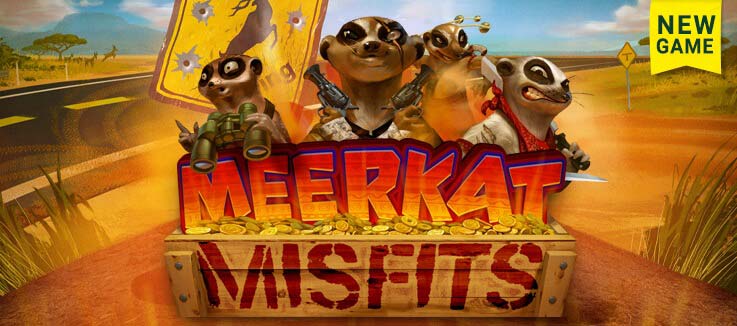 If you thought meerkats were cute and cuddly, think again. These critters are packing more firepower than an entire army and they're gifting x4 multipliers, staged free games and 30-paylines of weaponised fun in this new Fair Go release!!
Game Details
Launch date: 15th June 2022 
Volatility: Medium
Reels: 5
Top award: 2,000-coins
Substitute: Scout, Hunter, Muscle and Commander Meerkat
Scatter: Free Games
Jackpot: Game without jackpots
Paylines: 30 fixed
Bonus rounds: Yes
Bonus type: Free games, prize multipliers, multiplying wilds
Platforms: Mobile, Instant Play
About
If you've ever seen a meerkat before, you'll know they're adorable. You might even say they're cuter than a baby koala... although we wouldn't say that too loudly around Kev.
These meerkats, however, are anything but cute. They actually look like they would prefer to shoot first and ask for cuddles later. That being said, their namesake pokie Meerkat Misfits is anything but fearsome – it's actually one of the most fun and entertaining games around.
From the staged free games bonus round to the multiplying wilds and 30-paylines, this is a game for players of all types.
So, grab your Kalashnikov and join the Meerkat Misfits today for some African safari excitement! Just don't forget to keep an eye out for the king of the jungle... and by king of the jungle we mean your new game bonus!
Gameplay
Set in an apocalyptic African savannah, Meerkat Misfits is a 5-reel, 30-payline pokie that perfectly combines an awesome theme with exciting bonus rounds and features.
For starters, it's absolutely crawling with ways to win. From the medium volatility action that guarantees regular payouts to the 2,000-coin top award, there's no shortage of chances to take home a Meerkat Misfits fortune.
And if that's not enough, the game also features an interesting free game feature round that offers staged wins plus a total of four multiplying wilds that take the form of different meerkat characters – Scout Meerkat, Hunter Meerkat, Muscle Meerkat and Commander Meerkat!
Finally, and this may be the best thing about this pokie, Meerkat Misfits is a totally original theme. Seriously, when was the last time you saw a game with Meerkats in it? If you can think of one, please let us know. If not, hit spin and enjoy winning on your new favourite pokie!
Symbols
The symbols in Meerkat Misfits are almost exactly as you would expect.
There are weapons of all shapes and sizes plus lots of different icons that one can find throughout the desolate African wilderness. This includes street signs, knives, guns and booby traps. These are the various low and high paying symbols and they all pay left to right.
As for the main game symbols, these are the scatters and the multiplying wilds. The scatter is a free games icon that can trigger the only bonus round, while the different meerkat characters are the multiplying wilds. For example:
x1 Wild (Scout Meerkat)
x2 Wild (Hunter Meerkat)
x3 Wild (Muscle Meerkat)
x4 Wild (Commander Meerkat)
Like all pokie wild symbols, these wilds substitute for every other symbol to create winning combos. Unlike other wilds, these ones only appear on reels 2, 3, 4 and 5.
They can also multiply your prizes when they appear in a win, however, don't get excited if a few different multiplying wilds drop onto the reels – only the highest multiplier will be used.
Bonus Rounds
Meerkat Misfits is a battlefield... but it's also bursting with free games. These are triggered when 3 or more scattered Free Game icons land on the reels. The Free Games with Stages will then begin.
Free Games with Stages
Pretty much 95% of online pokies have a free games bonus round, so in this sense Meerkat Misfits is no different. Where it does shake things up though is that it introduces the concept of stages. Here's how that works.
There are four stages in total and you're given the opportunity to progress through the stages (with each stage offering bigger and better rewards).
The first time you trigger the bonus round, you'll play Stage 1. Then, when you activate the next bonus round, you'll play Stage 2. This continues until you get to Stage 4. If you trigger the bonus round for the fifth time, the stages will reset and you'll start again from Stage 1. As for what you can win on each stage, this is as follows:
Stage 1: 7 free spins are awarded and all wilds are transformed into x1 multiplying wilds. You'll get another 7 free games if the round is retriggered.
Stage 2: 8 free spins are awarded and all wilds are transformed into x2 multiplying wilds. You'll get another 8 free games if the round is retriggered.
Stage 3: 9 free spins are awarded and all wilds are transformed into x3 multiplying wilds. You'll get another 9 free games if the round is retriggered.
Stage 4: 10 free spins are awarded and all wilds are transformed into x4 multiplying wilds. You'll get another 10 free games if the round is retriggered.
Where to play?
So there you have it! The most action-packed meerkat-themed pokie we've ever seen.
If you like your animals full of attitude and your online casino games packed to the brim with ways to win, you're in the right place. With a tidy top award, multiplying wilds, 10 free spins and x4 prizes, Meerkat Misfits is a game you'll keep coming back to!
Redeem code "MEERKATBLOG" for 10 completely free spins on Meerkat Misfits
*Max Cashout for this bonus is $180. Bonus expires 30th of June. General T&C's apply.