Epic adventures and mythical prizes in Merlin's Riches
Expired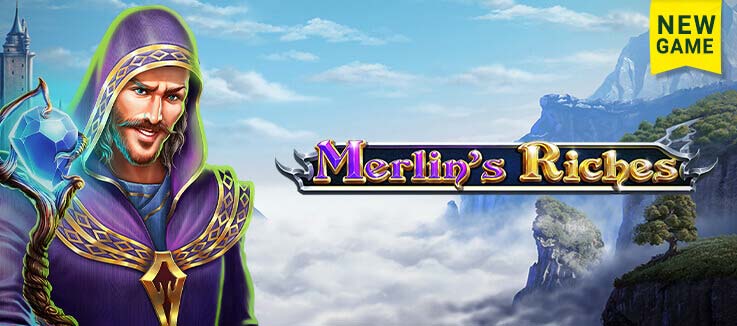 50 free spins, x500 prizes and other mythical rewards abound in the ridiculously bonus-rich new game, Merlin's Riches! So don't think for a second that these payouts are fantasy. They're as real as the legend of King Arthur and they're waiting to be claimed right now.
Game Details
Launch date: 9th November 2022 
Volatility: High
Reels: 5
Top award: 50,000-coins
Substitute: Wild
Scatter: Dragon/Bonus Scepter
Jackpot: Game without jackpots
Paylines: 25-paylines
Bonus rounds: Yes
Bonus type: Free games, expanding wilds, synced reels, gamble/buy feature, multipliers, stacked wilds
Platforms: Mobile, Instant Play
About
Every bloke and sheila has heard the fable of King Arthur – he's that pommie fellow in all the ancient tales about England's origin. But what you might not know is that King Arthur had a sidekick – a wizard with the power to bestow a ridiculously amount of bonus rounds on lucky punters!
Called Merlin, he was always portrayed as an old man with a long beard. But in this game, he's been given a makeover. And let us be the first to say that Merlin is looking good! Of course, looks aren't everything in both the normal and wizarding world. Fortunately, Merlin is a man of substance that can back up his beauty with incredible winning opportunities...
But like we said earlier... don't just listen to your mates at Fair Go drone on. Experience this pokie for yourself by giving it a spin! We guarantee that winning is easier than pulling a sword from a stone. And the attached new game bonus is sure to help too!
Gameplay
Merlin's Riches is a game steeped in fantasy. And like all good fantasies, there's potential for a happy ending. But if you want to score BIG on this high-volatility 25-payline pokie, you need to be on your toes!
It's a 5x4 gameboard which is rather unusual. And there are also two scatter symbols, which is also a bit out of the norm. But these two oddities are balanced by the fact that Merlin's Riches is absolutely stacked with bonus rounds (of which there are 4) and base game features. Although if that's not enough to keep you entertained, there's a 50K-coin top award that adds an extra element of excitement!
As for the actual gameplay, Merlin's Riches is built on the foundation of an epic adventure. This wise young spellcaster will help when he can. And thanks to the user-friendly layout, you won't need to be wizard to decipher the game. It's perfect for everyone despite the fact it's bonus round heavy.
Symbols
The magical sword Excalibur, Knights of the Round Table, the famous King Arthur and Merlin himself could all appear on the reels as you spin. But there's also a bunch of low-paying symbols that are based on the playing card decks – including the A, K, Q and J.
As for the Merlin's Riches scatters, there are two in total. The first is a Dragon that triggers the Free Games bonus round and the second is a Bonus Scepter that activates the big Bonus Feature. Finally we have the wild or substitute. This takes the form of a Wild icon and it can both fill in spaces for other symbols except for the scatters AND transform into expanding or stacked wilds under certain conditions... but more on that later!
Bonus rounds
Like we said earlier, Merlin's Riches outdoes practically every other pokie in the world when it comes to bonus rounds... to the point that it's almost overwhelming! But fear not, brave night. Your mates at Fair Go will break it down for you Camelot-style. So here we go – introducing the Merlin's Riches bonus features!
Bonus Feature
Witnessed 3 or more Bonus Scepter symbols land on the reels? Then congratulations... it's time for the Bonus Feature. When this kicks off, the gameboard goes from 5x4 to 5x3. You then get 3 bonus spins with all symbols during those spins regenerated.
This means that each symbol position can be empty or include a Bonus Symbol or a +1 Spin symbol. And for every 5 Bonus Symbols you collect, there's a meter that grows by one level. These levels are essentially prize multipliers and they run from Level 1 to Level 10 with the following multipliers applied:
x3 
x6 
x9 
x12 
x15 
x20 
x50 
x100 
x200 
x500 
In regard to the +1 Spin symbols, they award you an extra spin. So what you're hoping for here is to land a whole bunch of Bonus Symbols to increase your multipliers AND lots of +1 Spin symbols to keep the Arthurian payout party going.
Free Games
The second bonus round consists of free games. And it begins when 3 or more Dragons appear anywhere on the gameboard. This will see you score 10 retriggerable free games instantly. What's more, there's also the chance to land 1 to 3 stacked Wild symbols at random on each spin.
Gamble Feature
The second bonus round consists of free games. And it begins when 3 or more Dragons appear anywhere on the gameboard. This will see you score 10 retriggerable free games instantly. What's more, there's also the chance to land 1 to 3 stacked Wild symbols at random on each spin.
When it kicks off, you can choose to collect the current amount you've won or hit Gamble in order to try earn more. If you're successful, you'll receive the amount of the free games listed. You can then choose to gamble again or collect the amount gathered so far. If you're unsuccessful though, you'll get the number of free games indicated on the losing coin.
Just note that this scenario AND the scenario in which you reach 50 games results in you not being able to gamble again.
Buy Feature
This bonus round is a little bit different because it's only available during the base game. Essentially, it's a Buy Feature button that you can click on to buy 10 free games at a cost of the total bet x35.
Synced Reels
Again, this one is triggered at random during the base game. And when it begins, two random reels on the gameboard will be synched and identical to one another for every spin.
Expanding Wilds
In addition, if a Wild symbol appears on the Synched Reels, the Wild will continue to expand and fill the entire reel.
Where to play?
While a pilgrimage to Camelot might sound like a bit of holiday fun, we should remind you that it's actually not a real place. That being said, the incredible amount of bonus rounds and lucrative ways to win in Merlin's Riches are the real deal. So make like a Knight of the Round Table and swing for glory! Your mobile device and the Fair Go browser version are your battleground on this epic new game.
Are you ready to take on the might of Merlin and become a legend? Play now and find out!
Redeem code "MERLIN-BLOG" for 10 completely free spins on Merlin's Riches.
*Max. cashout for this bonus is $180. The bonus expires on 20th of November. General T&C applies.