Introducing Mermaid's Pearls
Expired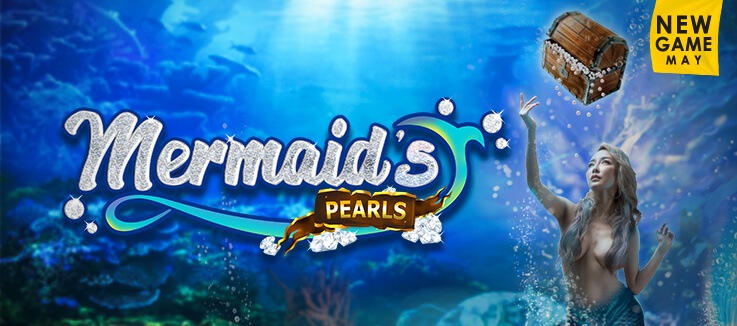 Take the plunge in Mermaid's Pearls...
Mermaid's Pearls takes place deep beneath the surface of the sea in a colourful underwater setting that populated by a variety of sea creatures, shipwreck bonuses and profitable pearls. But that's not all. Dive deep enough and you'll soon discover something else living on the ocean floor. Or should we say… someone else.
Game Details
Developer: Realtime Gaming
Reels: 5
Maximum payout: 12,500 times the bet per line
Collection symbol: Pearl
Jackpot: Game without jackpots
Winning combinations: 3,125
Bonus rounds: Yes
Bonus type: Prize multipliers, free games
Platforms: Instant play, mobile
About
The ocean holds a great deal of mystery. With many sailors claiming that they've seen strange beasts and unexplainable events while out to sea. Mermaid's in particular feature heavily in the tall stories of ancient seafarers, although these sightings are often regarded as myths.
In Mermaid's Pearls, however, you can see one of these legendary creatures with your own two eyes as you dive beneath the waves in a quest to collect giant pearls. In fact, this mermaid, played by Taiwanese internet sensation Web J Sprite, is more than happy to be seen… and even happier to dish out some incredibly lucrative bonuses.
So suit up and take the plunge in this 5-reel all ways pay online pokie today. With a pearl meter to fill that'll reward you with prize multipliers and free games, plus a top award 12,500 times the bet per line to trigger. It's new to Fair Go and ideal for adventurous online casino players who believe in tall stories and massive wins.
Gameplay
The gameplay in Mermaid's Pearls is simple yet slick. With lifelike graphics and an authentic representation of the seafloor. The game takes place at the bottom of a dark blue ocean. Complete with sea life and marine plants that'll make you believe you need to hold your breath to play.
The main feature of Mermaid's Pearls, however, isn't the realistic atmosphere that it successfully creates. Instead, it is the method in which the feature rounds are triggered. Which will have you collecting pearls with every spin and adding them to an accumulating meter that dishes out wins whenever you reach 300 or 600 pearls.
In addition to this, Mermaid's Pearls also boasts 3,125 all ways pay winning combinations, a 5x5 layout and a left to right win direction. With Taiwanese online sensation Web J Sprite playing the game's subaquatic sweetheart whose role is to help you uncover as many pearls as possible.
Symbols
Sea shells take the place of low-paying symbols in Mermaid's Pearls, while Web J Sprite offers better payouts when she appears multiple times. To trigger the game's feature round, however, you'll have to collect as many pearls as possible as opposed to landing three of a certain kind of symbol.
Up to 25 pearl symbols may also randomly appear on any spin during the main or free games screen, with 15 to 25 pearl symbols per spin dishing out prizes paid in accordance to the pearl payout table. For a result that'll make you the lucky winner of a whole lot of booty.
Bonus Rounds
The bonus rounds in Mermaid's Pearls will have you suiting up and taking the plunge quicker than you can say "underwater adventure". That's because both of these bonus rounds can offer up some massive rewards in the form of free games and prize multipliers.
The first of these bonuses is the Shipwreck feature, which is triggered once you gather 300 pearls. During this bonus you'll be whisked away to a sunken pirate ship that's been resting on the ocean floor since the days of gangplanks and peg legs. You'll then have an opportunity to select one giant pearl, which will reveal a winning amount.
The next bonus is the Treasure Pearl feature. This is activated after you successfully accumulate 600 pearls. Once triggered, you'll receive 10 free games that'll start spinning instantly. During this time only pearl symbols and blanks appear on the reels. With any pearl symbol payouts multiplied by random values between 1x and 5x.
Where to Play
You don't need to put your scuba gear on to play Mermaid's Pearls. Nor will you have to charter a submersible and venture to the ocean's depths. With a little help from your finless friends at Fair Go casino you can play Mermaid's Pearls right now using your phone, tablet, laptop or desktop computer.
So go on, what are you waiting for? See a mythical mermaid with your own two eyes at Australia's favourite online casino and try your best to trigger it's two lucrative bonus rounds and a top award that's 12,500 times the bet per line. An adventure beneath the waves and into the realm of legend and big wins awaits.