Play Egyptian Gold at Fair Go!
Expired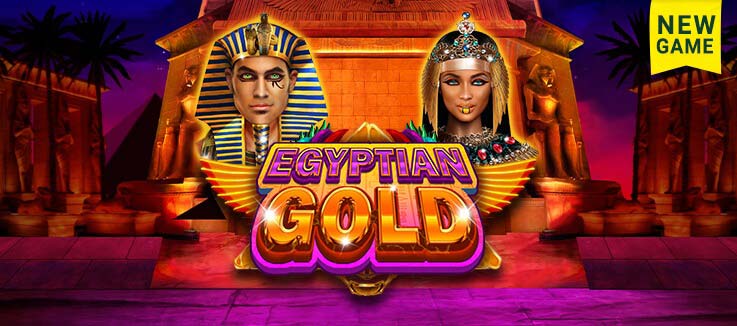 This ain't no pyramid scheme – it's a magical 243-payline pokie that's got more wins than a mummy has bandages. So prepare yourself for a truly spectacular punting experience. Egyptian Gold is the most thrilling Egypt-themed progressive Aussie slot we've ever sampled.
Launch date: 10th of November, 2021. 
Game Details
Volatility: Very high
Reels: 5
Top award: 96,000-coins
Substitute: Wild Pyramid
Scatter: Bonus Logo
Jackpot: Yes
Paylines: 243-paylines (can expand to 576)
Bonus rounds: Yes (Mini, Minor, Major, Maxi)
Bonus type: Expanding wilds, wild reels, random wilds, magical respins, jackpot pick, free games, double prizes
Platforms: Instant Play, Mobile
About
The Egyptians were a pretty mysterious mob.
                          
Always wearing what looked like diapers and building massive pyramids in the middle of the desert. We still don't really know why they did what they did all those years ago, but many people speculate that great wealth still lies in these pointy sandstone tombs.
Unfortunately, we don't see ourselves visiting Egypt to see the pyramids anytime soon. This means we'll just have to settle for the latest game to reach our digital shores, Egyptian Gold. Set in a time of pharaohs and chariots, Egyptian Gold is a progressive 243-payline pokie with heaps of ways to win.
There's a mystical scarab that can completely transform your reels, a gameboard that can expand to 576-paylines and a bunch of other epic features. Most of all though, Egyptian Gold is willing to bestow prosperity and wealth on all those who play it.
Grab your new game bonus from your mates at Fair Go now and give it a crack. You don't have to worry about being cursed by an ancient mummy here… but you should worry about missing monumental wins on this Aussie pokie.
Gameplay
Unlike the discovery of the pyramids, there will be no digging around in dirt or walking down cobwebbed catacombs in Egyptian Gold. Instead, the entire game takes place at the foot of a grand monument. Complete with neon lights and epic music… it feels more like this pyramid is in Las Vegas.
                    
Consequently, the gameplay is glamorous. The volatility is very high, which means that when the wins come… they come hard. There are also 243-paylines that can expand to 576 thanks to a special function of the wild symbol. The top award is 96,000-coins plus there's a mystical Scarab creature that can trigger five different bonus rewards at random.
Yep, Egyptian Gold is pretty solid on all fronts. From the atmospheric graphics to its fresh soundtrack. You won't be bored playing this 5-reel title.
Symbols
Stories of vast riches hidden in the tombs of ancient pharaohs have become commonplace these days, but so have the curses that come with them. If you would rather win big then break out in red spots or see it raining frogs, we suggest checking out the symbols on Egyptian Gold.
The low-paying symbols come in the form of card suites, such as Aces, Diamonds, Clubs and Hearts. As for the high-paying symbols, you'll see them appear as magical icons, glowing hieroglyphics and even an Egyptian queen.
The substitute in Egyptian Gold is a Wild Pyramid, which can expand to create 5 reels (which then creates 576-paylines) and make all symbols on the reel turn into wilds when it appears on reel 3. The scatter symbol, on the other hand, is a Bonus Logo. When 3 of these reveal themselves on the reels, you'll be taken to the Free Games Pick Bonus feature.
Bonus rounds
If you thought the pyramids were impressive, then you're going to be rolling over in your sarcophagus with these bonus rounds. Unlike other games, these can be triggered either at random by the mystical Scarab, Wild Pyramid substitutes or Bonus Logo scatters. See below for more info about Egyptian Gold bonus rounds:
Super Expanding Wild
This is triggered when 3 Wild Pyramids land on reel 3. The wilds will then cover the entire reel and expand reels 2, 3, 4 and 5 making the game 576-paylines.
Scarab Random Features
The mystical Scarab can fly across the reels at the end of any spin to award one of five different feature rounds. Four of these are triggered at random by the Scarab, while the Free Games Pick Bonus Feature can be triggered by either the Scarab or scatter symbols. Below are the four that are triggered at random.
Wild Reel: The Scarab will cover any of reels 2, 3, or 4 with wild symbols and make it 4 rows high (324-paylines) before the winnings are counted
Random Wilds: The Scarab will drop wild symbols on the reels randomly. All pays are evaluated after the Random Wilds feature is completed
Magical Respin: At the end of a losing spin, the Scarab will respin all reels and award a big win to the player. This feature is played at the bet of the triggering spin and the bet cannot be changed
Jackpot Pick: The Scarab may appear at the end of a base game spin and give you 12 different symbols to choose from. The aim here is to match 3 of the same symbols. If you manage to match 3 identical symbols, you'll be awarded a progressive jackpot (Mini, Minor, Major or Maxi). Note that if this feature begins while autoplay is toggled, the game will choose the selections at random on your behalf
Free Games Pick Bonus Feature
This bonus round can be triggered either at random when the Scarab comes on the screen or by 3 Bonus Logo scatters. When this happens, you can choose one of the following bonus pick options to play:
Option 1: Guaranteed Super Expanding Wild – You get 5 free games with a Super Expanding Wild symbol guaranteed on reel 3 (reels 2, 3 and 4 are four high and the entire reel 3 is covered with wild symbols)
Option 2: Wild Reel On Every Spin – You get 8 free games. On every spin, one of the reels (2, 3 or 4) becomes wild and four rows high (324-paylines)
Option 3: Super Expanding Wild Paying Double – You get 10 free games. The Super Expanding Wild feature occurs with a higher frequency and a Super Expanding Wild doubles the pay of winning combinations that it substitutes in
Where to play?
A trip to Egypt sounds lovely, but why fly when you can get rich playing Egyptian Gold from home? Available right now on iOS and Android devices plus both laptops and desktops, this 243-payline pokie has enough bonus round wins for everyone. Grab your new game freebie and play it today at Fair Go casino.
Blog Bonus
(available after the game's launch on the 10th of November, 2021)
Redeem code "GOLDYBLOG" for 10 free spins on Egyptian Gold.
*You must have made a deposit in the last 50 days to be eligible for this bonus. General T&C's apply.