Fair Go's getting a brand spanking new mobile casino lobby
Expired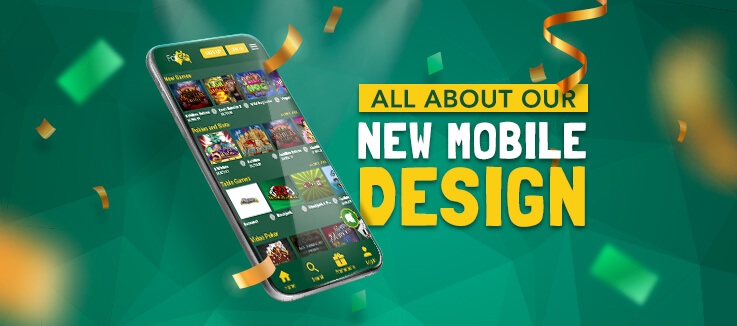 Hold onto your Akubras people. Fair Go is proud to announce a stunning new development when it comes to online casino gaming.
Our brand spanking new mobile casino lobby is live soon. It comes with all the bells and whistles. So say g'day to a more user-friendly gaming experience, faster access to your favourite titles and a simplified deposit process. Not to mention graphics that will make even the most seasoned players double-take.
Fair Go has spared no expense and we couldn't be more thrilled to share our latest improvement with you. Are you ready to play with Fair Go casino like never before? Then read on and learn all about our latest online mobile casino lobby update below.
Why are we updating our current mobile casino lobby?
Not to say our old lobby was a few meat pies short of a bakery. In fact, we love our existing setup and we know many of you do too. The thing is though, Fair Go is all about giving punters such as yourself a fair shake of the sauce bottle. That means making your playing experience better whenever we can.
We've also noticed that more and more players are swapping out desktop and tablet devices for mobile phones. This shift in the way you consume content and play your favourite pokies has led us to optimise our interface for mobile users. But what's so damn awesome about this new design?
What's so good about its new design?
Well firstly, the entire lobby will be filled with pokie titles broken up into different categories. This is different to our current lobby in the sense that you will be able to open Fair Go on your mobile device and find your favourite title almost immediately.
Another way that our new lobby shakes things up is that it makes depositing, contacting customer support and searching our casino much, much easier for mobile users. This in turn ensures you can dedicate more time to winning instead of wasting precious playing minutes on depositing or looking for a specific pokie.
Essentially, your ability to navigate throughout our site using a handheld device has been simplified. You can now roam about Fair Go in a smooth, fast and seamless manner. This will no doubt translate into an overall better online casino playing experience for every single one of our members.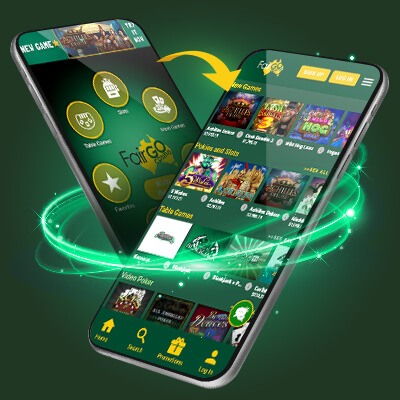 Is it available to both iOS and Android users?
Of course. Fair Go's new lobby has been optimised to fit systems and screens of all types and sizes. This includes both iOS and Android mobile devices. In this day and age, we wouldn't dream of releasing an update for our online casino without also making sure it can be applied to both Apple and Android gamers.
Which benefits can you look forward to?
If you're still curious as to how our new mobile casino lobby will change your playing experience though, you can find out more about the benefits it will bring right here. Take note that there are plenty of other unassuming and surprising ways that our lobby will make every day gaming far superior to what it is now. The following four benefits simply represent our preferred examples.
Find your favourites titles all in one place
Do you ever get so keen to play an online pokie that all patience goes out the window?
Don't worry, you're not alone. Our most talented gamers know that as with all things, the more time you spend gaming, the higher your chances are of reaping a solid return. After listening to fellow members, we realised that the number one way we could make your experience with us better is by putting all of our best titles on the main lobby screen.
Now when you open Fair Go on your mobile, you'll see rows upon rows of games just waiting to be played. All you need to do is click on the category or pokie that you want to try and off you go. Simple, right?
It's now easier the ever to top up your account
If you like fast gameplay and even faster depositing, then you're in luck. It's now easier than ever to top up your Fair Go account due to the new and improved deposit button, which has been moved to the main lobby.
With this recent change you won't have to click through to a specific page. Instead, you can simply click or tap the deposit button and top up using any of the following payment methods:
Bitcoin
Credit card (Mastercard and Visa)
Neosurf
POLi
Flexepin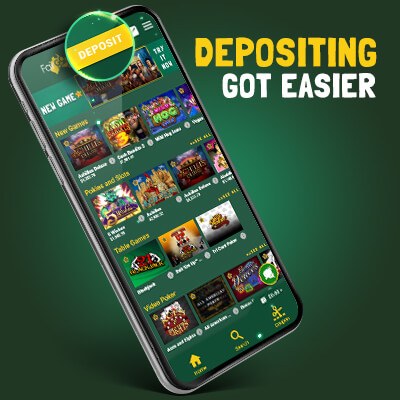 Contact customer support with just a couple of clicks
One thing we pride ourselves on at Fair Go is the fact that help is always there when you need it. But asking for help should be made easier when possible. That's why we've ensured that you can contact our customer support team with just a couple of clicks.
How it works is that you open the burger menu on our lobby screen. You can then click the "Contact Us" button. Once you've done this, you'll be able to access all of our available contact details. Oh… and we're also still open to your requests 24/7. That's one thing that will never change.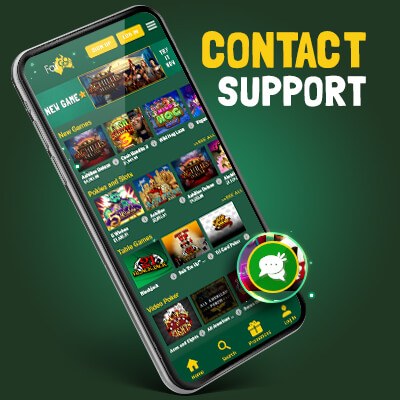 Enjoy the convenience of an enhanced search feature
Missing remotes suck. Losing one of your favourite shoes also sucks. But not being able to find an online pokie when you really, really, really want to play it is a downright bummer. Never miss out on trying a new title or flexing your pokie playing skills on a classic game. With our enhanced search feature, you can find what you're looking for in two shakes of a koala's tail. Actually… make that one shake.
We aren't messing around. This new online mobile casino lobby is one of our proudest accomplishments. Don't just take our word for it though. If you're reading this on our blog page right now, click on over to our lobby and check it out. We hope you enjoy this fresh improvement as much as we enjoyed making it.
Get ready to enjoy the benefits of our brand spanking new lobby!