28 online gambling terms you should know
Expired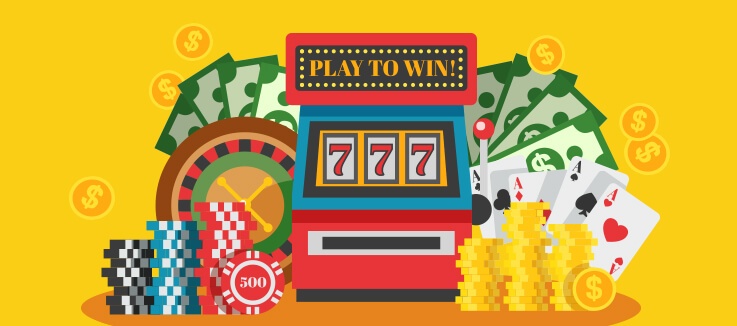 28 online gambling terms you should know
With so many strange words and industry-specific terminology, the world of online casino gambling often seems downright bizarre.
Like seriously… can you actually have a blind bet in Punto Banco with a junket player before being eighty-sixed? Not sure? Neither are we to tell you the truth. One thing we do know though is that the reason why these expressions exist comes down to the fact that many casino games have been around for centuries. And as the gambling industry has developed, so to has the language it uses. To the point where it can seem like you need a degree just to understand some of the vocabulary even though the games themselves might be easy to learn.
For some people, this can make online gambling pretty intimidating. So with that in mind we here at Australia's favourite online casino have decided to help clear away any misgivings you may have about our diverse slang. In the hope that you become a confident gamer who knows the difference between snake eyes and bingo wings. Let's dive in and learn some online gambling terms then, shall we?
1. Deposit
A deposit refers to the amount of money that you've nominated to put into your online gambling account. These deposits can usually be made directly via a bank transfer or with some type of bank card, however some casinos also accept Bitcoin and other forms of payment such as prepaid cards.
2. Withdrawal
When you request money from your account, this is called a withdrawal. This money could be winnings that you've accumulated or cash in your account that you do not intend on using. Most casinos have a minimum withdrawal amount with some taking an administration fee in the case where a player does not wager his deposit at least once before requesting a withdrawal.
3. 243 ways to win pokie
An online pokie with five reels and three symbols on each of those reels is called a 243 ways to win pokie. With a 243 ways to win pokie, every winning combination of symbols from left to right will generate cash if it appears on your screen. You can find these types of pokies at pretty much all online casinos and because there are essentially no paylines, you can be sure to walk away with some cash if you hit several reels in a row.
4. Paylines
Also known as a betting line or winning line, paylines are the line that provides a payout based on the winning combinations. You can only win payouts on the lines that you bet on. This means that if you only bet on 10 of 25 paylines but the winning combination lands on a line you didn't bet on, you get nothing for that combination. In order to increase your chance of winning, you should select all paylines before every spin.
5. Casino inbox
Your casino inbox is a feature of your online account that allows you to receive messages from your casino. These messages normally relate to upcoming promotions and special offers, although they can also be private messages sent between you and the casino's support team.
6. Grid
The layout of your online pokie is often referred to as the grid. This grid may be clearly defined with borders or it could be a rough area in which all winning combinations and symbols appear. The most common type of grid layout is the 3x5, which is an online pokie with 3 rows and 5 columns.
7. Comps points
Comps points is jargon for 'complimentary points'. These are given to players for playing a specific game or during a certain time of the month and can normally be cashed in for some type of loyalty reward. At Fair Go, we offer players comp points the more they play with us, with 100 comp points able to be traded in for $1. During our Game of the Month promotion comp points are doubled, which means you can earn cold hard cash twice as quickly as usual.
8. Freebies
The term 'freebies' can refer to anything gifted to you by the casino that is free. In most cases, freebies come in the form of free spins. Freebies can also mean you receive a free cashback bonus for playing a particular game.
9. Koala's Diary
Every week our mascot Kev the Koala writes a detailed journal entry that is then published online along with his weekly email. This journal is affectionately known as a koala diary and in it is a short anecdote about Kev's life experiences or his travels and a free bonus. Needless to say, Kev's koala diary is incredibly popular amongst Fair Go members with many telling us they always look forward to finding out what everyone's favourite koala has been up to.
10. High roller
A player who consistently bets large amounts of money at an online casino is called a high roller. In some countries the term 'high roller' is also interchangeable with the phrase 'whale'.
11. Reel
A reel is a column where slot symbols are located on your grid layout. These reels spin in order to create winning combinations.
12. Promos
Promos is a contraction of 'promotions' and is used when referring to either one-off or regular special offers that an online casino runs. In relation to Fair Go casino, examples of promos include Hallowheel and our special New Game promo. If you want to maximise your online casino experience, we advise you to always be on the lookout for new promos and to take advantage of existing ones.
13. Scatter symbol
Triggers free spins and activates a game's bonus round when a certain number appear. For this reason, scatter symbols are one of the best symbols that you can land on your reels. They can also appear on any line even if they're not part of a winning payline.
14. VIP
A 'very important player'. Usually used in relation to someone who has remained loyal to an online casino over a certain period of time and bets a higher amount of money than your average punter. The VIP is generally treated to bonuses, free spins and comp points as reward for their loyalty.
15. Bonus
Also known as an 'online casino bonus' or just a 'casino bonus'; the bonus is an incentive offered to players that can take the form of a deposit bonus, a coupon bonus or a free spins bonus. Bonuses are usually sent via email or directly to your casino inbox and should be redeemed within a certain space of time. They can also be applied to only one title or across multiple games. Bonuses are designed to make your playing experience more exciting while also boosting your chances of winning.
16. Wild symbol
A symbol that substitutes for every other symbol except scatters. Is favourable in the sense that it can serve as a bridge between other symbols in order to create winning combinations.
17. Expanding wilds
Like the joker in a deck of cards, expanding wilds substitute for other symbols to turn a losing combination into a winning one. They are called 'expanding' wilds because they grow to cover the entire reel they land on, transforming all other symbols above and below it into wilds as well. Like normal wild symbols expanding wilds won't be able to substitute for scatter symbols, however they can still dramatically increase your odds of winning.
18. Game of the Month
Signifies any title that is selected to be the feature game for a particular month. While listed as the feature game, players will receive rewards in the form of free spins or deposit bonuses for playing it. We also offer double comp points whenever you play a Game of the Month title. This allows you to accrue comp points twice as quickly as usual to exchange for cash. See our definition of '7. Comp points' for more information on this.
19. Free Spins
May also be called 'extra spins' or 'casino spins' depending on the casino you're using. Essentially this term refers to any spins that you may win on an online pokie within a base game or a feature round. It can also extend to cover any spins that we provide you with as part of a special bonus or promotion.
20. Jackpot
Usually represented by either a minor or major amount, the jackpot is a prize rewarded to online casino gamers for landing a particular winning combination. These days, most jackpots are progressive. This means that the jackpot amount is linked across different machines, games, websites and even other casinos. Consequently, the amount that you can win from hitting a progressive jackpot can be staggering. Most progressive jackpots however are only awarded on max bet spins.
21. Max bet spin
A wager placed with the maximum number of coins or credits. A max bet spin puts all of the pokie's lines in play and can result in a massive payout or even a jackpot.
22. Multiplier
Also known as a 'prize multiplier'; a multiplier is a symbol with a certain value that will multiply your winnings. Multipliers are often added to your bet during a feature round.
23. Feature round
Most games have a special round that is triggered by a predetermined number of scatter symbols or another special function. This special round is called the feature round, however it can also be called a 'bonus round'. During the feature round, you can look forward to having multipliers applied to your bet that will greatly increase your winning amount. An upgrade on the base game.
24. Cashback
Any cash that is refunded as bonus money or even real cash is called 'cashback'. The amount of cashback that you receive is more often than not represented as a percentage of your net losses. Given that you have probably already used up your funds when it is offered, it makes sense to take a cashback offer up.
25. Punter
A casino player or someone who is wagering money. Commonly used within Australian and British gambling circles. Can therefore also refer to a gambler or a speculator.
26. Odds
Number used in gambling that are by definition an expression of the likelihood of some possible event. When we talk about odds in the context of an online casino for example, we are talking about your chances of winning. Odds do not necessarily reflect the probabilities of winning.
27. Base game
The main part of any online pokie as opposed to the feature round. Where all bets are placed and the bulk of the game takes place. Serves as the precursor to a variety of extra features. All triggers for a feature round will be activated within the base game.
28. Wager
The amount you nominate to bet on a spin, hand or play.