Our best Valentine's Day-inspired pokies
Expired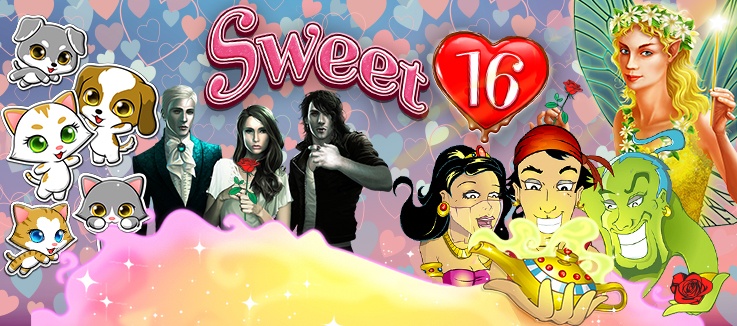 What do you have planned for Valentine's Day? Will you take a traditional approach and woo your better half with a candlelight dinner? Or are you more inclined to do something a little bit left of centre?
                          
Here at Fair Go, we believe in erring towards the later. So instead of booking a table at a swanky new restaurant, we suggest you get yourself in the mood for romance by visiting our casino and playing any one of our loved-up online pokies.
There are heaps of titles for you to choose from and all of them will set your emotions aflutter one way or another. Whether it's those vampires in Eternal Love who prove even the dead have a heart or Crazy Vegas, which is set in the shotgun-wedding capital of the world. We've collated a list of games to help make your Valentine's Day truly special.
Read on to discover more about these titles below and remember that there's no better gift to give your loved ones on the 14th of February than a gift that's come straight from the heart. The second-best gift, however, is a share of your jackpot winnings.
Click here to take a spin on our magical wheel of love and discover who your special date is and enjoy some awesome bonuses!
1. Eternal Love
Twilight made everyone batty for vampires, but that love story was only the tip of the stake. Eternal Love is the real MVP when it comes to vampire love stories.
Set in a gloomy castle that's framed by a gothic-style backdrop, this 5-reels and 243-payline title may not seem like an ideal Valentine's Day pokie upon first glance. The reason why it makes the cut is because of the storyline, which has two male vampires vying for the affection of one lovely female vampire. 
The number of features in Eternal Love is also worth mentioning. There are multipliers and free spins to encounter, but the biggest feature of Eternal Love is the Life Force Metre, which has a win value of x3 to x100. The Extended Life feature round is another element of Eternal Love that holds great promise for all you heartthrobs out there, since it can deliver a multiplier that goes as high as x1000 the triggering bet. If that doesn't have you swapping chocolate boxes for coffins in an attempt to get on these vampires' good side, we don't know what will.
2. Purrfect Pets
There's no better way to win over your heart's desire than by gifting them a cute pet, although playing Purrfect Pets with Fair Go casino is probably just as effective.
Sweet and adorable don't even come close to describing this 5-reel and 25-payline online pokie that's centred around a bunch of cartoony cats and dogs. Simply show this to your partner or the person you have a crush come Valentine's Day and watch them swoon.
Cuddly characters and bubbly soundtrack aside, Purrfect Pets is no wilting bone in the features department. The cat symbol triples all wins and adds 10 free spins when it appears. Land 3 or more dogs and you'll also get 10 free spins and a x2 multiplier which doubles your wins. Combine these features with the progressive jackpot and Purrfect Pets is clearly an online pokie of the highest pedigree. Play it with Australia's favourite online casino today.
3. Crazy Vegas
Vegas is the city of shotgun weddings and over the top displays of romance. As such, it makes sense that we would include Crazy Vegas.
Designed as a 20-payline progressive online pokie, Crazy Vegas is a homage to all that's fun and entertaining about the neon sign capital of the world. If you've ever dreamed of getting married on the strip or want to inspire your partner to consider a fast (and affordable) chapel wedding, Crazy Vegas deserves your attention.
The Crazy Vegas pokie looks somewhat like an American slot machine. As for the bonus rounds, 3 free spin chips on reels 2, 3 and 4 will activate the Free Spin feature while also adding a prize multiplier to your value, with the amount of free spins awarded based on the sum of the first two chips, while number three shows the multiplier. Additional prize multipliers can also be won by triggering the Big Bonus feature. Who knows? Manage to win big on this entertaining pokie and a trip to Vegas might be on the cards.
4. Aladdin's Wishes
Lady and the Tramp, Great Expectations and Titanic. These are all enduring love stories that prove even a humble man can win the affection of a woman from the upper crust.
The street urchin from Agrabah that we know as Aladdin is but another example of man's ability to catch the eye of a noble lady, which makes it a fantastic online pokie to play when Valentine's Day rolls around. The only downside is we can't promise you'll encounter a smooth-talking genie.
What we can promise when it comes to this popular pokie is wealth and riches in the form of feature rounds. The first of which is activated by, you guessed it, a magic lamp. Land 2 of these to win a x2 multiplier or 3 or more to trigger the Aladdin's Wishes bonus feature, which can award up to x100 multipliers or up to 25 free spins with all wins doubled. Luckily there's also a random jackpot for you to take home, which is especially great since we all know the fastest way to someone's heart is with a massive pokie win. 
5. Bubble Bubble 2
We all like to think our choices in love are equal parts heart and mind. The truth is that sometimes there are other factors that come into play, such as those from more malevolent forces.
                   
Those two sassy witches in Bubble Bubble 2 could be considered dangerous since they'll make you fall head over heels for their pokie. It's not all bad news though, because this 5-reel and 50-payline title rewards those who give into their dark side with a cauldron full of generous bonus rounds and a progressive jackpot.
If we were to go through every spellbinding aspect of Bubble Bubble 2, we'd be here till the black cats come home. For now, all you need to know is that this is a great Valentine's Day pokie to play if you've got a thing for scantily clad sorceresses. In addition, it's also the ideal title to try on the 14th of February given that it can award up to x10 multipliers and more free spins than you can poke a broom at. If you can't find a gift for your partner with the potential winnings from this online pokie, you might really need a magic spell to make you lucky in love.
Click here to take a spin on our magical wheel of love and discover who your special date is and enjoy some awesome bonuses!
Fall head over heels for Fair Go casino by visiting our online casino today.