Our top 5 best winter-themed casino pokies
Expired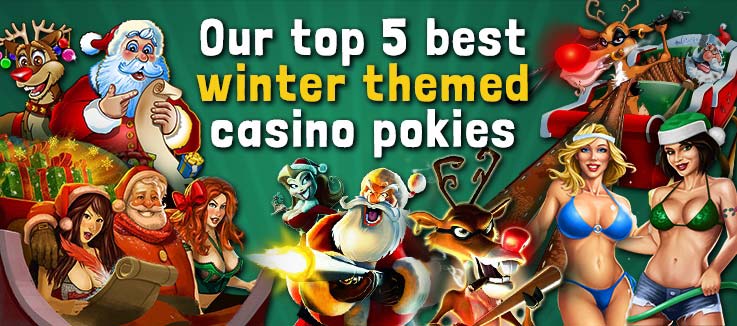 We've more or less made it through the deepest throes of winter in Oz. There are, however, still snowflakes falling on the alps. The ocean has also dropped more than a few degrees and beanies, trackie-daks and Ugg boots are still more or less the default daily garb for many Aussies… including Kev the Koala.
It's certainly a change of pace compared to summer, but sometimes its nice to have some reprieve from a southern-hemisphere sun that gets so hot it turns sidewalks and steering wheels into molten lava. It's also nice to spend time indoors on the couch with your phone and Fair Go or on your laptop or desktop playing our favourite pokie games while you're waiting for winter to end.
For those of you who like the sound of a cosy Fair Go session in front of the fire or heater, we've come up with the definitive list of our most popular winter-themed casino pokies. Some are super cool, others will ignite your wallet but all of them are guaranteed to entertain. So instead of mindlessly watching Netflix, check out this celebrated collection of winter pokies today, starting with the amazing, the incredible and the fantastic Santastic!
Rudolph Awakens
There aren't many things that strike fear into the hearts of our team here at Fair Go. Bushfires are one, as are any sharks that Kev the Koala hasn't already befriended. But after playing this 30-payline pokie, we can add one more thing to that list – Rudolph the fighting reindeer.
Yep, you read that correctly. Our four-legged friend from the fable and fairytale that you all knew and loved as a wee little Fair Go'er has traded the glowing nose for a burning desire for payback in Rudolph Awakens. In what we can only assume is a retaliation for all the years as an unpaid worker for Santa, Rudolph has armed himself to the antlers and made it his mission to take down Christmas.
In what feels like a fiery winter-themed casino pokie, Rudolph Awakens will certainly rouse your passion for big payouts. With a top award of 50,000-coins, 10 free games plus a Rudolph wild symbol that can cover reels to create bigger prizes and gift more free games.
Don't let that intimidating-looking reindeer put you off. Rudolph Awakens is another winter-themed casino pokie that you just can't miss. Find it in our games section today and remember to bring your a-game, because Rudolph sure has.
Santastic!
Christmas in the northern hemisphere takes place during the height of winter, which means that there are plenty of winter-themed casino pokies that also feature the Big Red Man. Santastic! is but one of these pokies… and we're not complaining about the Christmassy vibe.
This 5-variable payline, 3-reel online pokie really makes you feel like the holiday season is upon us even though we're south of the equator. We reckon it must be the fact that Santastic! comes with a bunch of awesome gifts, such as the local progressive jackpot and the 2,500-coin top award. But it could also be because in Santastic!, you'll be greeted by a snowy landscape, candy-cane colours and images of Christmas and winter everywhere you look.
Besides these features though, Santastic! will also warm you up with its ability to double, triple or even x6 prizes. Not only that, but you can also trigger the Festive Feast or Jackpot Spins bonus rounds for a whole stocking full of awards that include the top award, 1 or 3 jackpot spins or 3, 10 or 25 free games. Play it now and enjoy watching Santa come early this year with some epic prizes in tow.
Naughty or Nice III
What do Santa, a car wash and some sweaty tropical heat all have in common? You can find all three of them in the 30-fixed payline pokie, Naughty or Nice III.
One of the racier winter-themed online pokies ever to grace our casino, Naughty or Nice III is the sequel that has no equal. Not only do you get a double dose of beauty thanks to Santa's buxom helpers, but you also get so many opportunities to win you'll think you've arrived in pokie heaven.
Try your luck on the Minor or Major progressive jackpots that are both randomly triggered at the end of each spin. Then move on to the top award that pays out 500-coins at the drop of a fluffy red and white hat. The real wet 'n' wild fun begins when you land either the Naughty Girl or the Nice Girl symbol or the Naughty or Nice III logo scatter.
When this happens, there's a chance you'll score up to 7 free games, double wins, expanding wilds or 5 to 10 free games on the Lucky Feature bonus round. What we're saying here is that while this isn't a traditional winter-themed casino pokie, it'll certainly give you the chills if you pick up a win. Just promise not to tell Mrs Claus what that jolly big Casanova of hers has been up to.
Rudolph's Revenge
Just when you thought Rudolph couldn't get any more terrifying, he arrives in a snowstorm of fury and feature rounds in the hit winter-themed casino pokie, Rudolph's Revenge.
Taking place on a blizzardy battlefield, Rudolph's Revenge is in the same vein as Rudolph Awakens. The reindeer protagonist is presumably upset about an issue with Santa's payroll. He then arms himself to the teeth with an assortment of weapons and prepares himself for war.
Join this hoofed hoodlum in his struggle to overthrow Mr Claus on 50-paylines. There's a top award of 5,000-coins on offer plus a scattered Present Bomb symbol that awards 7 free spins instantly and doubles your winnings.
What's more, Rudolph is the in-game wild which means he can substitute for all other symbols except the scatter and also award a x2 multiplier. If that's not enough though, you can also trigger the progressive jackpot if 5 Rudolph wild symbols land on active paylines.
Here at Fair Go we consider ourselves lovers, no fighters. But when it comes to helping the downtrodden and the battler, we don't mind getting our hands dirty. Give Rudolph's Revenge a crack today and help that crazy reindeer seize the North Pole for himself.
The Naughty List
We've all heard of both kids and adults alike waking up on Christmas morning to a big lump of coal, but in The Naughty List it seems that Santa should be the one who's punished for his bad deeds. The reason being that the Fat Man has given Mrs Claus the flick and is shacking up with two beautiful females.
Step into his bachelor pad today, complete with shag carpet and a romantic fireplace setting, and do your best to reap the rewards that this devilishly fun winter-themed casino pokie offers. This includes a Minor and a Major progressive jackpot and a Santa wild that can create extra wins across the reels.
For those of you who are feeling particularly bad, you can also do your best to land The Naughty List scatters to earn wins x500 your stake plus activate the feature round for free spins and double prizes. Now, we don't condone getting up to mischief, but when you've got two ladies as lovely as Bridgette and Rhonda, we won't stand in your way.
Visit Fair Go's online pokies and slots today and cool down with a few rounds on your favourite winter-themed casino pokies. Choose from our list above or discover some of our other popular titles. We guarantee we've got the games to put a smile on your dial and turn your cold-weather frown upside down.
Blog Bonus!
Redeem code: WINTERPOKIE for 10 free spins on Naughty or Nice III
Coupon code expires on, Tuesday 22nd September. General terms apply.
Visit Fair Go Casino now to play the most you beut' winter themed online casino titles available.