Easy, encrypted, real-time transactions with PayID: our latest banking option
Expired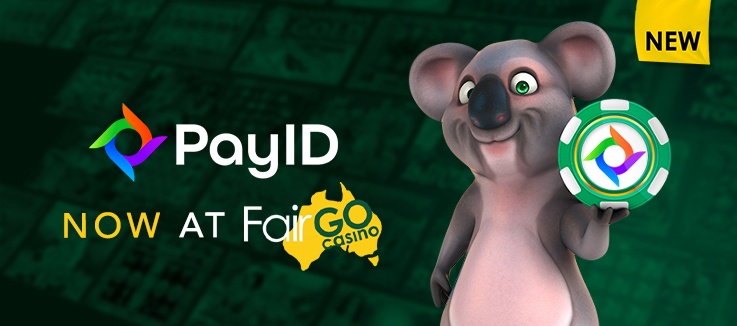 PayID is the new kid on the block when it comes to banking options. Fast, easy to use and incredibly safe, PayID makes depositing at Fair Go a breeze. Now you can enjoy real-time transactions performed in a matter of minutes… did we mention it's fast?
If you're a member that likes to go, go, go when it comes to online casino betting, PayID is perfect for you. Learn all about this lightning quick banking option by reading the blog article below. For more information and a special PayID deposit bonus, check out our landing page here.
What is PayID?
PayID is a revolutionary new banking method available right now. Using a unique universal payment identifier, it essentially streamlines the process of depositing with Fair Go casino.
PayID is literally reshaping the way members just like you are experience our online casino. With speedier transactions, it's possible to take advantage of special promotions, jump on bonus offers or continue a hot streak with minimal interruption.
In short, PayID simplifies your life by simplifying the way you bank with Fair Go. Because making online betting easier for everyone is one thing Kev the Koala is all about.
How does it work?
Curious as to how PayID works? Well, picture yourself wanting to top up with a bank transfer. First you need to go to our banking page, then you need to input your account details. Once that's all done, only then can you actually deposit with Fair Go casino.
With PayID you simply need to register for this service and get your universal payment identifier, which is somewhat similar to an email address. Then the next time you want to add cash to your Fair Go account, simply provide us with your unique PayID identifier and you're good to go.
What's more, using PayID means that you never have to share any sensitive financial information. This is due to the fact that your PayID universal payment identifier will substitute for banking data, credit card numbers and account details.
Why should I use it?
There are many reasons to use PayID beyond its speed and simplicity. Here are just a few key benefits for Fair Go members who are open to new deposit methods:
                      
No need to share your BSB or account number during transactions
Your PayID will be unique to you, which makes it easier to remember than an account or card number
PayID is supported by Fair Go casino as well as many other online retailers
Your PayID identifier will never be shared by us, which means you're protected from fraud
All PayID transactions are also protected by end-to-end encryption, adding another further of protection
How do I register with PayID?
In order to register with PayID you first need to create an account. This is a quick and hassle-free process which will have you using PayID in no time at all.
Depositing with PayID in 3 simple steps
The following steps will show you just how to deposit with Fair Go using PayID. Of course if you need more information, please don't hesitate to reach out to our 24/7 customer support team. For additional details about minimum deposits and processing times, please see our 'Banking' page.
Set up your PayID account by reading the instructions here.
Go to the Fair Go 'Deposit' section and select PayID as your deposit method
Click or tap 'PayId' to complete the deposit
Congratulations – your account has been credited using PayID
Top up your Fair Go account in a flash with PayID