POLi Payments – New Payment Method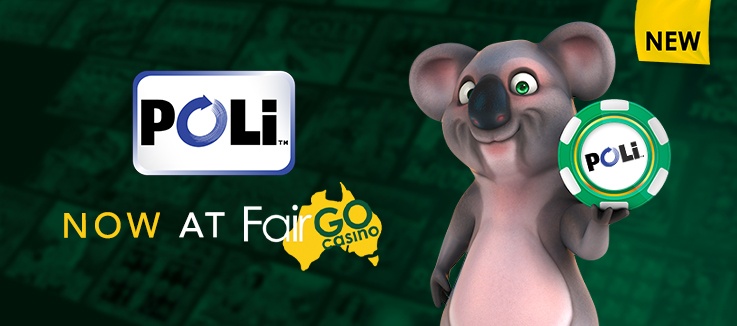 POLi Payments – New Payment Method
Good news! Fair Go Casino is integrating another safe, quick, and easy payment method for you to use to deposit money into your account. Specifically designed to be suited to Australians trying to make payments online, depositing with POLi is easy to use, safe, and doesn't require you to sign-up.
Check out our POLi Manual here. Below is everything that you need to know about POLi and if it's going to be your new go-to payment method of choice.
What is POLi?
Where once there were few, now there are many different online payment facilitators to ensure that people looking to make transactions online can do so safely and quickly. POLi is one of the easiest of these online payment facilitators and a favourite among Australian users due to it being free to use and specifically tailored to the needs of Australians.
Founded in 2006 and formerly known as Centricom, POLi Payments Pty Ltd is based in Melbourne. In 2014, SecurePay Holdings, a wholly owned subsidiary of Australia Post, acquired POLI Payments.
At Fair Go Casino, depositing with POLi allows you to get funds into your gaming account from your bank account without divulging any of your banking details.
How does POLi work?
With POLi, instead of submitting your credit card details, you use can use the safe and trusted method of the online payment facilitator to keep your details hidden and secure at all times.
To use POLi, you simply press the POLi Internet Banking option when you get to the payment selection page to then go to the POLi Payments window. Next, you select your bank, select 'Proceed with Payment', and then login to iBank with your regular online bank login details. Once you have done this, you press login and then confirm the payment.
All you need to use POLi is an Australian online banking account. You don't need to create an account with POLi or provide any of your personal, bank, or payment details. Unlike when you fulfil a regular bank transfer, depositing with POLi fills in all of the payment information for you, allowing for you to complete the transaction quickly and easily.
The benefits of using POLi
If online security and keeping your payment and personal details safe are important to you, POLi is a great payment method to use. POLi cuts out the need to sign-up with an eWallet service, input your card and personal details, or go through the lengthy process of setting up a bank transfer. Instead, you simply click the POLi logo, login to your bank account, and confirm the payment.
As POLi doesn't collect any of the data input into its service, doesn't require you to have an account with them, and doesn't relay any of your information to the website, you can trust that your details are safe. The added perk of using this service is that POLi is completely free to use: it doesn't charge a booking fee or bill any credit card surcharges, making it quick, convenient, safe, and cost-effective.
Despite the fact that you don't have register with the service or submit your credit card information, POLi payments are a form of instant banking, with your deposit showing up in your Fair Go Casino account immediately after you press the 'confirm' button.
Is POLi safe to use?
The security of the POLi software is of the highest importance to the online payment facilitator service. So, to ensure that all user data remains secure to the user, POLi doesn't capture sensitive information, such as your name or any passwords, and the company regularly performs security reviews on its own software so that the service continues to meet modern security standards.
POLi maintains certification of the ISO27001:2013 Internet Security standard and continues to comply with its stipulations. The service also utilities 2048-bit SSL certificates for all communications and uses a proxy server between the internet banking website and the customer that boasts advanced security software to make sure that the process of making payments online with POLi remains secure.
POLi is fast, secure, easy to use, and made for the needs of Australians, which is why we've adopted it as a payment method at Fair Go Casino.
How to deposit with POLi?
In order to deposit with POLi you must fill the Authorisation Form available on the Banking section of our website. Kindly send this form to This email address is being protected from spambots. You need JavaScript enabled to view it..
Find out more about this payment method here.