Prepare for shocking wins in Sparky 7
Expired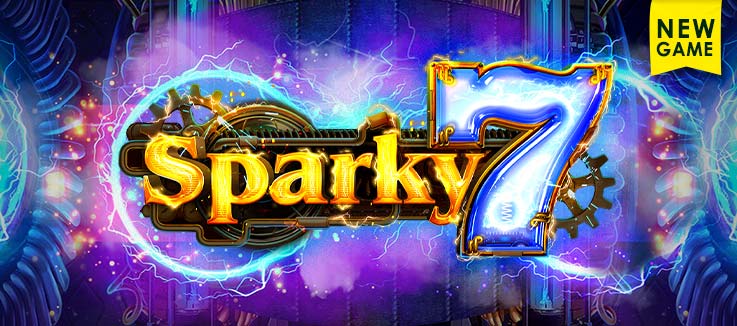 Your payouts are off the grid in Sparky 7, so prepare yourself for a shockingly good title. Complete with transporting symbols, prize multipliers and electrifying gameplay – it's a positively charged Fair Go casino new game.
New Game Bonus:
Deposit $40 to unlock 150 spins on Sparky 7!
Use code "SPARKY40".
Game Details
Developer: SpinLogic
Reels: 5
Top award: 50,000-coins
Substitute: W
Scatter: Bonus Logo
Jackpots: Game without jackpots
Paylines: 5-paylines
Bonus rounds: Yes
Bonus type: Free games, transporting symbols, prize multipliers
Platforms: Instant Play, Mobile
About
The very first place to receive electricity in Australia was Tamworth back in 1888.
Since then, there's been some absolutely incredible technological innovations that rely on it – radios, televisions and Apple products just to name a few. But up until this moment… all these things mean diddly squat. Why? Because the most impressive electrical invention to ever hit our shores must be Sparky 7.
Featuring a supercharged theme and old school gameplay, Sparky 7 smashes together two different styles to create something truly special. Call it steampunky, call it Nikolas Tesla-inspired, just don't call it boring. Sparky 7 has everything from teleporting symbols to prize multipliers and a stunning 4th reel that can complete your winning combos.
We're totally stoked with this new real cash pokie. We hope that you enjoy playing it. If you really want to make the most of your Sparky 7 experience though, you need to read the following article. In it we breakdown game mechanics, bonus rounds and how to win. So don't wait for a bolt of inspiration – put some sparks in your pocket on Sparky 7 today.
Gameplay
The gameplay in Sparky 7 is something else. You might be forgiven for thinking that it's a futuristic style of pokie, but in actual fact it's quite retro. There are 5-reels in total and 5-paylines, which makes it feel like an old school slot. Even the game control buttons give it a throwback vibe.
Of course, the coolest thing about Sparky 7 is that it introduces a bunch of new pokie features. There's the additional 4th reel that completes winning combos plus transporting symbols that can zap onto the gameboard for huge payouts. Finally, there's a random prize multiplying W wild symbol that awards multipliers worth x3 and beyond.
As for other gameplay features, Sparky 7 is a high volatility pokie. It also offers a top award of 50,000-coins that'll really put a supercharged spring in your step. And while there's no jackpot on offer, this shouldn't make you blue. The gameplay in Sparky 7 is a guaranteed shock to your system.
Symbols
While Sparky 7 is flush with features to make your hairs stand on end, it doesn't offer a lot in the way of symbols. There are the transporting 7s, the multiplying W wilds and the Bonus Logo scatters, but there are also Bar symbols that come in different colours.
Out of all these symbols, the W wilds, Bonus Logo scatters and transporting 7s are the most important. We'll discuss why that is in the next section. For now though, all you need to know is that while there isn't a lot of variety regarding the symbols, this pokie is more about quality than quantity.
Bonus Rounds
An innovative online pokie deserves some innovative bonus rounds. Does Sparky 7 deliver? Well, we don't like hyperbole… but hell yes it does. Below you'll find details about the two bonus features in this 5-reel slot.
Teleporting Symbols
When any two 7 symbols and a blank space appear on the gameboard, the Teleporting Symbols bonus round will be triggered. If this happens, a random symbol will appear on the 4th reel and transfer to fill the blank space, thereby completing the payline winning combo. During this bonus round, only W wilds can substitute for 7 symbols.
Free Games
The Free Games round, on the other hand, is activated when 3 Bonus Logo scatters materialise onto the reels. 7 free games will be awarded instantly and a prize multiplying W wild will increase your wins based on its value.
What's more, the Teleporting Symbols bonus round can kick off during the Free Games. If this happens, you better get ready to see some serious sparks fly. Just note that the Free Games are played at the bet of the triggering spin and the bet cannot be changed. The Free Games will then end once there are no more Free Games remaining or when the maximum payout is achieved.
Where to play?
Back in those early days of electricity in Australia, people had to use it sparingly. There simply wasn't enough to go around and to be honest… people had no idea what the hell it was capable of.
With the release of Sparky 7 at Fair Go though, it appears that we've fully masted the power of… well… power. Enjoy this new school meets old school pokie using your phone, tablet, laptop or computer today – it'll transport you to a wonderful world of supercharged wins.