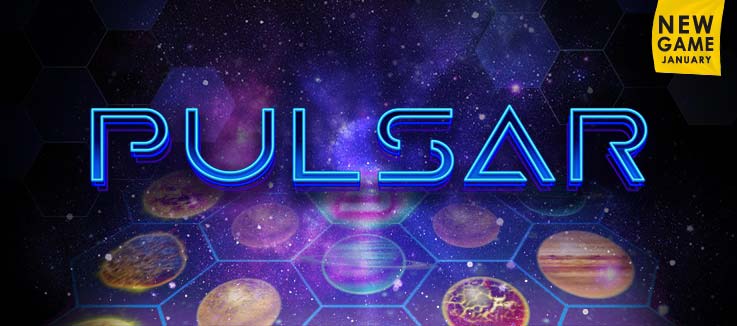 You'll come across more than just meteorites and asteroids when it comes to this intergalactic pokie. Play Pulsar and enjoy highly innovative gameplay and astronomical wins. Read on for more information. Available from Wednesday 29th January.
1. Game Details
Developer: Realtime Gaming
Reels: 5
Top award: 150 times the player's bet
Substitute symbol: No substitutes
Scatter: No scatters
Jackpot: Game without jackpots
Paylines: 20-fixed
Bonus rounds: Yes
Bonus type: Cascading wins, exploding symbols
Platforms: Download, Instant Play, Mobile, App
2. About
Pulsar isn't your run-of-the-mill 5-reel, 20-payline online pokie. In fact, you might even say it's out of this world. The gameplay, graphics and sound effects definitely attest to this, as does its unique features. In short, Pulsar is like no other casino game you've played before… at least not on Earth.
Set in the far reaches of our universe, its space theme is evident from the moment you start playing it. There's a swirling nebula, a star-studded atmosphere and a hexagonal playing grid that will definitely pique your interest. There's also plenty of action thanks to the constant explosions and implosions that denote expanding symbols and cascading wins.
Where the online pokie Pulsar distinguishes itself as being worthy of intergalactic acclaim, however, is in its two bonus rounds. To learn more about how you can mine the cosmos for planet-sized payouts, check out the following article.
3. Gameplay
The first thing you'll notice in Pulsar is the unique hexagonal grid layout of the reels and paylines. While this may seem peculiar, we can assure you that it's just the design that is different, and that the underlying mechanics are the same as all other pokies. After coming to terms with this, you'll quickly realise that you're playing somewhere in outer space. Our guess is that you're actually looking out over the grid from the main window of some type of ship.
                                                                    
The sound effects and graphics certainly make you feel as if you're in control of a futuristic spacecraft. The game controls are illuminated as if straight from a sci-fi movie and the music is a heart-pumping mash up of fast paced techno. Both of these factors contribute to Pulsar's action-packed ambience.
Another key aspect of Pulsar's gameplay is the fact it has no scatters or wilds. While some may believe this is a negative, we assure you that the game's bonus features more than make up for the absence of these symbols. Instead, you get to see worlds collide and planets explode as you quest for bonus rounds and a top award 150 times your bet. To say Pulsar has an almost limitless potential for entertainment might be underselling it.
4. Symbols
All symbols in our new online pokie Pulsar play left to right. Some of the main symbols you will encounter as you're hurtling through space include blue planets, brown planets, molten planets and rocky asteroids. All symbols are animated to ensure your adrenaline keeps flowing, however, it's the Neutron Stars that'll really send your excitement levels soaring.
5. Bonus Rounds
To blast your bank account into orbit, the bonus rounds in Pulsar are the perfect launch pads. The first of these is the Cascading Wins feature, which is triggered as a result of the removal of any symbols in a winning combination(s). Once triggered, any winning symbols disappear and are replaced with new symbols until no further winning combinations occur.
                                
The cascading of symbols can result from a Neutron Star explosion, which will then cause further cascading and/or additional stars to appear. This means that it's possible to earn new combinations and create additional wins during the Cascading Wins feature.
The second of these features is the Neutron Stars round. This round is activated at random so every spin could be a winner. Upon being triggered, stars will appear on the screen and remain there until they explode into space dust. Each of the four stars has a different colour and blast pattern, with green (left, right), blue (up, down), pink (left, right, up down) and red (upper left, lower left, upper right, lower right).
A number from 3 to 1 is assigned to each star when it appears. For each spin and for each cascading win, the number in the countdown will decrease by 1. A star will explode when it reaches zero, destroying all symbols within its blast pattern and replacing all destroyed symbols with the same randomly selected regular symbol. Unfortunately, it will not replace any symbol or itself with another Star. Note that Neutron Star explosions can cause other Neutron Stars to explode (even if they're countdown isn't at zero) if they are within the blast pattern.
6. Where to Play
Your chances of becoming an astronaut are probably pretty slim. Your chances of becoming a pokienaut, however, are infinitesimally higher thanks to our latest online casino release, Pulsar. Blast off and play it today via download, instant play, mobile or our app and discover the astronomical payouts that space holds. Just don't forget to claim your new game bonus before you launch nose-first into this interplanetary pokie.
Play Fair Go casino's latest online pokie release in Pulsar today.