Put a spring in your step with Frog Fortunes
Expired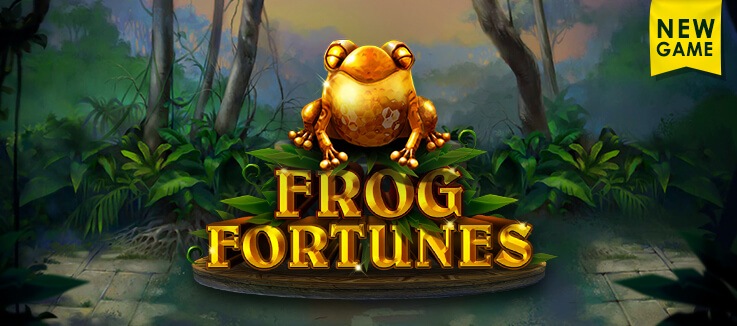 Hop on over to Fair Go casino now and have a crack at our latest online pokie – Frog Fortunes. A 243-payline title that's got members everywhere jumping for joy at its exploding symbols and cascading reels. Who would've thought a game with no scatters could be this fun?
Game Details
Developer: Realtime Gaming
Reels: 5 reels
Top award: 150-times the bet per line
Substitute: No substitutes
Scatter: No scatters
Jackpot: Game without jackpots
Paylines: 243-AWP
Bonus rounds: Yes
Bonus type: Cascading reels, exploding symbols
Platforms: Instant Play, Mobile
About
We've tried to keep this title a secret, but now the legend has been revealed. Deep within an unknown rainforest lives a mysterious animal. Part amphibian, part god. This creature is said to hop around from place to place delivering wins as he goes. The animal we speak of is of course a frog and he's the brains behind the mysterious 243-payline masterpiece that is Frog Fortunes.
Available to play right now at Fair Go, Frog Fortunes has taken the online pokie world by storm. People are literally jumping for joy at its release due to its exciting features. What are these exciting features though? Well for one Frog Fortunes has no substitutes or scatters, but that's just the beginning.
There's also plenty of other hidden benefits and interesting aspects of this game. You'll just have to play it to find out more. Before you go hopping off to our lobby though, take a moment to rest your weary frog legs and read this article. In it you'll discover how to take full advantage of this new online pokie and hopefully realise that sometimes all that glitters really is gold.
Gameplay
Frog Fortunes is set in a rainforest and uses both state of the art graphics plus an entrancing soundtrack to set the scene. You'd half expect Tarzan to swing from one side of the screen or an exotic animal to growl in the distance. Instead though the only exotic animal is a golden frog… and that's fine by us.
Thanks to him, Frog Fortunes has elevated our love for pokies to a whole new level. Just when we thought we'd seen it all, along comes this awesome amphibian to show us a new way to play. A way that involves taking scatters right out of the game, removing substitute symbols entirely and replacing them both with cascading reels and exploding symbols.
This makes this new online pokie highly innovative in terms of gameplay, however, there are some mechanics that you'll already recognise. There's still a top award that's worth 150 times your bet per line plus a grid like layout that contains 5-reels. In-game controls are also listed either at the bottom of your screen or on the right-hand depending on the device you're using.
In the middle of everything is the golden frog. The big boss, the all-mighty toad, the hopper that has no stopper. He'll be sitting there like the amphibian version of buddha, making sure that those symbols continue to appear, explode and reward you with wins. Speaking of…
Symbols
Even though the golden frog takes centre stage, he won't be contributing to your on-reel wins.
Instead you'll need to land a sparkling array of precious stones in order to rack up the dosh. They come in many colours, but our favourites are the green, blue, red and purple gems. These are your bread and butter so to speak. Your low-paying symbols that, while not super profitable, will still pay out.

Then we have the higher paying symbols. These are represented by totems of all shapes and sizes. We've spotted a wise looking purple bird, a nose-wiggling bronze pig and a green gargoyle totem, which are said to pay out big. In order to trigger any prizemoney though, you'll first need the most important symbol of them all – the exploding symbol bomb.
These exploding symbol bombs will go boom and fill the room with winning combinations, depending on which way they chose to explode. They also add some action to what is otherwise a very tranquil rainforest setting. Finally, it's probably important to note that all symbols pay left to right.
Bonus rounds
The real action, however, is with this new online pokie's two feature rounds. Like we've already stated, Frog Fortunes has put a skip in everyone's step with its innovative gameplay and interesting mechanics. This has been achieved by the cascading reels and exploding symbols features, which both work to make Frog Fortunes bloody engaging.
Unpredictable but exciting, exploding symbols can pop out of the bush and appear at any time on the reels. They will then detonate and cast out one of ten random blast patterns, blowing up any nearby symbols that fall within the blast pattern in the process (including other exploding symbols). The symbols that have been blown up will then be replaced by other symbols, which may or may not award extra payouts.
This is the cascading reels feature of Frog Fortunes, whereby symbols are exploded and replaced with other symbols for as long as there are winning combinations. As such the spin button is disabled, since this is the game's time to shine. One thing you should know though is that exploding symbols will not appear during the cascading reels feature. Another thing you should know that is that these winning combinations have the potential to go on and on and on. Honestly, you may need help hauling all of your booty out of this jungle.
Where to Play
Before you book a bushwhacking trip to the Daintree, hold your horses. You don't need to travel to play with this terrific toad. Simply grab your laptop, PC, tablet or mobile device and pull up Frog Fortunes. Not only will you have the chance to sample exploding symbols, cascading reels and a tidy little top award, we'll also gift you a new game bonus. Hop on over to our lobby now and have a crack. It's fun, interesting and ribbiting all at the same time, which means its guaranteed to put a spring in your step.
Try your luck at today Fair Go Casino today.