Introducing Secret Symbol
Expired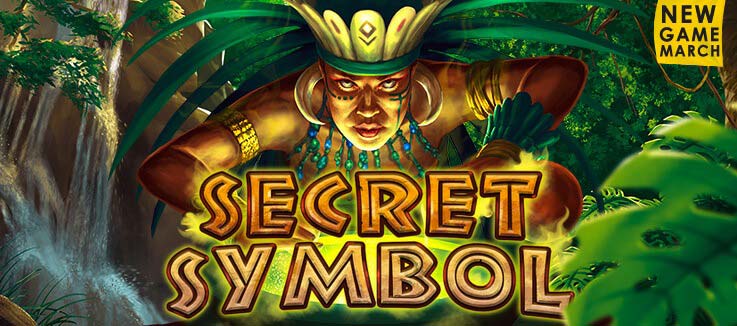 Secret Symbol will Stun the Modern World
Sit back and chill - We've got a story for you, and it's a ripper of a tale. Our newest online pokie game, Secret Symbol, is based on a time period we can only read about, and while these days were quite bodgy for those living them, the action and adventure is pretty undeniable. Flashback to many decades, and even, centuries, before us, all the way to the period between the 14th and 16th centuries, when the Aztec people settled on the land, now known as Mexico. Judging from the experience documented in the early days, these were not the simplest of times and the Aztec people had far from an "easy go" at life, if one can imagine. But, even with the rough experiences, the Aztec culture still thrived for many years to come in building their empire… Which is the perfect motivator for the all-in pokie player. Don't be surprised, there was plenty of bloodshed involved, as there is with most ancient takeovers, but as they say, "you gotta lose some to win some", and win, they sure did.
It's All About that Aztec Treasure
You probably don't have to be any sort of history buff to know that the cornerstone of the Aztec civilisation and era was all about seeking (and protecting) the treasure, making it the perfect theme for a pokie game where you want to reap and pilage your winning chances. This may sound quite extreme, but with no condoned violence, you can put all of that energy into exploring the many bonus features and functions of our newest online pokie game. It's a beaut, alright. True to this day, people across the world remain fascinated by the lost cultures and civilizations of the Aztec people. Similarly, treasure hunters and archaeologists, alike, have a blast every time they visit a forgotten city or an ancient ruin, with the hope of discovering valuable treasures. This is the same experience you will get when playing the Secret Symbol, our latest and greatest pokie game from the RealTime Gaming (RTG) library. Nothing less than extreme fun with this Bae!
More Details on Secret Symbol
Let's get into the grit of how, exactly, you can top this pokie off to bring you all of the 'Aztec treasures' we're teasing you with - And not to worry, you won't be disappointed. Starting with the basics, the Secret Symbol pokie is a 5-reel, 25-payline game, making it quite standard for any online pokie you'll play otherwise. As per usual, Realtime Gaming has gone above and beyond in terms of graphics and overall experience, with everything in check, from game mechanics to the userface, topping you off with some entertaining sound effects. With this title, they've got all the right things in place to make a generally ace pokie. What's more, it's all about the special bonus features - This is when it gets grouse.
In this adventurous new pokie game, you'll encounter all of the symbols that bring to life what these days were actually like. You'll notice on the reels the Aztec Chief symbol (which acts as the Wild), Aztec headdresses, bowls, masks, parrots, beaded necklaces, drums, the whole lot. While all of these symbols fit in very well with the jungle theme, what you'll want to pay attention to, is what these symbols can do for you on the reels.
To begin, this new pokie game contains two jackpots, a minor and major jackpot. Every gamer is immediately thrilled when they hear the word 'jackpot'. If you're lucky to hit any of the two, it's a clear sign of good luck, as you'll either reap an impressive reward of $250 for the minor jackpot and as high as $1000 for the major jackpot. With two chances to hit one of these jackpots, your odds of winning immediately increase - Which is a proper start. Manage to spin 5 jackpot symbols on the reels and you'll be the lucky winner of the biggest treasure found in Secret Symbol (Now isn't that a "fair go").
The Aztec Chief Wild appears on the reels as a Wild substitute and like most pokies, it can replace all other symbols - Except for the Pyramid Scatter. This can turn out to be the winning icon that will help you make some proper winning combinations, so you best keep an eye out for that one. And for the record, to bring you the best gaming experience, this game can be played on the Instant Play and Mobile.
Scattered Pyramid Specific Feature
The excitement goes well beyond this, so don't get antsy - This is where the special feature comes in. Remember that Scattered Pyramid? This is one of the symbols to look out for, as if you are lucky enough to get 3 Scattered Pyramids on the reels, you'll trigger a bonus round which awards 10 free games. This special feature is deemed the Secret Symbol bonus feature, appropriately, and allows the players to enjoy additional chances for bonus wins. For example, after every free game, you will notice an interesting factor of the free games where the Secret Symbol will reveal a 'secret' Multiplier that ranges anywhere from 2x to 20x, applying to all wins in the game. If you can get the Wild symbol, Aztec Chief, which is the unique character in the game, to land on the second and fourth reels, you have a chance to make even more winnings. You know it's all going to be pretty upstream from here!
Test your prowess in trying your hand at Secret Symbol, and don't forget, speed counts. So, how fast do you think you can find that unique symbol (or symbols) leading to the jackpot? It wouldn't be worth having a great site featuring an awesome game, but with no one to ask for help when you need it. As you may reckon, we've got you covered. If you have any questions or comments, don't hesitate to get in touch - We're available 24 hours a day, 7 days a week, ready to serve you! If you really love gaming and perhaps you want to uncover the mystery of an ancient civilization, then the new game Secret Symbol is the pokie you've got to give a go on. With plenty of bonuses, free spins, two jackpots and impressive theme, it'd be gut wrenching not to try it out. Don't wait to listen to tales being told, come and experience the real fun - Unravel those secrets like a pro.