St. Patrick's Day traditions around the world
Expired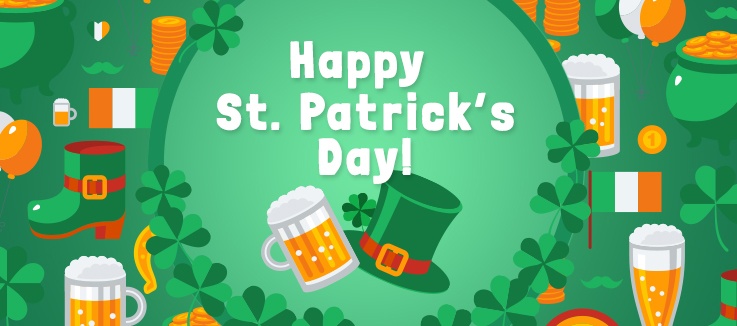 6 of the Best St. Patrick's Day Traditions from Around the World
St. Paddy's Day is a public holiday in the Republic of Ireland and Northern Ireland, as well as the Canadian province of Newfoundland and Labrador and the British territory of Montserrat. Unfortunately, if you don't live in one of these countries or regions, you'll still be expected to front up for work come the 17th of March (whether you're hungover or not).
To make you feel a little better though, the leprechaun loving team here at Fair Go have come up with a great way to ensure you can still benefit from the luck of the Irish.
So, if you'd like to celebrate St. Paddy's Day and become an honorary member of the Emerald Isle for the day, read on below and check out 6 of the best St. Patrick's Day traditions from around the world.
1. Party in the Historic Centre of Sydney, Australia
Hundreds of years later, St. Paddy's Day still holds a special place in the heart of Australians of Irish decent and Irish citizens currently living in the country.
It is also the only country outside of Ireland where the Irish government actually sponsors a St. Patrick's Day event. As such, Sydney's historical centre in The Rocks is transformed into an Irish village for the day in order to make the local Irish population feel a little closer to home.
In addition to this charming homage, there's also a parade in First Fleet Park and a larger festival at the Dawes Point Park. Those who attend can look forward a children's activity area, an Australian Citizenship Ceremony, live music, storytelling, food and even craft stalls, which celebrate all things Irish.
As the day turns into night, punters will then have opportunity to sink a few drinks with their friends and party long into the night in some of Sydney's oldest Irish pubs, all the while taking in an assortment of spirited Irish dance displays, pipe band performances and Irish ballads.
2. Marvel at an Emerald Green River in Chicago, USA
Chicago is home to a number of special events that celebrate Irish culture and tradition under a beautiful spring sky. But the real reason the city has made Fair Go's list of the best St. Patrick's Day traditions from around the world though is due to the fact that on March 17th, large swaths of the Chicago River are dyed a vibrant emerald green.
This practice began way back in 1962, during which time green dye was poured into various sections of the river in order to detect pollution levels.
Upon seeing a small part of his beloved river glimmer green, a member of the plumbers union tasked with rooting out the pollution problem named Stephen Bailey came up with the idea to instead use the dye to turn the entire river green on St. Paddy's Day.
Now, both visitors to the city and locals alike are able to fill its streets and marvel at the Chicago River as it sparkles green.
So, if you find yourself looking for something to do in Chicago this St. Paddy's Day, head on up to the best place in town from which to view the river and show your true colours by taking a photo with it in the background.
Or, simply enjoy this bar's Irish breakfast special… complete with bottomless green mimosas.
3. Check out the Glowing Green Tower in Ankara, Turkey
ATurkey may not sound like a traditional country in which to celebrate St. Patrick's Day. But that's the exact reason why we reckon it's one of the best places to enjoy this fun-filled day of Irish-inspired celebrations.
Not to mention that bars all over the country love to get behind St. Paddy's Day, with clubs and pubs from Istanbul to Bodrum all featuring live music and plenty of revelry that's sure to last well into the wee hours of the morning.
The main drawcard for those of you partying Irish-style in Turkey this St. Paddy's Day, however, should be the illuminating of the Atakule Tower in Ankara, which will glow a brilliant shade of green.
If you do happen to find yourself in Ankara for St. Patrick's Day, just make sure you're dressed head to toe in green, since this makes you invisible to Leprechauns.
Otherwise, you might find yourself being harassed by one of these short and mischievous creatures that are known to have a penchant for pinching.
4. Join an Irish-Themed Parade in Tokyo, Japan
Japan is another destination that won't spring to mind when people mention St. Patrick's Day celebrations. And with only about 1,000 to 2,000 Irish people living in the country, it's totally understandable.
But did you know that Japan's capital city Tokyo has hosted a massive St. Paddy's Day Parade since 1992?
The first part of this parade is an Irish cultural festival also known as the 'I Love Ireland' Festival that takes place in Yoyogi Park. It is the biggest of its kind in Asia and the ultimate place to find and experience traditional Irish dance performances, sporting demonstrations and even a booth that serves Irish music, stew and steamed oysters.
The marching of the parade then takes place, beginning near Cat Street and continuing on to Omotesando Station before returning back to where it originally began.
During St. Paddy's Day in Tokyo, many of the city's Irish pubs offer discounts on Irish food and half-priced drinks once the parade has ended.
This means if you're in Tokyo on the 17th of March, you better be prepared to swap those Asahi glasses for a hearty mug of Irish stout and join an Irish-themed parade.
5. Go on an 'Freedom Run' in Cudjoehead, Montserrat
Most of you probably view St. Patrick's Day as an opportunity to relax and have a few drinks with friends in the name of the Emerald Isle, but on the Caribbean island of Montserrat, St. Paddy's Day is actually an exercise in endurance and long distance running.
Officially called the 'Freedom Run', this leg-burner of a circuit stretches for five whole miles, beginning early in the morning in Cudjoehead (which is located in the north of the island) and finishing up in Salem Park (which sits on the island's west coast).
This run is bolstered by a number of other St. Paddy's Day events that stretch out over a 10-day period. Some of these include twenty-20 cricket matches, almost endless pints of the Mother Country's most famous beer and plenty of partygoers who aren't afraid to shake it in the name of Saint Patrick.
This makes Montserrat somewhat perfect for those who like the idea of a St. Paddy's Day with a distinctly Caribbean flavour.
6. Dance the Night Away in Buenos Aires, Argentina
Argentina is home to over 500,000 Irish, so it's only logical that it made our list of the best St. Patrick's Day traditions from around the world. And the number one place to spend El Dia de San Patricio in Argentina is in its lively capital, Buenos Aires.
Here, both visitors and locals alike can deck themselves out in green, guzzle pints of dark Irish stout and then spill into the streets to join in on the St. Paddy's Day parade that winds through Avenida de Mayo and finishes up in Plaza San Martín.
Everyone who partakes in St. Paddy's Day in Buenos Aires can expect a celebratory atmosphere with plenty of live music and dancing. There are also rock bands and throngs of revellers dressed up in various costumes, including fairy and leprechaun outfits.
You may even bump into few bagpipers if you're lucky… of course you'll most likely hear them before you see them.
St. Patrick's Day in Buenos Aires is organised and hosted by the Irish Embassy in Buenos Aires, the Argentina-Ireland Association and the Buenos Aires city government, who have successfully worked together to create what is now one of the biggest St. Paddy's Day events in the world and easily the biggest of its kind in South America.