St. Patricks Day 2021: Common myths and famous traditions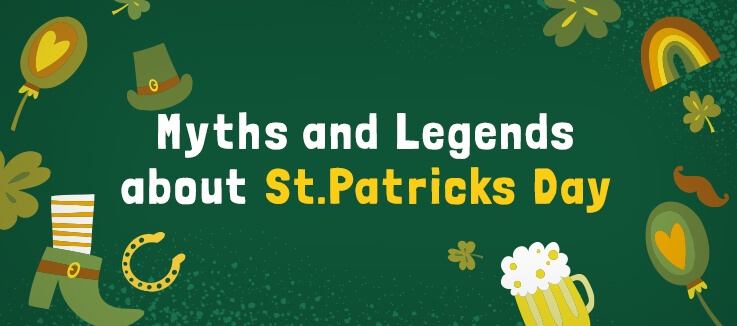 St. Patrick's Day is fast approaching, so we thought we'd explore some of the more common St. Patrick's Day myths and traditions that define this Irish holiday. From the preparing of corned beef and cabbage to musical gatherings and shamrock symbols galore, everyone gets to pretend their Irish on the 17th of March. Discover more about St. Patrick's Day in this blog article or play our favourite Irish-themed real cash pokie, Paddy's Lucky Forest, today.
7 common myths about St. Patrick's Day
Everyone thinks they know what St. Patrick's Day is all about, but how many of these beliefs are fallacies? Check out 7 of the most common myths about St. Patrick's Day below. We guarantee some of the following facts will blow you away.
St. Patrick came from Ireland
Here's a doozy for Fair Go casino members. Did you know that even though St. Patrick is one of Ireland's patron saints, he wasn't actually born in Ireland?
Now before you cry "scandal", you might be pleased to know he was still born in the British Isles – in what is now England, Scotland or Wales – but nobody knows for sure. What we do know is that he was born in this area in the year 390 to a Christian father and mother. We also know that at age 16 he was captured by Irish raiders and enslaved in Ireland, where he spent 6 years as a prisoner.
After escaping and making his way back to England, he was then indoctrinated into the Christian faith and given instructions to (get this) return to Ireland in order to serve as a missionary. Talk about out of the frying pan and into the fire.
The dyeing of the Chicago River is harmful to fish species
One St. Patrick's Day myth that gets considerable airtime every year during March is that the dye in the Chicago River is actually dangerous to local fish species.
For context, the Chicago River has had dye poured into it every year on St. Patrick's Day since 1962. This feat is undertaken by representatives of the Journeymen Plumbers Local Union. The water turns a bright shade of green due to the dye, giving the city of Chicago a distinctly Irish flavour. It then reverts back to its usual murky colour within a couple of days.
Of course some people have taken to protesting the dyeing of the river. The truth is though that the Chicago River has "bigger problems than a bit of vegetable dye going into it", according to the executive director of Friends of the Chicago River, Margaret Frisbie. How do you say green and gross in Gaelic Irish?
St. Patrick's Day has always been a big celebration
If you thought St. Patrick's Day was always about dressing up in green, getting wasted and losing the keys to your house, you were wrong loyal Fair Go casino members.

St. Patrick's Day was actually a very sombre event in Ireland up until the 1700s. Back then, all one could do on this religious holiday was catch up with friends and feast with their family. After the Irish began to make their way to the United States, however, the need to celebrate St. Patrick's Day grew and the celebrations around it evolved. It wasn't until the 1760s in New York though that the very first St. Patrick's Day parade took place. Since then its morphed into one of the largest events of the year around the world.
Green is the official colour of St. Patrick
Warning: Kev nearly fell off his branch when he heard this.
Here's a fact that's bound to rock your socks – green isn't the official colour of St. Patrick. This is despite it being emblematic of St. Patrick's Day festivities and celebrations around the world. What exactly is the official colour then? Well, turns out that blue is the colour of the knights in the Order of St. Patrick. It's also the colour that supporters of the Irish independence used back in the 18th century. Strange, but true.
Corned beef is a traditional St. Patrick's Day dish
While we don't really have a traditional St. Patrick's Day dish in Australia, elsewhere the plate of choice on this holy day is corned beef and cabbage.
In fact, pretty much every other country with a significant Irish diaspora (Canada, New Zealand, United States) except Australia sells this fare in anticipation of St. Patrick's Day feasts. In Ireland, however, they swap the corned beef for a type of bacon that's very similar to ham. The reason why corned beef is popular outside of Ireland is due to (once again) the Irish who immigrated to New York City. Instead of purchasing expensive ham, they instead opted for corned beef in order to save money.
St. Patrick banished snakes from the islands of Ireland
Fair Go casino members may have heard the story before. Legend has it that St. Patrick took his position on a rolling hillside that overlooked the country of Ireland.
He then delivered a provocative sermon that drove all of the snakes into the ocean. Now you probably know that Ireland is indeed snake free. But is this because of St. Patrick's rousing speech? Or was it due to the fact that Ireland broke off from the Isles during the last glacial period, thereby ensuring the only snakes that found their way to its green shores were brought in via boat or plane. These days, the story of St. Patrick ridding Ireland of snakes is actually thought to be an allegory for his success in ridding the Emerald Isle from pagans.
St. Patrick has always been known by this name
Oh… and in case you weren't already beaten into submission by the previous St. Patrick's Day myths, here's one more. Were you aware that St. Patrick wasn't always known by the name "St. Patrick"? Rather, he was born "Maewyn Succat". He then changed his name to "Patricius" once he became a priest. This was finally anglicised and turned into Patrick. Pity. St. Succat kind of has an awesome ring to it, doesn't it?
5 famous St. Patrick's Day traditions from around the world
Now that we've blown your mind by debunking some common St. Patrick's Day myths, it's time to discuss the celebrations that've made this Irish religious festivity so famous.
1. Chicago, USA
As we mentioned previously, the USA has a proud history of St. Patrick's Day traditions. The most celebrated of these traditions though takes place in the Windy City, otherwise known as Chicago.
It involves some blokes from the plumber's union dying the Chicago River green. After that there's a parade that runs from the streets of Balbo and Columbus before heading north up Columbus Drive towards Buckingham Fountain. Of course the biggest spectacle is the green river, which has been captured on Instagram and documented on various websites and TV channels the world over.
2. Sydney, Australia
We can't mention St. Patrick's Day celebrations without talking about the annual St. Patrick's Day Parade and Family Day in Sydney.
Starting at noon and leaving from the Town Hall in George Street, the parade then finishes up in the beautiful Hyde Park. Fun fact about the St. Patrick's Day Parade and Family Day – it's the second-biggest St. Patrick's Day parade in the world. In addition to the parade though, there are also plenty of Irish-themed activities to enjoy in the historic Rocks. From live music to stalls and lots of Guinness, spending St. Patrick's Day in Sydney is a top tier experience.
3. London, England
Just because England and Ireland haven't always gotten along, doesn't mean that Londoners don't know how to celebrate St. Patrick's Day.
In fact, the St. Patrick's Day Parade in London is another awesome event that should be on your 'to-checkout' list. An all-day affair, London's St. Patrick's Day Parade offers free entertainment, Irish dancing and traditional Irish folk music. There are also exhibitions, parties at some of the biggest and best Irish pubs in town plus the odd storytelling session at select venues.
4. Brussels, Belgium
If you happen to be in the capital of Belgium on March 17th, then you're in for a rollicking good time. Taking place in the Schuman area of the EU quarter in Brussels, this St. Patrick's Day festivity invites you to be Irish for the day. Wear green paint your face and get ready to suck down some cold Guinness beers. There's often a procession on the day led by a local band plus a number of other awesome Irish-themed events. Even the most famous statue in all of Belgium, the Manneken Pis, is garbed in a traditional Irish tartan. Now that's commitment.
5. New York, USA
Finally, the next place on our list of top St. Patrick's Day traditions has to be New York. With a large Irish diaspora and heritage, it's only fitting that the whole city goes green during the annual St. Patrick's Day celebrations.
The biggest drawcard for New Yorkers on this day is of course the St. Patrick's Day Parade. There are dancers on giant floats, bars selling green beer and Guinness plus more bagpipers than there are people in Country Cork. Well, that last bit isn't true. But what we're saying here is that St. Patrick's Day in New York City is a sight to behold. You might even go as far to say that it's the best place to spend this wonderful day outside of Ireland. Wait… aren't bagpipes Scottish?
Tap the coupon code to redmeem!
Use code "IRISHPADDY" to enjoy 10 free spins on Paddy's Lucky Forest.
This bonus expires on the 22nd March. This bonus is redeemable once. Max cashout is $180. T&C's apply.
Channel the luck of the Irish this St. Patrick's Day

Fair Go Casino

.