5 things that are helping us stay positive during COVID-19 lockdown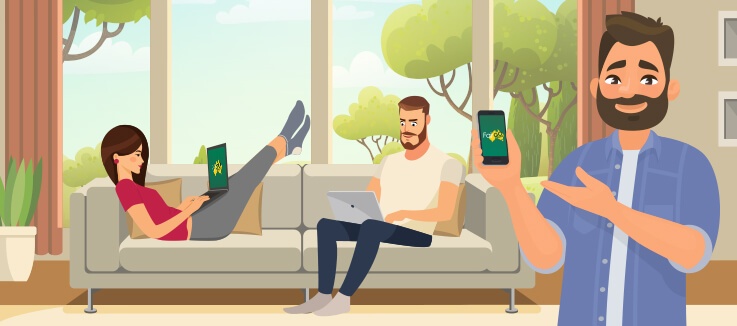 Countries may be locking down borders and our fellow Australians are buying up dunny paper in droves for some imagined poo-pocalypse. But instead of getting swept up in the hysteria, we here at Fair Go casino are choosing to look at the brighter side of life.
So in the following article, we're sharing with you the top 5 things that are helping us stay positive during these troubling times. If you could use a bit of sunshine in your life and would like some practical tips on how to make the most out of this unexpected situation, read on below. With any luck you'll start to realise that staying inside isn't so bad after all.
You get to spend more time with your family
Family. They're the people that we feel most comfortable with and the ones who are, by way of DNA or legal status, required to put up with our nonsense.
Sure, they can drive us mad sometimes. Whether it's hogging the iPad when you're trying to play with Fair Go Casino or making you sit through another episode of MAFS. You can't do much but love your family, no matter the circumstances. 
Unfortunately, finding the time to hang with your family can be difficult. Whether you're a dad that works on a job site or a mum pulling double shifts at the hospital, the need to stay afloat means that you will be required to work and therefore spend valuable moments away from the fam.
Now though, everything has changed. Chances are you'll be spending a lot of time with those who live under the same roof as you for the next little while. And surely this is a massive positive for those who love the company of those closest to them.
You can try new games and new promos at Fair Go casino
Not being able to go outside as freely as you once did can be a hard pill to swallow. But imagine if this were 100 years ago and all you had to entertain yourself inside was a rudimentary game using matchsticks or that bloody cup and ball?
At least you can still fire up Fair Go and check out our casino promotions. From our Game of the Month whereby you get double comp points with every bet to our New Game bonuses and regular promotions. There's literally something to occupy your mind (and your thumbs if you're playing via mobile) every single day at Fair Go.
Right now its 5 Wishes, with its jackpots, 100 free games and 25-paylines, taking the internet by storm. But we're also giving away rewards simply for using new deposit methods such as Flexipin, thus proving it doesn't take a whole lot of effort to become a winner at Fair Go casino.
Nature is getting a much-needed breather
If there's been one surprising winner during this debacle, surely, it's that Mother Nature is getting a much-needed rest from humankind.
Dolphins are returning to the canals of Venice and they say you can hear the birds sing once again in Wuhan. The amount of Co2 being spilled into the atmosphere has also dipped exponentially, on the count of factories shutting down and people using their vehicles less and less.
If we also consider the effects of the bushfires at the start of the year, it's clear that planet earth and especially the Australian environment is well overdue for a bit of a breather. So perhaps we should take the position that while it's obviously a pretty dire time for humanity, at least Mother Nature is benefiting.
Your pets are finally getting the attention they crave
Practically every person or family in Australia has a pet. Whether it's a bird, a cat, a horse or a dog, you'd be hard pressed not to meet someone who calls some type of animal their finned, fanged or furry companion.
One of the best things about having pets is that they're always there when you need them. Well, except maybe cats or your pet goldfish. But can you truly stand up and proclaim that you're always there for your pet when they need you?
Not many people can say this sincerely, although the current situation we find ourselves in means we can finally devote some serious time to our animal friends. That means bulk pats for the family dog, ample cuddles with the cat and a bit of extra singing practice for your grandma's noisy parakeet.
Of course, fetch with your dog might be out of the question. That is, unless you've got a really long hallway and a sympathetic partner.
You can binge guilt-free on TV series and movies
Amazon Prime, Hulu, Netflix and Stan surely played a role in your life before, giving you some instant gratification in the form of consumable media content and helping you to relax after a long day at work.
But did you ever feel guilty for binging all 200 episodes of That '70s Show in one sitting when you should have been outside, studying or fixing something in the house?
Well, now you can kiss that useless feeling goodbye, because as of now it's totally acceptable to tear through multiple seasons of your favourite programs, watching them back to back without a break until you can hear the dialogue from the day's episodes reverberating around your brain as you try to drift to sleep.
Movie lovers and TV buffs, this is your time to shine.
Although we do urge you to remember one thing while you're devoting precious moments to online steaming services, which is that you'll never win a major progressive jackpot by watching Batman.
Visit Fair Go now.