Introducing T-Rex II
Expired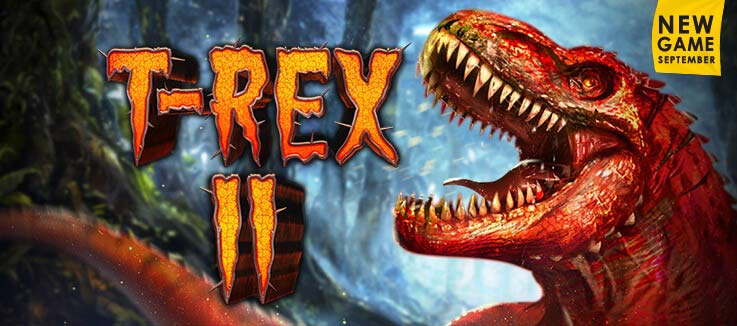 He's big, he's scary and unfortunately for his dinosaur mates… he's also incredibly hungry. So it's up to you to keep his belly full and those bonuses ticking over in T-Rex II. 
Game Details
Developer: Realtime Gaming
Reels: 5
Top award: 5,000 times bet per line
Substitute symbol: T-Rex
Scatter: Egg
Jackpot: Minor and major jackpots
Paylines: 25-variable
Bonus rounds: Yes
Bonus type:

Free spins

, double prizes
Platforms: Instant Play, Mobile
About
After 70 million years, multiple extinction events and one awesome prequel, the most fearsome dinosaur to ever live is back in T-Rex II. That means it's time to head into the prehistoric jungle once again and walk amongst some of the animal kingdom's earliest ancestors.
In T-Rex II, however, your role isn't to catch the undisputed master of the Mesozoic era and parade him around for everyone to see (we're looking at you Jurassic Park). Rather, you'll be tasked with keeping him fed, which not only boosts your odds of racking up some serious cash, but also ensures you don't wind up as his dinner.
Have you got what it takes to help this colossal carnivore? Or will your first instinct be to turn tail and run? The only way to find out whether T-Rex II is your friend or your foe is by playing it! Alternatively, you can learn everything you need to know about this terrifying new title by reading on below.
Gameplay
Taking place tens of millions of years ago, T-Rex II is set in a prehistoric jungle complete with towering trees and primeval plants. Its layout includes a 5x3 grid and 25-variable paylines plus a menu bar underneath with all the buttons necessary to navigate the game.
Like practically every online pokie we host here on Fair Go, T-Rex II pays left to right. Unlike most of our games though, it also features a randomly triggered minor and major progressive jackpot that can be won at the conclusion of any game and added to otherwins. The top award of 5,000 coins also gives you something else to aim for between trying to land the T-Rex wilds and those Egg scatters.
As for the game's graphics and sound effects, T-Rex II might not give Jurassic Park a run for its money, but you'll still no doubt feel like it achieves its goal of creating an atmosphere akin to the age when dinosaurs roamed the earth.
Taking this into account, it's totally natural if you want to stomp your feet like a stampeding Triceratops after missing out on a winning combination, or let out a roar that'd make a Rapture run for cover when that jackpot goes off.
Symbols
Thanks to the symbols in T-Rex II you'll be getting an education in basic palaeontology. The reason being that some of the prehistoric eras most famous beasts will all make an appearance on the reels at one point or another.
Triceratops, Suchomimus and the Velociraptor are the game's central dinosaurs that represent high-paying symbols, while playing card numbers represent low-paying symbols.
As previously mentioned, the T-Rex is the wild symbol while the Eggs are the scatters. When T-Rex appears grouped on reel 1, he substitutes for all other symbols except the Eggs. The prize is also doubled when 1 or more T-Rex wilds substitute in a winning combination.
In addition, if you land T-Rex on reel 1, you'll trigger something called the T-Rex Terror Wild. During this time, the T-Rex will go ahead and eat the other dinosaurs before pays are awarded. Only then once he's had his fill will the Triceratops, Suchomimus or Velociraptor symbols be replaced with a T-Rex wild symbol.
Bonus Rounds
While food may have been abundant in the Mesozoic era, it seems like bonus rounds weren't. As such, T-Rex II only features one bonus round for punters to play on. The good news is that this title makes up for its lack of multiple bonus rounds by ensuring the prizes you can win are bigger than a Brontosaurus.
For example; if 2, 3 or 4 Egg scatters land anywhere on the reels, you'll be awarded 10, 20 or a whopping 100 free spins. What's more, the T-Rex Terror Wild can be activated during your free spins, while additional also free spins can be won. This can lead to winnings so big they make that dinosaur destroying meteor look like a pebble.
Where to Play
We won't make you go back in time to play this earth-shattering sequel. All you need is access to Fair Go and a small amount of courage if you want to win on T-Rex II. Of course, there's always a chance you won't find enough food to keep that prehistoric predator totally satisfied. In that case, we recommend playing T-Rex II while you're wearing some decent joggers… just to be safe.