The 10 most famous poker players in the world
Expired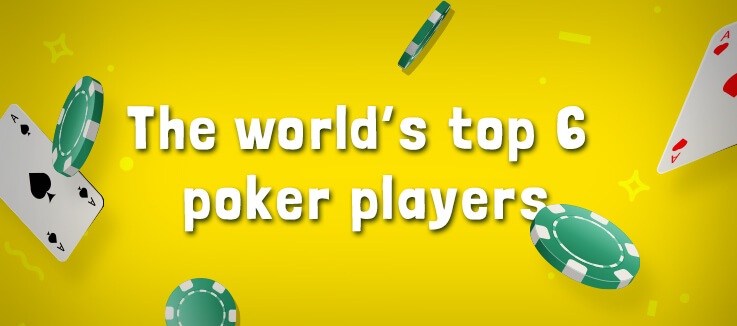 If you've ever been curious as to who the most famous poker players in the world are then you've come to the right place.
After exploding in popularity in Australia and throughout the world back in the early 2000s, everyday players were catapulted into the limelight. Essentially they became celebrities and their egos and bank accounts grew exponentially.
To this day, the most famous poker players around the world still command a lot of respect both at and off the table. Even those who no longer play in professional tournaments seem to find their way back into the limelight… often not for the right reasons either (we're looking at you Bilzerian).
In any case, the fact remains that there's a bunch of money to be made playing poker, which is why it attracts people from all backgrounds and walks of life. With so much on the line, it's only natural that many of these people all bring big personalities to the game.
Below are some of the most famous male and female poker players in the world. These people have won and lost small fortunes and made a name for themselves in the process. So if you want to know what type of person is willing to drop tens of thousands, if not millions, in a single game… here's your answer.
All we can say is that when it comes to poker, fortune really does favour the bold.
Dan Bilzerian (US)
Bilzerian is a mega star in not just the poker world but also in the world of social media.
Many say that he bought his celebrity status, but no one can deny that he is one of the most famous poker players in the world. His wealth is said of have come from a mix of trust funds and a lucrative Instagram account, but he's also played in many high stakes' poker games.
Bilzerian himself claims that he won $50 million just by playing poker in 2014, however, many refute this saying that he has never won a major tournament and that most of his money comes from dodgy cash only games. In any case, whatever he is doing is working. Bilzerian is one of the richest poker players in the world… and one of the few players that looks like they have an outrageous (see: borderline illegal) life outside of the game.
Phil Helmuth (US)
Known as the 'the poker brat', Helmuth is a highly celebrated and famous poker player who hails from the United States. To date he has won 15 World Series of Poker bracelets and amassed a live poker winning pool of well over $21.7 million with a career high single win of $2.6 million.
                                                                                                                                    
Aside from being known as a famous poker player, Helmuth has also been earmarked for his spasmodic and eccentric behaviours when interacting with fellow poker players. However, his skills are not in question. He was even invited to join the Poker Hall of Fame in 2007 after roughly 20 years of professional poker playing.
As one more feather in his cap, he even hosted numerous poker tournaments and worked as a coach on Fox Sport's Best Damn Poker Show. Unfortunately he won't be making a Fair Go coaching appearance anytime soon… unless he switches from poker to pokies that is.
Bryn Kenney (US)
After going on a heater back in 2019, Kenney's fame skyrocketed and he quickly became one of the top earning poker players in the world. This rise came off the back of a 3rd place finish at the Triton Million where Kenney saw his total accumulated tournament winning amount reach $20,000,000 plus. Since this he has accumulated more and more wins.
In addition to this accomplishment, Kenney is also the proud holder of a World Series of Poker bracelet. This was won in 2014 at a 10-game event. He has also reached seven different World Series of Poker tables, only to crash out. Adding to these key moments in Kenney's life are a 28th place finish at a main event tournament plus a $2 million win at the PokerStars Championship in Barcelona.
Maria Ho (US)
You can't talk about the most famous poker players in the world without mentioning Maria Ho. Considered to be the most prominent female poker personalities of the modern era, Ho is a world class player and the object of Kev the Koala's crush – woo woo.
Aside from being the object of a koala's affection though, Ho boasts some impressive results at the poker table. Currently her career earnings total more than $4 million. Her biggest payday, however, came in 2011 at a World Series of Poker tournament, whereby she claimed $540,000 after finishing in 2nd place at a no limit Texas hold 'em match. These days Ho still dabbles in the odd tournament here and there. That is when she's not hosting the Super High Roller Bowl, PokerMasters events and other high-profile games.
Daniel Negreanu (Canada)
Daniel 'Kid Poker' Negreanu was a mainstay of the World Series of Poker all-time money list up until 2018. Since then he has gradually slipped off the radar whilst still remaining a living legend amongst his peers. One thing that made Negreanu such a famous poker player was his ability to read opponents.
This talent saw him win a total of six World Series of Poker bracelets, make final tables 38 times and win cash in high paying events a total of 108 times. This includes an 11th place finish at two World Series of Poker main events – 2001 and 2015. As testament to Negreanu's skills he was inducted into the Poker Hall of Fame in 2014. He is now considered one of the best and most famous poker players of all time.
Phil Ivey (US)
There were more than a few players who rose to fame during those heady days when poker was just beginning to be glamourised in the mainstream media. Ivey was but one of the up and comers who became famous for playing in televised high-stakes games in the early 2000s.
Unlike his opponents, Ivey is somewhat of a mystery within poker playing circles. It's said that he carries a type of mystique and that nobody can ever get a read on him. If you think this should make him somewhat of a poker playing savant, then you're on the right track. Ivey has spent thousands of hours at the poker table over his 20-year career.
He's done it all too. From sneaking into card games to winning 10 World Series of Poker bracelets and amassing $20 million in online winnings. Ivey has even been accused of being part of a multimillion-dollar baccarat scandal, but hey… you can't be one of the most famous poker players in the world without getting your hands dirty.
Other big names on our list...
Tony G (LT)
Tony G from Lithuania is one of the poker world's more colourful characters. Loud, outspoken and famously bold in the way he conducts himself at the table, Tony G (real name Antanas Guoga) needs no introduction if you're even the slightest bit familiar with poker.
Not only does he frequently play in high stake tournaments, but Tony G also has a lot of other thing going on in his presumably very full-on life.

He's a politician in the European Parliament and a successful businessman, currently holding the title of chief executive officer at an investment company listed on the Canadian SecuritiesExchange. And while he's never actually earned himself a World Series of Poker bracelet, he has cashed in around 15 times. In addition, Tony G has won multiple six-figure prizes.
It's said, however, that the majority of his personal wealth has come from his business activities and not his poker winnings. In saying that, nobody would begrudge him the title of being one of the most famous poker players in the world.
Doyle Brunson (US)
If you're wondering who the most famous poker player ever in history is, then perhaps you need to hear a little story about Doyle Brunson.
Nearly as old as the game itself, Brunson is a poker playing legend of almost mythical proportions. In fact, he was already well known amongst poker aficionados when poker's popularity boomed in the early 2000s.
Called the 'Texas Dolly' this poker hero has a resume that's as big and as impressive as the 44-gallon cowboy hat he sometimes wears during games. He's won a World Series of Poker bracelet 10 times, published multiple strategy books on poker and is regarded within the poker world for the insight that he brings to the game.
If there was ever going to be a GOAT of poker, Brunson would be it. Although officially retired since 2018, he still makes the odd appearance to remind the young bucks who is boss. He even made it to a World Series of Poker final a few years ago, proving that you never really leave the poker table… you just get better at picking your moments.
Venessa Selbst (US)
With three World Series of Poker bracelets, a total live tournament winning kitty of over $11 million dollars and a determined attitude, Venessa Selbst is one woman you don't want to find yourself sitting across the table from.
As if to confirm this, she reached the highly sought-after number one position on the Global Poker Index. This made her the first woman in the history of poker to do so. Beyond just being the most successful and the most famous female poker player in the world, Vanessa also holds a law degree from Yale and works in New York for an investment management firm.
Did these stories about famous poker players from around the world fire you up? Then check out Fair Go's virtual poker offerings today. We have variations to suit all tastes and preferences, including Caribbean hold 'em, stud poker, all American poker and much more.
Of course we also rock a massive collection of you beaut speciality titles and jackpot pokies as well. This means we've got online casino and virtual table games coming out our backside, but don't just take our word for it…
Redeem code "PLAYPOKER" to enjoy a $5 free chip.
This bonus expires on the 16th of February. This bonus is redeemable once. Max cashout is $180. T&C's apply.