The 17 wildest facts about horseracing
Expired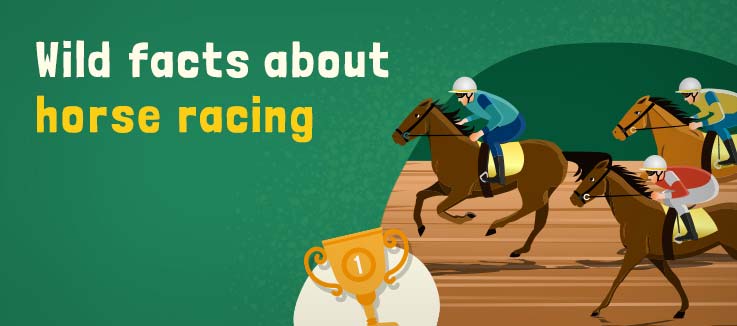 Blog Bonus:
Redeem code "HORSERACING" for $5 free bonus.
General T&C's apply.
Horseracing is huge in Australia, but how much do you actually know about it? Of course, it involves horses, jockeys and trainers with interesting eyebrows (lookin' at you, Bart). Some of the following titbits though are not so obvious. Discover Fair Go's 17 wildest facts about horseracing by reading on below.
1. The Melbourne Cup is one of the richest races in the world
We have a lot of rich races in Australia, but the Melbourne Cup trumps them all. It has a purse of around $8 million depending on the year. It also captures the attention of the entire nation. Many of the most famous horses in our neck of the woods, such as Phar Lap, have competed at the Melbourne Cup. Horses from other countries compete too, as do jockeys and entire racing teams. The combination of a generous price purse plus the prestige is what brings people from far and wide.
2. Horseracing is almost bigger than soccer in Britain
The Brits are soccer (or football) mad, but horseracing nearly garners just as much attention as the 11-a-side sport. In fact, it's estimated that around 6 million people pass through the gates to watch horseracing events every year. This still pales in comparison to football, which attracts upwards of 9 million throughout the year, but it's more than cricket and any other sport.  
3. We race on grass here in Oz
This may come as a surprise to our Aussie mates, but did you know that most horse races in the US are held on dirt? It's hard to imagine horses running around on anything but a nice circle of freshly mowed turf, but it's true. Surely all that dust would ruin a pressed suit or race day frock though.
4. There are nearly 500 racecourses in Oz
Because we have such a massive fascination for horseracing (and the sums we can win on it), there are more racetracks in Australia than nearly any other country. At 479, this is definitely more than in the US, which has a population of over 350 million. On any given day there are no less than 80 races taking place. This means you can always find something to punt on. Of course, if there aren't any races there's always rugby league, AFL or cricket to check out.
5. The Kentucky Derby is known as "The Run for the Roses"
The Kentucky Derby is perhaps the most celebrated horse race in the States. One of the reasons for this is that the winner is draped in an elaborate blanket made from 554 red roses. The tradition of decking the victor out in a floral garb dates back to 1883, when the man who started the Kentucky Derby observed another man presenting roses to women at a party. However, the actual custom of covering the winner in a rose blanket didn't take hold until 1986.
6. Jump races are still a thing in Australia
While most races in Oz are held on flat surfaces, we do like to mix things up by adding in a few barriers here and there. The races unfold in much the same way as a normal long distance race, but the jockeys and horses must navigate a number of barriers during their run. Because of the added challenge that barriers present, anything can happen during a jump race. Falls are common and horses often stumble. Sometimes they don't even jump at all.
7. the OG racing horses were actually bred for battle
The first horses brough to UK shores for thoroughbred breeding arrived in the 17th and 18th centuries respectively. These horses were specifically bred for war overseas. Fast, powerful and brave, their abilities on the battlefield transferred to the track. As such, many of these OG racing horses have lineage that continues to this very day.
8. Phar Lap was a Kiwi
Aussies are led to believe that Phar Lap was as Australian a Vegemite, but hold onto your Akubras folks… it appear we've been lied to. Phar Lap was actually a horse that was foaled in New Zealand. It's just that it had all its success on Australian soil. This includes winning all 37 of its races and becoming one of the biggest earning horses in the nation. Phar Lap is so legendary that his mounted hide still hangs in the Melbourne Museum. Not to mention his famously large heart (over 6 kg), which is located in the National Museum of Australia.
9. Horseracing is a ridiculous money maker
Casinos haul in a lot of money, as do sportsbooks for disciplines such as rugby league, AFL and the cricket. But every year over $100 billion is bet on horse racing around the world. Not only is that amount staggering, but it's also more than the GDP of most African countries.
10. Age matters
It doesn't matter what day of the year and in what month a horse is born. All horses are given the birthdate of January 1st to make the process of filtering horses by their age easier.
11. We hold over 22,000 races every year in Australia
We already mentioned that Australia has a massive number of horseracing tracks, but it also seems that we really make the most of them. There are more than 22,000 races held every year in Oz. Moreover, the vast majority of these races come with high stakes. This makes them very competitive, which only adds to the lucrative nature of horseracing in Australia.
12. Dress codes for horseracing events
When horseracing first became a thing in England, attendants were given a strict dress code if they wanted to join. This included closed shoes, three-piece suits, pocket squares, corsets and full-length dresses. Really, these rules were designed to keep the riff raff out and allow socialites to show off their expensive tastes. As the years went by though, many of these dress requirements were dropped, and the only thing that really persists to this very day are the hats.
13. We like to call losing horses "drongos"
There was an American horse called Zippy Chippy who lost a record of 100 races. In Australia though, we had a national treasure called Drongo. This horse, who despite having a very strong pedigree, was never able to finish better than second place out of 37 starts. This led to people using his name as a synonym for someone who's a bit slow off the mark or someone who has a run of bad luck. You can't help but feel a bit sorry for poor Drongo though… why didn't his jockey get the blame?
14. A female rider in the US was booed off the track
Horseracing in Australia and throughout the world has always been somewhat of a boy's club. This was true when it first started and it was true in 1969, when Diane Crump entered the Kentucky Derby. Diane didn't even get to finish her first race, with security escorting her from the track due to the hostility of the crowd.
15. No matter how hard you train… horseracing is about luck
Horses with strong pedigrees (Drongo?) and well trained horses don't necessarily win races. Sometimes it's the roughie or the rank outsider who sweeps the field. This was the case at the 1928 Grand National in the UK, which was marred by terrible weather conditions that caused a thick blanket of fog to cover the track. A horse called Tipperary Tim won the race, despite not being a favourite. This was mainly due to the fact that it was only one of two horses that finished the race though (out of 42). Funnily enough, a friend had even shouted out to the jockey before the race begun: "Billy boy, you'll only win if all the others fall down".
16. The 11-year-old Melbourne Cup Winner
Jockeys begin their racing career pretty young, sometimes around the 16 to 17 mark. The youngest rider to ever win a Melbourne Cup though was only 11 years of age. Peter St. Albans was his name and in 1876 he raced in lieu of another rider who could not make the required weight. Albans went on to claim first place, but it eventually came out that his win shouldn't have been awarded. The reason being that the age limit at the time for entering the Melbourne Cup was 13 years old. However, racing officials smudged his record to avoid controversy and keep the race going.
Gallop away with big prizes by betting at Fair Go