The 5 biggest bets that have ever been placed
Expired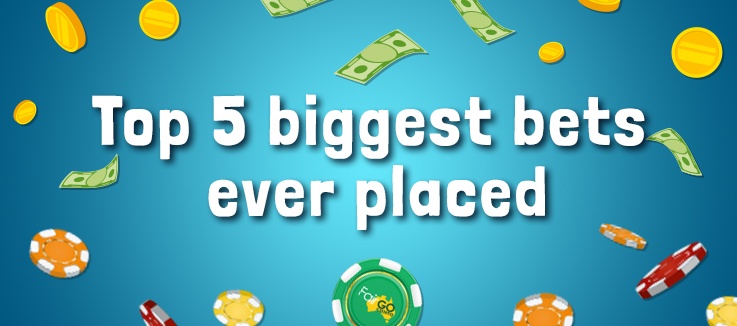 Everyone loves that dramatic moment in a movie when the star of the film stakes everything he owns on one hand or roll of a dice. Of course, we all know what the outcome will be, but that doesn't make it any less entertaining.
In the real world though, the outcome of placing one of the biggest bets in history can never be scripted. It all comes down to whether or not today is your lucky day.
With this article, we write about some of the biggest bets in history and give you some context as to who placed them, how much they won and just what the hell they were thinking at the time.
If you want some betting inspiration for your next go-around at Fair Go casino, you'll find it here. So read on and learn all about 5 of biggest bets in history.
1. Man bets everything he owns on one roulette spin
Have you ever had the thought that you would like to quit your job, sell the house and car, pack your bag and take off on a distant adventure to an exotic destination? We think just about everyone has, but in the case of young Briton Ashley Revel, his adventure involved selling everything he owned and the exotic destination was Las Vegas.
He flogged his car to the highest bidder, sold his stereo, his TV and even his entire wardrobe, then emptied his bank account and his online poker account. The only thing he didn't pawn was the getup he had on and his plane ticket to the good ol' US of A. All in all, Revel managed to amass $135,300 for his Las Vegas gambling vacation.
Now, you might think that behind this life-changing decision was a foolproof betting plan. The truth is though that once Revel arrived in Las Vegas, he went straight to the Plaza Hotel and Casino and put it all on a single roulette spin. He then went onto win $270,600.
Lady Luck must have been hanging off his arm that day, because the odds of him leaving Vegas with a win of that magnitude we're practically zilch. Revel was called a genius, a high roller, the most fortunate son of a gun to ever walk the earth. It's a good thing he didn't sell his wallet either.
2. From unemployed waiter to multi-millionaire
We love it when an underdog triumphs in the face of adversity, and it doesn't get any more underdog than this story about an unemployed waiter by the name of Archie Karas.
Broke, destitute and otherwise down on his luck, Karas was out of work with zero job prospects and nowhere to go. In what can only be described as a stroke of boldness on his part and a large amount of grace on that of his friend, he hit up a mate about borrowing $10,000 in the hope it would be enough to change his life.
If Karas' friend thought he was going to use the money to pay bills, buy food and give himself some sort of safety net, he was sorely mistaken. Karas took the cash to Binion's Horseshoe Casino in Las Vegas and used it took bankroll his entry into a poker competition.
Even though the Greek god of luck was more or less absent from the rest of Karas' lifetime, he decided to show up on this fateful day and offer a helping hand. Karas went on to beat 15 of the world's best poker players and then use his winnings to play the craps table, racking up a total of $17 million in prizemoney.
While we're not sure if this constitutes one of the biggest casino bets ever placed, it's definitely not a bad return on an investment of $10,000. At the end of the day though, we should really be hailing the generosity of his mate.
Without that leap of faith, there's a good chance Karas would still be bussing tables.
3. Mysterious man goes all or nothing on a casino craps game
In what has since been regarded as some of the most bizarre betting circumstances ever, a mysterious man walked into a Las Vegas casino in the mid-1980s with a suitcase flush with $777,000 (roughly $2.31 million dollars today) and bet it all on a game of craps.
This bet was on the Don't Pass line and it turned out to be a winner, which meant 'Suitcase Man', as he came to be known, ended up pulling in a $777,000 profit. The casino owner proceeded to help him stack his winnings into the empty suitcase that he brought in. The anonymous gambler then walked out the front door and was as they say gone with the wind.
Later on it was established that this unidentified punter was actually William Lee Bergstrom, an ex-real estate salesman from Austin, Texas. It was also reported that after leaving the casino with over $1.5 million (nearly $5 million now), Bergstrom travelled the world for three and a half years before returning to make another bet on a single roll of the dice.
He won again, took his mum to a Willie Nelson show, then came back and won another $117,000 (approximately $300,000 today) on three more separate craps bets. Now if that's not a winning streak, we don't know what is.
4. Floyd Mayweather and his knockout wager
The life of a boxer isn't an easy one. The constant pressure, the head knocks, the injuries and the media exposure would wear on just about anyone. Not Floyd Mayweather though, who seems to revel in his chosen discipline and embrace the spotlight whenever he has the chance. Incredible boxing record and love for publicity aside though, he's also a prolific gambler.
Of course, when you're worth somewhere in the neighbourhood of $1 billion, you probably don't even notice the odd $100,000 wager here and there. But what about a few million dollars?
Well, when he wagers almost $6 million dollars on a championship game between Miami Heat and the Indiana Pacers, it's obvious that Mayweather doesn't really care whether he's betting hundreds of thousands or seven figure sums. It's all the same to him.
Bet of this size aren't that uncommon in America, however, professional punters generally chose the NFL and more specifically the Superbowl as their preferred betting fixture. In this regard, Mayweather's bet, which was spread across nine different sportsbooks, went against the grain.
But they don't call him 'Money' Mayweather for nothing, and it seems his flawless record in the ring also extends to the betting arena. The Heat were seven-point favourites against the Pacers, and they ended up demolishing their rivals 99-76. This essentially doubled the star's money and made his bet one of the highest ever placed.
5. Brave Kiwi bets big on the All Blacks
Ok, we get it. A Kiwi betting on the All Blacks to win a rugby union match doesn't necessarily make him brave. The New Zealand rugby side is after all the most dominant team in the modern game, so your odds of winning are actually pretty high.
What puts this Kiwi into the courageous category though is that fact that he bet $400,000 on the All Blacks to win the Rugby world cup back in 2015, which was the biggest wager ever placed in New Zealand's history at almost double the size of the previous record which had stood for 13 years.
Given the size of the bet, it took the TAB team the whole night and well into the morning to process the wager and for the bank transfer to clear. Come 8:30 am, the largest betting slip ever written up in New Zealand was officially released.
As we know now, the All Blacks won the world cup against Australia (poor refereeing in our opinion) in England, which netted our mate from across the ditch a cool $540,000. But who was this enigmatic better who so confidently bet against our men in green and gold?
Well, to this day nobody knows. At the time he was described as being "vociferous about anonymity" and only gave away that he was from the North Island.
We wonder if he would make the same bet now about the New Zealand Warriors making the NRL grand final?
Be inspired by these fair dinkum stories and bet smart with Fair Go Casino today with any one of these fast, safe and simple methods today.