The best fishing spots around Australia
Expired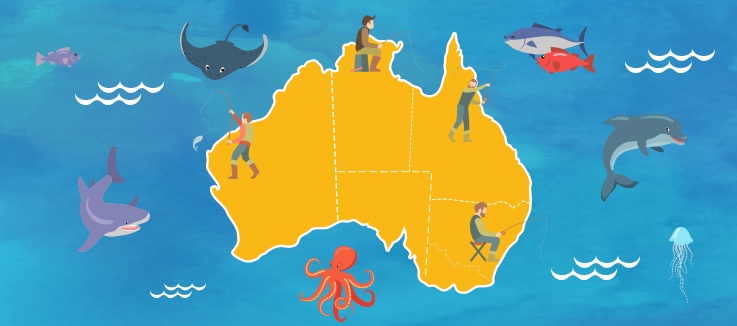 One of the best ways to experience this beautiful country is by embarking on a fishing trip. Whether game fishing, rock fishing, beach fishing or simply casting a line off a sandbar at low tide, this outdoor pursuit gets you up close and personal with Australian nature.
Kev the Koala has recently taken up fishing and has since hooked plenty of stunning looking fish (and a new friend). Since Kev lives on a diet of eucalyptus leaves though, he adheres to the practice of 'kiss and release' made famous by legendary Aussie angler Rex Hunt. That being said, Kev has discovered a few fantastic fishing locations during his adventures.
In this article, we share with you some of the best fishing spots around Australia that you can visit. From the coastline to mountain streams and everywhere in between, these popular destinations are brimming with fish for you to catch and flush with scenery that'll make you say "strewth".
1. The Top End, Northern Territory
The Top End refers to both Darwin and Kakadu National Park in the Northern Territory. Tropical and remote, it's a fishing spot for the adventurous that's famous for having some of the best barramundi angling in the country.
October through to December is the ideal time to visit if you are fishing for barramundi. This is due to an event called the 'barra build-up', which occurs when they come together and school in billabongs and estuaries before the monsoonal rains. February through May, however, also sees prime conditions for barramundi fishing since they tend to gather at rivermouths during this period.
The Daly River, the Mary River and the Adelaide River all offer quality fishing in the Top End, as does the South and East Alligator River in Kakadu. Deep sea fishing charters can be booked when the seas are calm, and heli-fishing is available on select rivers. Just remember to keep on the lookout for crocodiles if you do choose to wade into some of the more isolated areas.
2. Port Lincoln, South Australia
Port Lincoln is a stunning city located in South Australia's Boston Bay. Known as 'the seafood capital of Australia', Port Lincoln benefits greatly from the convergence of abundant, nutrient-rich waters of the Great South Australian Coastal Upwelling System, the Great Australian Bight and the waters of Spencer Gulf.
Southern bluefin tuna is the species that the area is most famous for. Fishing for southern bluefin tuna can be undertaken from December right through until May. Boat fishing is also popular, however, there are plentiful opportunities for both jetty and rock fishing too.
Word of warning for all would-be bluefin tuna chasers, the waters off Port Lincoln are notoriously dangerous. Many skilled anglers have been caught in rough seas, only to be rescued by the coast guard in the nick of time. If you do plan on launching your boat from the marinas at Port Lincoln or Tumby Bay, or the boat ramps at Taylor's Landing, Mt. Dutton Bay, Coffin Bay etc., be sure to check the local weather conditions before you go.
3. Lake Jindabyne, New South Wales
During the summer months, Lake Jindabyne in the Snowy Mountains is considered to be one of the best fishing spots in Australia due to the prolific amount of trout that call this body of water home. The lake itself is at 930 metres and is fed by numerous rivers, such as the Thredbo, Snowy and the Eucumbene.
Anglers visiting Lake Jindabyne can expect to hook brown, rainbow and brook trout, as well as the odd Atlantic salmon. Fishing gear can be rented, and local guides can be booked if you'd like to discover fishing spots that are off the beaten track yet bountiful.
Jindabyne is one of Kev the Koala's favourite fishing spots, since there's also an abundance of Snowy Mountain gums in the region in case he gets hungry. The natural beauty of the lakes and the fact that all types of fishing (bait, spinning, trolling, fly fishing) are permitted are two more reasons why Lake Jindabyne is one of the best fishing spots in Australia.
4. Cairns, Queensland
Cairns is called 'the big game capital of the world' by many experienced anglers. A claim that's easy to make given that it's home to record-breaking black marlin and more wahoo, Spanish mackerel, mahi mahi, barracuda, trevally and sailfish than one can poke a gaff hook at.
Fishing in Cairns is an exhilarating experience. The majority of black marlin hooked in the world are hooked in the waters to the north of the Great Barrier Reef from September through to late December. These tropical waters also attract a large number of bait fish, which in turn draw in larger species. Simply cast a line from the shore or trawl along the mangrove-lined rivers for Barramundi. Spearfishing is also popular.
The fact that Cairns has an international airport means that it's easy to access for anglers both within Australia and overseas. There are plenty of charter companies offering fishing expeditions at competitive prices and tackle shops on just about every street. It nearly goes without saying that Cairns is a fisherman's paradise.
5. Merimbula, New South Wales
Merimbula offers a wide variety of fishing opportunities for the travelling angler. With stunning white sand beaches, a striking lake and countless estuaries to explore, there's something for just about everyone in the region known as the Sapphire Coast.
One minute you could be locked in a battle with a plump looking bream, only to be hooking up some tailor moments later in the turquoise shallows off one of Merimbula's beautiful shorelines. One of the things that makes this region one of the best fishing spots in Australia is that you don't have to worry about travelling long distances to find a premium location.
Inshore species such as flathead, gummy shark and whiting more or less bite year-round, however, if you'd prefer to try bottom fishing, you can also search the offshore reefs for trumpeter, perch and snapper. Better yet, the continental shelf drops away just 25 kilometres from the coast, so you can find black, blue and striped marlin not far from the shore.
6. Exmouth, Western Australia
Exmouth is the gateway to the UNESCO World Heritage Site of the Ningaloo Coast – a majestic 260 kilometre stretch of ocean that's home to coral reefs and fish of all species. The waters off Exmouth are rich in marine life and like Merimbula, the continental shelf drops away only a few clicks off the coastline.
                                                                                
Exmouth is sometimes compared to Cairns when it comes to the best fishing spots in Australia, however, the truth is that there are some major differences between the two. For one, Exmouth is small town with less than 3,000 inhabitants. It's also bordered by sand dunes and desert as opposed to lush rainforests.
Like Cairns though, Exmouth has fishing to excite even the most experienced angler. The deep blue ocean is nutrient-packed, which means fish flock to the area in great numbers. Marlin, swordfish and sailfish are regularly hooked, and many skippers specialise in multi-day trips that allow you to purse these gamefish until the line breaks or you land a beauty… whatever comes first.
7. Hervey Bay, Queensland
Crystal clear waters, diverse species of gamefish and the chance to spy humpback whales are just a few of the reasons why Hervey Bay (pronounced "Harvey") is one of the best fishing spots in Australia. It also boasts incredible weather for the majority of the year and it's not uncommon to score multiple consecutive bluebird days while on the water.
The species of fish that Hervey Bay is most famous for is the golden trevally, which swim along the flats between August and April and are fun to catch on fly gear or light tackle. There are, however, plenty of other fish species in the Hervey Bay region, such as tuna, sailfish, tailor, snapper and bream.
Guided saltwater fly fishing tours, liveaboard excursions and sports fishing trips can be organised in town. Charters out to witness humpback whales during the calving season can also be arranged. This means that you can still enjoy seeing Mother Nature in all her glory, even when the fish aren't biting.
7. Central Highland, Tasmania
If trout fishing is your game, then the Central Highland of Tasmania will be one of your favourite spots for fishing in all of Australia. Blessed with over 3,000 lakes that are loaded with both wild brown trout and rainbow trout, the only issue you'll ever have with fishing here is trying to decide on which body of water to setup at.
The trout here are known for their ability to put up a fight, so persistence and no small amount of skill are required. The most popular lake for brown trout is Arthurs Lake, which is situated roughly an hour from Launceston. Between August and May is the most ideal time to visit Arthurs Lake, although if you're coming in spring than Great Lake is also an option.
Most of the lakes in the Central Highland area of Tasmania can only be reached by walking. This is just part of the magic of fishing here. If you'd rather fish in the ocean, the waters off east coast towns such as St. Helens can also offer some excellent opportunities for visiting anglers. Always check the forecast before you leave for a fishing trip in Tasmania and remember to layer up as the weather is known to be unpredictable.
Hook some big wins with Fair Go casino – visit our site now to play your favourite pokies.