The biggest lottery jackpots ever won
Expired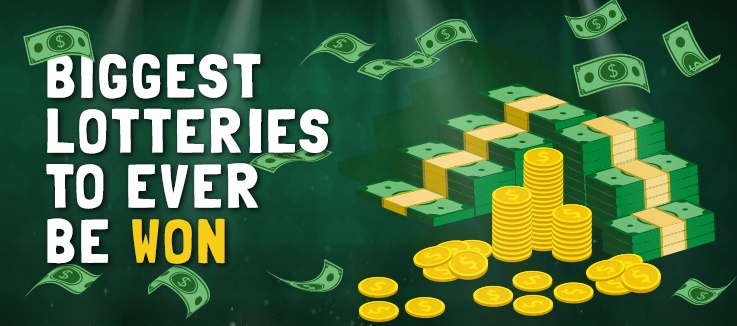 Everyone has dreamed of winning the lottery at least once in their life. We imagine all the things that we're going to spend our newfound riches on.
A fully souped-up car, a holiday for the parents and maybe even a gold encrusted toilet seat because hey… you're a millionaire and you can buy those things now. But in reality, winning the lottery is actually incredibly rare. So rare in fact that many people use it as a yardstick to compare just how rare other events are, such as encountering a shark or seeing a surfing koala.
Despite this, there are plenty of cases of people winning lottery jackpots from around the world. Most of these are small amounts, like a thousand dollars here or a few thousand there. Some of these lottery jackpot wins, however, are out-of-this-planet massive. Like, you could literally nearly buy your own planet.
In this article, we talk about some of the biggest lottery jackpots ever won and go on a deep dive into the history of the lottery. Bear with us, because that's actually not as boring as it sounds. You'll get to learn all about the fascinating origins of the lottery and then enjoy some epic winner stories.
What is the lottery?
The lottery is essentially a type of gambling, but instead of playing with cards or spinning reels on a pokie, numbers are drawn.
There's not much skill involved with the lottery. If you have the same numbers on your ticket as the numbers that have been drawn, you win either the total jackpot prize or a portion of the prize. These prizes could be in the form of cash, but they can also be vehicles, holidays or other goods and services.
Lotteries first became popular in the early 19th century. Then, in the early 20th century, they began to lose their lustre due to the fact that many governments, such as the US, had outlawed both them and other forms of gambling.
It wasn't until the mid 1950s and 1960s that lotteries and casinos were given the green light once again. Not because they're awesome fun mind you, but because they allowed governments to raise revenue without also having to increase taxes.
Nowadays there exists some type of lottery or lottery-style game in just about every country around the world. From Argentina to China and in India, the relatively cheap cost to play make it one of the most accessible ways to gamble in the world.
When did lottery first begin in Australia?
Of course, here at Fair Go we love all things Australia, so in addition to talking about the biggest lottery jackpots ever won, we thought we would also discuss the first lottery to be established in our great country – the Golden Casket Art Union.
Started by the Australian government in 1916, the Golden Casket Art Union was a lottery created in order to raise capital for various funds and charities around the country. By all accounts it served this purpose well, even raising funds for veterans of World War I.
One could argue though that the very first lottery in Australia took place in Sydney nearly 100 years earlier in the 1880s. Reported as being a "private sweepstakes", this unofficial lottery was pretty much shut down as soon as it was established, but not before it spread to Queensland and Victoria.
The first completely national lottery and the one that is now widely accepted as being Australia's inaugural lotto draw is Oz Lotto, which was launched back in 1994. It features some incredible jackpots and very simple rules which have no doubt contributed towards its success.
Oz Lotto is played on Tuesday nights and entries cost a mere $1.20 AUD per game for a shot at millions of dollars in prizemoney. Not a bad investment if you ask us.
5 of the biggest lottery jackpots ever
We could talk about the history of lottery jackpots in Australia and all over the world until the koalas come home, but we know why you're all here… to learn all about the biggest lottery jackpots ever won. Below you'll find a few tales of lottery winners from across the planet, starting with a payout in the US that'll have your jaw swinging on the floor.
Before you read on, might we offer you a word of caution. While these jackpot amounts may inspire you to start playing your local lottery, the odds of winning are astronomical. If you really want to become a champion when it comes to gambling, opt for a few rounds on your favourite online pokie instead. That being said, here are 5 of the largest lottery jackpots to go off.
The world's largest jackpot prize - $1.586 billion USD
The biggest lottery jackpot ever won in the entire world as of today took place on a game of Powerball in the US back in 2016. It amounted to a total of $1.586 billion US dollars and was won by three couples who split the prize money evenly.
Two of the winning ticket holders were quick to come forward and claim their lump sum payment of $327.8 million (before tax), however, it took the third couple over 6 months to pick up their check. We're not sure why it took so long. If it were us winning that much money, we'd be there quicker than you can say "Fair Go". We can only assume that the reason it took so long is because they needed a few months to pick themselves up off the ground upon hearing they'd won.
Europe's largest jackpot prize - €209.1 million EUR
Unlike those lucky punters from the States, Europe's largest jackpot prize winner remains unnamed at this point in time. All we know is that they scooped up a cool €209.1 million on the SuperEnalotto lottery and that they hail from Italy.
This win broke a record previously held by a Scottish couple, Colin and Chris Weir, who won £161 million on the Euromillions lottery. Fun fact: the Euromillions lottery is responsible for producing more winners in the Old World than any other major continental lottery. Now, will you please excuse us while we contact Kev the Koala's European cousins and get them to purchase a ticket on our behalf.
Australia's largest jackpot prize - $107 million AUD
The moment you've all been waiting for has arrived - Australia's largest ever jackpot prize. Won on a game of Powerball back in 2019 by a mum from Sydney, the total amount of this monumental prize was $107 million.
What made this win so shocking was the fact that the lady in question thought she'd only won $107,000. It wasn't until later on that she discovered that she was the proud owner of the only division one winning ticket, which comes with odds of winning that are one in 134,490,400. What an awesome surprise, right? But the story gets better.
When asked whether she was retiring, the mum said that she could never leave her job in the healthcare industry because she was so passionate about helping people. She then said that she planned to share her money amongst her family and even donate a large majority of it to various charities. Talk about a deserved winner.
The largest lottery payout to a single winner – $491.7 million USD
For the largest payout in the world to a single player we find ourselves once again in the United States (where it seems that just about everyone either knows or has won money on the lottery).
While this person, who hails from South Carolina, chose to remain anonymous, we do know that they had a winning ticket on a $1.537 billion Mega Millions jackpot. Once divided between the other winners, this lucky person's ticket was calculated to be worth $491.7 million after tax - an amount that they quickly accepted as a lump sum. With a jackpot win like that, you can't blame them for not wanting to reveal their name.
The largest lottery game in the world
Finally we arrive at the largest lottery game in the world. Based in Spain and called "Sorteo Extraordinario de Navidad" or "El Gordo" (the fat one), the Spanish Christmas Lottery is a major cultural event in the country and home to the biggest first prize in the world. But just how much is on the line you ask?
Well, although the amount that first prize is worth changes from year to year it has been known to go as high as €2.52 billion (over $3 billion USD or just over $4 billion AUD). To win this amount, players are encouraged to purchase as many tickets as possible. Some buy hundreds, others buy thousands. The important thing to remember is that there's no shame in buying a ridiculous amount of tickets when it comes to this lottery. The winners are then announced on the 22nd of December every year, which means you can pick up a jackpot win
Try your luck at today Fair Go Casino today.