The different types of online casino members at Fair Go
Expired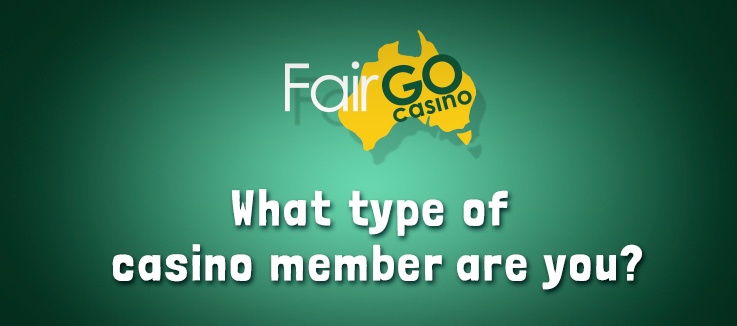 We've been in the online casino bizz for some time now and in that time, we've seen countless members sign up to use Fair Go. One thing that's become apparent to us throughout our years as the most Aussie online casino in the Sunburnt Country is that members seem to fit into different categories, but which category are you? Check out this article now and discover the many weird, wonderful and downright wild types of players we come across. From the grizzled Veterans to the calculated Intellectuals. Fair Go plays host to some absolute legendary blokes and sheilas…
The Maverick
Bold, confident and so self-assured it defies belief. The Maverick isn't afraid to bet big whenever the opportunity presents itself. They walk with swagger and drip with confidence, but don't confuse their sureness with cockiness.
They've been a Fair Go member long enough to know that our online casino is leaps and bounds above the competition. Because of this, they trust that they're always getting the best advice, the most generous bonus offers and access to the most premium titles. You might be a Maverick if you're the first one to try a new online pokie, claim a particular promotion or read a recently released blog article.
After all, you pride yourself of coming first in all walks of life. Whether it's buying the first newspaper in the morning, being the first one at work or being the number one player in your social soccer competition. Second place is just first place for losers… and you ain't no loser.
The Part-Timer
Not everyone has the time to play with Fair Go as often as they'd like. Some of us have other commitments to attend to which demand our attention, even though we'd rather be winning on an online casino. The type of people who fall into this category are called Part-Timers and they make up a large chunk of our membership numbers.
Many of them are busy professionals, time-poor parents or sports mad punters that can't find a spare minute between watching, playing or training for the disciplines they love. We don't see this as a negative though. Every man and woman should have their passions and it just so happens that some people don't see online casino gaming as a priority. Weird, but true.
In all honesty though, Part-Timers are loyal members and as soon as they've got a few seconds free, they're willing to pull us up on their phone, tablet, laptop or desktop and play a few rounds on their favourite pokie. So don't give up your day jobs for us, Part-Timers. We're grateful for even the most casual online casino gamers.
The Veteran
You wear your losses with pride and take any wins in your stride. You know that the online casino landscape is a battlefield, full of ups, downs and even a few sideways that can distract you from your ultimate goal – to win a little over a long amount of time.
                          
These are just some of the traits of our most beloved category, the Veteran. Veterans have been a member of Fair Go since Kev the Koala was just a wee little fur jelly bean. They're grizzled, determined and unphased by the emotional rollercoaster that is online gambling.
Veterans don't make silly mistakes, but they do take some big risks. At the end of the day though, they've got the experience and the know-how to mitigate said risks and turn potential disasters into a wallet full of cash. We could all learn something from the wise Veteran, even if it's just the simple yet sometimes hidden lesson that online casino gaming should always be fun.
The Rookie
The Rookie is, as the name suggests, a bit of a newcomer when it comes to the world of online casino gaming. More of a little fish in a big pond as opposed to someone like the Maverick, the Rookie is content with feeling out our various digital pokies and virtual table games.
They send us a lot of emails and aren't afraid to call our customer support team at all hours of the day. The Rookie, after all, doesn't really know how everything works… but what they do have is an unwavering eagerness to learn the ropes.
It's for this reason that we greatly respect the Rookie, because even though they may not have the savvy of the Intellectual, the sleight of hand of the Magician or the bravado of the Maverick, they do have heart. We've all got to start somewhere and if you play your cards right, you won't be a Rookie for long.
The Magician
Ever surprised yourself with a jackpot win? Considered yourself lucky whenever it comes to playing pokies? Bit into a sandwich only to discover there's a $100 note between the ham and cheese? Well you my friend may just be what we like to call a 'Magician'.
Nobody knows how you weave your magic to generate good luck, least of all you. Some say you were born with it, others reckon it's got something to do with your great aunts great grandfather who was known to pull rabbits out of a hat. Either way you're blessed with some extraordinary skills that allow you to win big and win often.
The Intellectual
Online casino gaming is more about playing with your head than playing with your heart. Not many people understand this well enough to put it into action, but do you know who does? The Intellectual.
With an IQ number that looks like a triple digit progressive jackpot, the Intellectual is a firm believer in the old saying that knowledge is power. However, they prefer to say that knowledge is cash. In other words, the Intellectual studies, scrutinises and agonises over every betting decision they make. Knowing full well that when you've got the brains you've got a guaranteed way to way.
In saying that, the Intellectual may sometimes be too calculating. You can only read so many blog articles, promotional terms or bonus conditions after all. At one point or another you've got to simply pull the trigger and play the damn pokie. Because nobody ever won a jackpot just by looking at it.
The VIP
You're a star, a celebrity, a legend amongst men and women. The red carpet is rolled out for you whenever you play. With this carpet comes a host of special VIP treats, such as cashback offers and a whole lot more. You might think you're just another player, but we think you're something else.
Also known as the VIFG (Very Important Fair Go'er), the VIP is at the top of the ladder when it comes to our members. Of course we don't think anyone is better than anyone else. This is the land of Fair Go after all, were everything is fair dinkum. The thing is though that the VIP is the VIP because they play with so much regularity.
They know the ins and outs of various games. They may even be on a first name basis with our customer service team. In short, our VIP members are as much a part of the Fair Go family as Kev the Koala himself. As such they're handsomely rewarded.
The Pokie Diehard
Roulette, poker and blackjack may sound fancy and glamorous in Las Vegas, but for this particular Fair Go player… they're about as useful as a solar powered flashlight. The reason being that the Pokie Diehard is interested in one thing and one thing only – playing our latest online pokie offerings.
Born in a town with multiple pubs, clubs and RSLs and raised by the bright lights of land-based pokie machines, the Pokie Diehard loves to have a virtual slap. They know the name of every character in each of the pokies that we have on our roster. They also have a sixth sense when it comes to identifying the best pokie to play on a particular day.
Their feats on online pokies have spread far and wide and many refer to them as the pokie whisperer. We just know them as our most dedicated Fair Go members. The type of people who not only love to win, but deserve each and every single payout that comes their way.
So tell us… did you discover which type of online casino member you are? If not, drop us a message via the customer service page or on our social media channels. We're always open to hearing about new categories of members that play with Fair Go.
Blog Bonus!
Redeem code BLOGTYPE for 6 free spins on Asgard
T&C's apply. Bonus expires on the 25th of December.
Play more, win more at Fair Go Casino today.