The Fair Draw promotion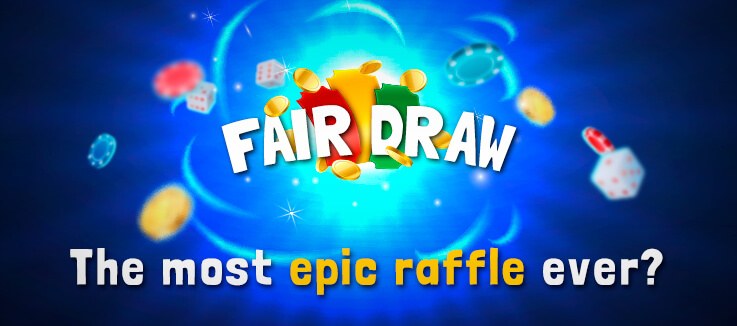 The team here at Fair Go have been working with Kev the Koala to scheme, plan and deliver promotions to members just like you.
Some of these promotions are super straightforward. You deposit, receive a coupon code and Robert's your father's brother… you've got yourself a bonus. Other promotions require you to use your nogging a bit though. One of these is the Fair Draw promotion, which is essentially a raffle that you can win some serious cash on.

If you're new to Fair Go or you're unfamiliar with what a raffle draw actually is though, our Fair Draw Promotions is probably about as clear as eucalyptus beer (not very). Taking this into account, we've decided to provide you with a detailed article that covers everything you need to know about raffle draws and this five-star promotion.
By reading on below you will get a better understanding as to how this promotion functions. Once you've got the gist of it, you'll then be able to take full advantage of this massive cash prize that it offers. So here it is… our rundown of the Fair Draw Promotions . Available to play right now at Fair Go casino.
The history of draws
Draws have been around for longer than Kev's ancestors. That's to say they've been around since the dawn of human (and mammalian) civilisation.
You only need to look as far as the Old Testament for the first evidence of draws being used. Ancient cultures such as the pyramid-loving Egyptians, the powerful Babylonians and the all-conquering Romans, for example, all used draws as a way to raise funds for their endeavours.
Since these times, draws have evolved to become a mainstay in modern cultures. Your local bowlo, servos or pub probably puts on some type of draw at least once a week. We're just continuing a long-held tradition by running the Fair Draw, except instead of using it to line our own pockets we do it to award loyal depositors with some extra moolah.
The first draw ever held in Australia
But what about the first ever draw held in Australia? Well, finding out when this took place required some digging into the history books. Luckily, we've got plenty of helpers to do some snooping for us.
What they found out was that Australia actually has a rich and distinguished history of using draws as a form of gambling (duh). Obvious facts aside, the first draw occurred back in the late 1800s in Sydney. This was before there was any state sanctions or rules around draws, which made it illegal.
That didn't matter to the good people of Sydney though who went on to hold what we would now call a lottery sweepstake draw in their city. To this day nobody knows who benefited from this underground draw game. We're not even sure you could call it a success.
What we do know though is that this privately-operated game paved the way for gambling throughout Australia, given that many lottery-based offshoots soon followed in Queensland, Victoria and Tasmania. So if there's any descendants of those O.G. punters, we'd like to say a huge thank you.
The benefits of entering a draw
There are a few key advantages to entering the Fair Draw Promotions . The main benefits are as follows:
Easy to enter
The Fair Draw promotion is a walk in the park to enter. Just deposit at least $500 between a Friday and the following Thursday and you're in.
Huge prize money
Despite our lighthearted approach to online gambling, we don't play around when it comes to prize money. By entering our draw you'll go in the running to win a random prize worth up to $500.
Winner announcement sent to casino inbox
The lottery will make you stay up late to find out whether you've won, bowling clubs need you there in person to claim your prize. At Fair Go though you can simply open up your casino inbox to see if you've scored. To us that sounds like a pretty sweet deal.
Fair Draw 101
Your questions about the Fair Draw promotions, answered by the best koala in the biz. Check out the queries below for detailed replies. Find out what our Fair Draw is, where it's located and how it works. Particulars as to what you can win are also provided at the bottom.
What is it?
Our Fair Draw promotion is a draw run over 7 days that rewards top depositors with random cash prizes. It works like your average draw in the sense that you enter and then we nominate a winner. You'll be notified via your casino inbox if you've won. In this situation you'll also receive a bonus code that you can redeem.
How do I enter?
Entering our Fair Draw promotion is a cinch. There are no forms to fill out, no complicated steps you must take. Just deposit a minimum of $500 into your Fair Go account and we'll automatically enter you into the draw.
Where is it located?
All the details for our Fair Draw promotion can be found in two places. The first of these is on our 'Promotions' page. The second is right here in this blog article. Of course it's easier to look up the promotion details on the dedicated page.
How does it work?
Login to your Fair Go account using your membership login details
Deposit at least $500 between a Friday and the following Thursday (7 days)
Once you've deposited the nominated amount or more, you'll be automatically entered into the draw
Check your *casino inbox on the following Friday to see if you've won
If you're a winner, you will receive a bonus code via email that can be redeemed in the coupon code section of our website
* note that you MUST check your casino inbox on Thursday in order to find out if you've won as it will not be displayed on our website
What can I win?
Winners of our Fair Go draw will be awarded random cash prizes. These prizes can be either $50, $100 or $250 with a top prize of $500. Think about it like this - if you've only deposited $500 to enter the draw and you also end up winning $500, you would've had a whole week of free betting. Now how many online casinos can offer that?
Enter our Fair Draw promotion now
You know what they say though. You've got to be in it to win it. So don't wait around for us to prompt you. Now that you're clued about our Fair Draw you can deposit with confidence.
Top up now and enter this promotion then remember to check your casino inbox the following Friday. As mentioned previously this is the only way to find out whether or not you've scored some prizes. We'll then send you an email with a bonus code that you can redeem in the coupon code section of our website. You wouldn't want to miss out on potentially winning $500 would you?
Try your luck and enter the Fair Draw today at Fair Go Casino.