The history of Bitcoin and why it's such a great deposit option
Expired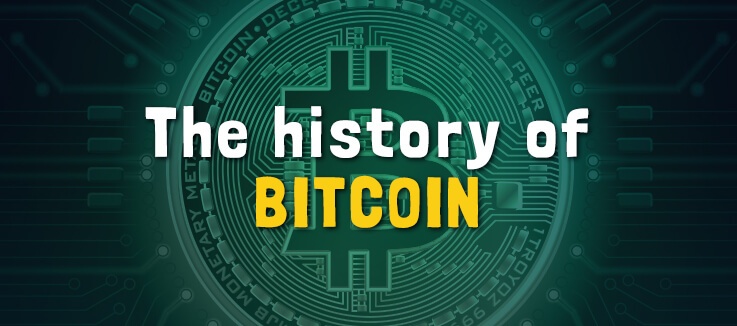 Fair Go members have plenty of you beut' deposit options to choose from, but none of them have a history as rich and interesting as that of Bitcoin.
In this article, we fill you in on a few key facts about this popular cryptocurrency. Some of the titbits you'll be familiar with, while others will blow you away. In any case, you won't be bored.
Before you scroll down though, don't forget to pick up your special bitcoin bonus. Available right now at Fair Go, you get 300% up to $600 and 60 free spins PLUS a $150 free bonus just for depositing using this safe and secure method.
If that's not enough to get you curious, we don't know what will…
Bitcoin: A short history
Read on if you would like to know more about depositing with Bitcoin and how it came to be.
Mysterious origins
The year is 2008 and one of the world's largest investment banks, Lehman Brothers, has just declared bankruptcy. A sign of things to come, many other major companies, small businesses and mum and dad operations will also be required to close their doors. All thanks to what would later become known as the Global Financial Crisis.
                    
While the world was at its knees, the domain bitcoin.org was registered by a person or persons during that same year. A white paper on bitcoin that explained its role and how it worked was also published under the pseudonym Satoshi Nakamoto.
In 2009, the first bitcoin was mined by this mysterious cryptocurrency trader. Called the "genesis block", it was shortly followed by the first ever bitcoin transaction when a single coin was sent from Nakamoto to cryptography expert Hal Finney.
This auspicious beginning is clouded in mystery and to this day nobody knows Satoshi Nakamoto's identity. Any attempts to uncover him have been thwarted and he has not been heard from since 2011. Despite this, bitcoin soon took hold the world over, eventually flourishing in ways that not even Nakamoto could predict.
Bitcoin boom
Soon the news of bitcoin spread, and this novel cryptocurrency started being used in everyday transactions. In May 2010, for example, a man from Florida offered to pay 10,000 bitcoins for a large pizza.
A British man accepted the offer and ordered two pizzas to the Floridian man's house using a credit card. He was then reimbursed for the pizzas with bitcoin. As we write this, the total amount for those bitcoins is $148,728,734 Australian dollars. That's a lot of pizza.
Bitcoin then became the currency for crypto-enthusiasts, nerds and online casinos gamers the world over. Of course there were people using it for more nefarious reasons, but in general it became widely accepted as a safe and popular alternative to real money.
In 2013, Silicon Valley took notice of bitcoin after all the coins in circulation hit a value of over $1 billion USD. This milestone went on to kickstart the cryptocurrency revolution that would see individuals and investment groups around the planet become insanely wealthy thanks to bitcoin trading.
Crypto culture
Come 2017 and bitcoin's popularity had reached hysteric levels. Numerous factors contributed towards this build up in value, but most of the increase was motivated by people who thought they could see its moneymaking potential. Endorsements by major investors and even celebrities didn't hurt its meteoric rise either. Bill Gates praised it for being "better than currency" while founder of the McAfee anti-virus company John Mcafee speculated at the time that bitcoin would be worth "above $500,000 USD within three years". At its peak bitcoin maxed out at a value of $19,783 USD per unit, however, some people became millionaires when it was still worth less thank $1,000 USD. One of the most famous success stories is of an anonymous man in Hong Kong who invested in Bitcoin when it was only $0.15 USD, only to sell the majority of his stake when it hit $800, netting himself over $2 million USD in the process.
Bitcoin today
Nowadays, buying, selling and depositing with bitcoin is easier than ever. It's accepted by online casinos such as Fair Go as a deposit method. It can also be used in transactions for everyday items, such as clothing, makeup, jewellery and even vehicles.

Whether or not you choose to use bitcoin is up to you, but Kev the Koala can't recommend it highly enough. He pays for all of his eucalypt beers with bitcoin. He also uses it to top up his Fair Go account and you can too. Because if it's good enough for Kev the Koala, it's surely good enough for our loyal members.
Bitcoin as a banking method
Bitcoin is a fantastic deposit method when it comes to banking with Fair Go casino. Of course, all of our current deposit methods tick boxes for safety, convenience and useability. But bitcoin has a few unique features that make it somewhat advantageous to use.

If you consider yourself a serious Fair Go gamer who likes fast deposits, even faster withdrawals and peace of mind, bitcoin may just be the deposit method for you. Learn how to deposit with bitcoin below and discover why so many of our members reckon bitcoin is an absolute ripper.
Advantages of using bitcoin
For Fair Go members who have used bitcoin as a deposit method before, the benefits of this cryptocurrency will be obvious. If you're yet to experience banking with bitcoin though, here are a few of our favourite advantages:
Low minimum deposit: Bitcoin has a low minimum deposit threshold of $25 so you can bet with less
Speedy withdrawals: Withdrawals using bitcoin are instantaneous, which means you don't wait for your winnings
Zero fees: Taking out or depositing using bitcoin is 100% free of any fees, allowing you to save money on day-to-day transactions
Safe and secure: Bitcoin is supported by an innovation called blockchain. This technology ensures your identify is protected and that all transactions are secure
Trusted by major companies: Microsoft, BMW and Wikipedia trust bitcoin for their businesses which is as good as endorsement as you'll get
Depositing with bitcoin
Don't let bitcoin technology throw you into a tailspin. Using it to top up your Fair Go account and withdraw your winnings is surprisingly simple. So simple, in fact, that we reckon it's just as easy as using your credit card. However, there are a couple of things you need to know before you become a bitcoin enthusiast.
Creating a bitcoin wallet
The most important thing you need to deposit with bitcoin is an authorised bitcoin wallet. Since this cryptocurrency is 100% online, it requires a digital wallet for you to store it. These bitcoin wallets can be downloaded from a number of legitimate websites. Once you have your wallet, you can then begin buying up, trading and depositing with bitcoin.
Loading your Fair Go account
In order to bet with bitcoin at Fair Go, you will need to follow the below steps:
1. Make sure you have bitcoins in your bitcoin wallet
2. Select "Bitcoin" when depositing funds into your Fair Go account
3. Nominate the number of bitcoins you would like to deposit (min. $25)
Blog Bonus!
Redeem code: BITCOIN for 5 free spins on Lucha Libre 2
Coupon code expires on Thursday, 25th June. General terms apply.
Visit Fair Go Casino now to play Wild Hog Luau.