The most beautiful casinos in the world
Expired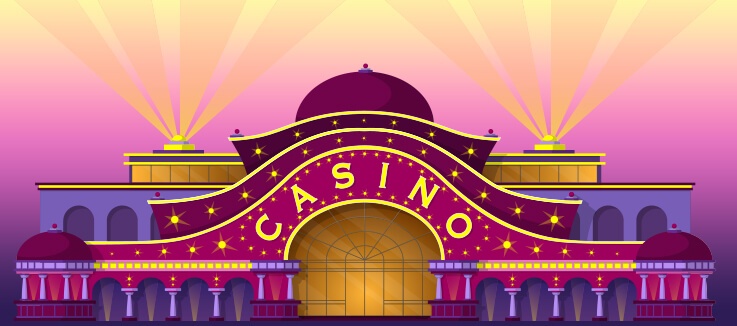 When it comes to casinos, our isn't a bad sort. We run regular promotions for our members, Kev the Koala is an outstanding host and we're the type of casino that cheers for the Aussie battler. All in all, we think we do a pretty good job. However, due to the fact that we're 100% online, we'll never be picking up an award for the world's most beautiful casino.
That's ok and to be honest this doesn't really bother us. We're more than happy to continue serving punters just like you the best we can. It does make us wonder though; what are the most beautiful casinos in the world and where can they be found?
To answer this, we've put together the following article. Complete with some of the most elegant, impressive and otherwise extravagant houses of gambling across the planet. Some of which are about the size of a small European town, while others can claim to be the most popular tourist destination in their respective country. In short, these casinos are monuments of punting luxury… and they're all on show for you to enjoy.
So sit back, get comfortable and enjoy our selections. Remember though that when it comes to convenience and promotions tailored to your preferences, you can never go past Fair Go.
Casino de Monte-Carlo, Monaco
To kick off our list of the world's most beautiful casinos, we're heading all the way to the Old World to the Casino de Monte-Carlo in Monaco. An iconic casino even by European standards, the Casino de Monte-Carlo is one of the most famous gaming venues ever to be built. Serving as the inspiration for Ian Fleming's Casino Royale and becoming an incredibly popular tourist attraction amongst Bond fans in the process. Calling the Casino de Monte-Carlo the most grandiose casino in the world wouldn't be hyperbole. One only has to step inside to realise why it's such an architectural wonder or catch a glimpse of the sparkling blue Mediterranean Sea from its terrace to be left totally awestruck. As such, the team here at Australia's favourite online casino believe it more than earns a place on our list.
Bellagio, USA
With nearly 4,000 rooms, a famous fountain display and an art gallery featuring works from the likes of Warhol and Picasso, the Bellagio is pretty much entertainment central USA. And that's without even touching on its incredible casino floor. Packed with all the table games and slots a keen casino player could ever ask for, it's truly a sight to behold. Book a room and enjoy impressive views of Las Vegas' iconic strip. Call up the 24-hour butler at 3 am for steak in bed or sneak into the high-rollers club and get a feel for the true definition of "disposable income". Yep… the Bellagio hotel and casino is a true feast for the eyes. Ensuring that it's more than worthy of being called one of the most beautiful casinos in the world.
Wynn Macau, Macau
It's a common misconception that all the world's most beautiful casinos are located in either Europe or America. When in fact, many of the most seasoned card players and hardened betters will tell you that China is where it's at. Take the Wynn Macau in Macau for example. Boasting multimillion-dollar tapestries, Qing-era ceramics and a high rollers room that's one of the most exclusive in the world, the Wynn Macau puts most other western casinos to shame. Two Michelin-starred restaurants, a luxurious spa and a famed fountain and water-dancing show that rivals the Bellagio have also made it a must-visit destination for dedicated punters. And while it may not have someone like Kev the Koala greeting you at the door when you arrive, we guarantee that the Dragon of Fortune attraction, complete with animated head and glowing red eyes, will more than satisfy your desire to see a cool mascot.
Crown Casino, Australia
Australia has a lot going for it. We've got unspoiled beaches, pristine nature walks and an abundance of native flora and fauna for tourists to check out. According to a list of the world's top 100 tourist attractions, however, it appears the Crown Casino in Melbourne is one of Australia's most popular destination, racking up over 10.9 million visitors back in 2010. Of course, anyone who's ever been to the Crown Casino knows that these figures are probably accurate. With its ornate ceilings, endless array of pokie and card games, stunning architecture and friendly customer service, this casino is a gambling man or woman's paradise Down Under. In terms of size, the Crown Casino complex is also home to three hotels (Crown Towers Melbourne, Crown Metropol and the Crown Promenade) and a restaurant owned by fiery chef Gordon Ramsay. Which all adds up to make the Crown the biggest entertainment and casino complex in the Southern Hemisphere.
Sun City, South Africa
As with most casinos, Sun City in South Africa is more than just a place to rev up your adrenaline levels over a game of blackjack. It's also a hub for entertainment and a place where people can come together for a rip-roaring good time… in what appears to be a royal residence of a destroyed civilization. Yes, you read that correctly. Opened in 1979, the Sun City is a themed casino that's been designed to look like some sort of long-lost palace from The Jungle Book. In addition to its eclectic architecture though, it's got just about everything else one needs to have fun as an adult. Including two beautiful golf courses, the largest permanent maze in the Southern Hemisphere and the world's fastest zip line alongside plenty of other water-based and safari activities. Before you pack your bathers though you'll be pleased to know there are also pokie machines and table games for all budgets and experience levels. Did we also mention there are 35 on-site restaurants to dine in plus tours to Pilanesberg Game Reserve on offer?
The Kurhaus of Baden-Baden Casino, Germany
If you want to gamble in style you can't go past the Kurhaus of Baden-Baden in Germany. It's extravagant, historic and most of all, it's one of the most beautiful casinos in the world. The team at Fair Go couldn't help but drool over the photos when we looked it up. Which just goes to show how incredible it actually is. Build in 1820, the Kurhaus of Baden-Baden Casino is located in Baden-Baden, Germany. And while it may not be one of the largest casinos, it more than makes up for it with elegance. Enjoy its unique interior, take a leisurely waltz through the nearby Black Forest or unwind between gambling sessions in its renowned spa. Then when it's time to hit the floor again, you can enjoy playing at any one of its 113 pokie machines or 24 gaming tables. In short, the Kurhaus of Baden-Baden Casino is Imperial German architecture and classic gambling luxury at its finest.
Atlantis Paradise Island, Bahamas
As if the Bahamas weren't incredible enough already, the Atlantis Paradise Island is a magnificent casino that's in a league of its own. Surrounded by stunning turquoise water and set amongst a lush setting, it spreads out over 7 acres and is frequently called one of the most beautiful casinos in the world. Gamers coming to the Atlantis Paradise Island can enjoy 85 gaming tables including roulette, blackjack and Texas hold'em poker, plus countless private gaming stations and over 700 pokie machines. Combine this incredible selection of casino games with its striking interior and exterior architecture, the paradisiacal scenery plus its many eye-catching glass sculptures and the Atlantis Paradise Island really does feel like a gambler's Garden of Eden.