The origins of Kev the Koala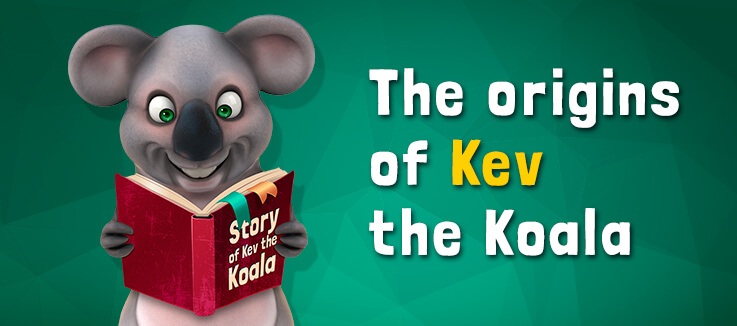 If there's one story that we don't mind telling over and over again, it's the story of our mascot Kev the Koala .
Not only is it funny, weird and especially wonderful. It also highlights some of the best things about our Australian online casino. So if you've got a few minutes to spare and are curious as to how our partnership with this interesting character came about, check out the following article today.
In it we dive fuzz first into the origins of Kev the Koala (or should we say "Kevin" the Koala), which is a tale that's as random as it is awesome. You probably won't believe a lot of it, but hand over heart it's all true. If you hear it from Kev the Koala though, well, you can expect a little bit more embellishment.
The koala, the friend, the legend
Who really is Kev the Koala? Well, first and foremost Kev the Koala is the Fair Go casino mascot, but he's actually much more than that.
He's one of the most loveable Australian animals ever to grace a screen. With endless enthusiasm for adventures, casino games and making friends. You'll never find him down and out, because he's only ever up and in. He's the furry mate that you can always depend on for a bonus, a free spin or a special treat.
If it were possible, he'd give you the fuzz of his back to keep you warm. That's just the kind of dude he is. But in order to know what makes Kev the Koala an absolute legend, you've got to know a little bit about his back story.
A well-travelled koala of (not so) many talents
Before Fair Go casino, Kev the Koala was travelling the world, seeing the sights and collecting memories from across the globe. He charged down monstrous waves on the postcard-perfect beaches of Hawaii, slurped seemingly endless strands of silky-smooth pasta in Italy and observed how his fellow animals lived in the wilds of Africa.
                                    
After his trip, he came back to Australia and tried his hand at a few different jobs. First off, he took a gig as a tour guide in a koala sanctuary where he explained to visitors just how a koala survives and thrives. This all ended though when he was caught dating one of the female koalas. Kev the Koala? More like Kev the Casanova.
Next he had a crack at teaching people to surf. All day long he would push students into waves, ensuring they were safe and offering words of encouragement when they fell. Of course, as a surfing koala this was never going to work. It wasn't long before Kev had once again been let go, only this time it was for catching all the waves instead of sharing them with his class.
Kev the Koala's last job before he joined our Australian online casino was more up his alley. It was with a land-based casino (we can't say which one) and he was paid to help out the high roller guests. If you can believe it, Kev wore a tux, polished shoes and always combed his facial hair. What a sight he must've been. For sure he was the first koala ever to work at a real casino.
Despite this cushy new job, Kev says that it didn't give him much flexibility. Really, he just wanted to work somewhere he could come and go as he pleased and put his personality on display. The stuffy and uptight high rollers room wasn't this kind of place. So after a Fair Go team member just happened to bump into him on the casino floor, we offered him a job. Which brings us to our next section…
Kev's time to shine
This chance meeting with our soon-to-be-new mascot came about during a work trip. One of our team members was actually doing some research on other casinos and had been ushered into the online casino's high roller room. There, standing at the door and welcoming people in was none other than Kev the Koala.
Upon seeing him, our team instantly recognised his potential. He was charming, quick witted and very unique. What other casinos, whether online or land-based, can claim to have an Australian animal hero working for them? We offered him a job on the spot and told him that all he had to do was roam the country and report back to us in the form of a daily diary. Oh… and sometimes help us promote our various bonuses and campaigns.
That was way back in 2017, but it feels like only yesterday. In hindsight, all we really wanted was to have a cool koala such as Kev around us. Since then he's brought so much to our team, sometimes a little too much. Like the time he made cake for a Fair Go members birthday, which sounds like a great idea. That was until we realised it was a gumnut cake, complete with eucalyptus frosting, dry leaves and actual gumnuts. Let's just say that our dentist made a killing that afternoon.
This toothy little fiasco has been the only bump in a long and incredibly entertaining road though. We've laughed with Kev, joined him on his travels and seen the world through his eyes. At the end of the day though, Kev does his job with style by introducing a little bit of light (and a few big promotions) into the lives of Fair Go members.
The Australian online casino mascot with the most
These days, Kev the Koala fills his time at Fair Go casino by providing players such as yourself with plenty of wonderful opportunities to win. If you're already a member then chances are you've seen him in action. Presenting special offers, talking about upcoming promotions or giving away generous bonuses. If you're yet to join our ripper online casino then let's just say you're missing out.
Kev the Koala is forever ready to serve up some you beut rewards. Most of these you can find in his Koala's Diary, which is a weekly diary entry that he writes for our site and for our members. With each of these entries there's a bonus, but that's not all. Kev is always getting up to mischief, seeing new parts of Australia and meeting new people. So you also get to read all about his journeys. Sometimes it's enough to make you toss it all in and join him, other times you'll be glad you're not in his situation. Not matter what he gets up to though, you can rest assured that he'll keep you entertained.
Other than our Koala Diary, Kev also shows up in a number of different promotions. He even dresses up if the promotion calls for it and it's not uncommon to see him in costume for Halloween, in a Santa Claus outfit during Christmas or rocking out in casual flip flops and boardies. Sometimes he even just goes el natural, proper animal kingdom style. Who are we to judge?
At his core though, Kev the Koala is just one of the crew. He surfs, he works hard and is committed to making your life better. Look out for him in future promotions and make sure you never miss a beat when it comes to his diary. We guarantee that your life will be all the better for following Kev the Koala and our Australian online casino. Check him out now at our Koala Diary page and make sure to sign up to Fair Go if you haven't already. Kev will deliver something new for you to redeem each and every week.
Blog Bonus!
Redeem code: KOALAS for 10 free spins on Asgard
Coupon code expires on, Friday 9th October. General terms apply.
Discover more about Kev the Koala by reading his diary today.