The story of Bill Benter: The bloke who made millions from gambling
Expired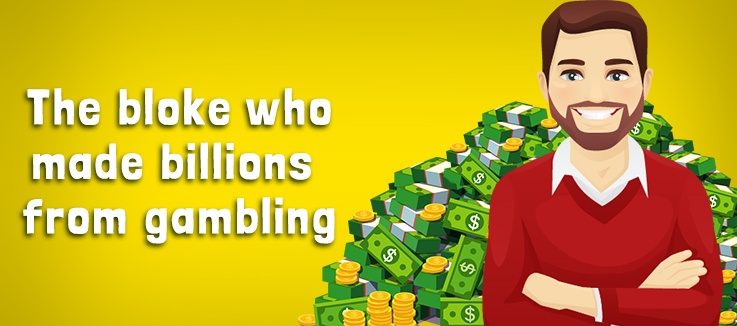 Blog Bonus:
Redeem code "MAKEMILLIONS" for 20 free spins on Paddy's Lucky Forest if you've deposited this week.
General T&C's apply.
According to this story… getting rich isn't all that hard. You build an algorithm. Put it into play at your local horse racing track. And bet with the tenacity of a pitbull. Simple, right?
Well, perhaps it's not that simple. But when you're a genius with an IQ that reads more like a cricket score, it becomes a whole lot easier. This is pretty much the story of Bill Benter. A man who used his intelligence to fleece land-based casinos and racetracks around the world.
The following article summarises not just how he did this. It also shows how an unassuming yet curious kid became one of the richest blokes in the world. Sit back, relax and feast your eyes on this tale. Because if we're being honest… its flat out bonkers. 
The adventurous math geek
Benter spent his childhood in the city of Pittsburgh in the United States. A fastidious student with an interest in physics and numbers. Benter was a math's nerd and an active eagle scout member.
As a teen his parents encouraged him to travel. He would holiday throughout the States when his studies allowed. He also went on a vacation to Europe during his early 20s. Hitchhiking across Europe to Egypt and driving through Russia.
At the age of 22 he made the decision to play cards in Las Vegas. Benter boarded a bus with all the cash he'd saved up. Before he knew it he'd stepped into a world of fast cards and big bets. A world that would consume him for most of his adult life.
Learning the ropes when it comes to card counting
While in Las Vegas, Benter was totally consumed by the book Beat the Dealer. Written by a mathematics professor back in 1962. Beat the Dealer outlays how one can essentially overcome the house advantage in blackjack.
This book naturally gave birth to the technique of card counting. This is when you keep tabs on the number of cards that've been dealt. You can then hedge your bets when the right opportunity comes along.
Card counting is not illegal. But it's most definitely frowned upon in practically all gambling establishments the world over. Fortunately for these establishments you need to be somewhat of a genius in order to pull it off. Unfortunately for them… Benter was that genius.
He used his mathematical talents to count cards at various casinos. Relying on the lessons he learned from Beat the Dealer to give him the edge. He got better and better with every session. Perfecting his craft and going on a winning streak in the process.
These wins continued to pile up. And Benter realised that the life of a professional gambler was the life for him. It wasn't long though before casinos cottoned on to what Benter was up to though.
They knew it was only a matter of time before he took them to the cleaners. So they began hassling him during games. All in an attempt to actively discourage him from playing at their casino.
And it worked. Benter threw his cards on the table so to speak. Leaving his card counting days behind him in the process. But don't get us wrong… professional gambling was most definitely his calling.
So he took a break from swindling land-based casinos and instead went away to work on a new approach. An approach that would see him become the millionaire that he is today.
Software to beat the system
Benter was now well and truly on the radar of casinos.
This meant that he had to look at ways that allowed him to gamble but not step foot in a bricks-and-mortar establishment. Taking this into consideration… horseracing was chosen to be a logical next step. Horseracing in Hong Kong to be exact.
In order to be successful in horseracing betting though, he needed to develop a system for wagering. This led him to create a software program that accounted for 16 different variables that could affect the horses, jockeys and trainers and ultimately influence the outcome.
Benter got a crew of likeminded larrikans together. They then systemically started to place wagers on various races using this program. Waiting until the very last minute to confirming their bets.
The reason why they waited till the last minute was that Hong Kong racing used the totaliser system. This means that odds fluctuate based on betting patterns. Essentially allowing punters to wait up until just before the race to place a wager.
He then focused on upgrading his software. Eventually getting it to the point where it could not only analyse 120 different variables per race. But it could also determine which bets had the potential to make the most money.
Using this updated system and with the help of his team, Benter was able to bring in anywhere between $5 - $10 million in a single day.
From swindler to high flying society snob
While snob may be to harsher word, Benter definitely refined his betting scheme and started running with a more upper crust crowd. And despite perfecting his system, there's no doubt that the grind was getting to him.
He had the life. He had the money. He even met his wife in Hong Kong. Benter had everything a man could want. With his new circle of friends he was shedding his old persona. Gone were the geeky clothes and he no longer looked unkempt.
He wore smart suits, colourful ties and even took an active interest in the local Rotary Club chapter. Mixing with politicians, company heads and leaders in different sectors from all over the world.
One final crack at the big bucks
Then in November 2001, Benter decided to go all in. His target? The Triple Trio major prize at the Hong Kong races.
Up until this point he had avoided going for any major prize packet. Purely because he didn't want to put the Jockey Club offside and attract any negative attention. But at over $100 million… this jackpot was just too big to resist.
He spent HK $1.6 million on the 51,000 different winning combinations. Which, if he won, would net him somewhere in the vicinity of $118 million.
This is where the story of Benter takes a bit of a dog leg.
Benter declared that if he did win, he would leave the tickets unclaimed. As per Jockey Club policy… this would mean that the money was to be donated to a charitable trust. Of course Benter won with his picks Bobo Duck, Mascot Treasure and Frat Rat all crossing the line.
True to his word though, Benter didn't collect his winnings. As the weeks went on the media got hold of the story. Soon the unclaimed $118 million Triple Trio cash was to become the biggest story in Hong Kong.
As reported one columnist from the South China Morning Post, "The ghost of the unclaimed $118 million Triple Trio is still banging around like an unwanted poltergeist". One outlet even declared that perhaps the reason why the money hadn't been claimed was due to the fact that the ticket holder had died of shock on the spot upon finding out that they'd won.
The world's most charitable betting swindler
Inspired by this charitable act, Benter decided to continue putting others above himself. He proceeded to give away millions and millions of dollars to different schools throughout China and to refugee camps in Asia.
He and his wife formed the Benter Foundation. Pouring a lot of their funds into different benevolent organisations. Pretty much anything that furthered humanity through education and health come onto their radar.
Both Denter and his wife also began backing democratic candidates. Donating $136,000 to different politicians in 2007 and 2008 (including Obama).
He now has a scholarship in his honour at the City University of Hong Kong. He's also a visiting professor, guest speaker and prominent member of Chatham University.
Yep… Bill Benter has lived a colourful life. He's travelled. Accumulated vast riches. And surely gathered plenty of epic stories during his time on earth. But if we ever see an account created in the name of Bill Benter, we'll for sure be a little bit cautious. It may just signal the end of Fair Go as we know it!
Channel your inner Bill Benter at Fair Go today