The surprising history of betting in Australia
Expired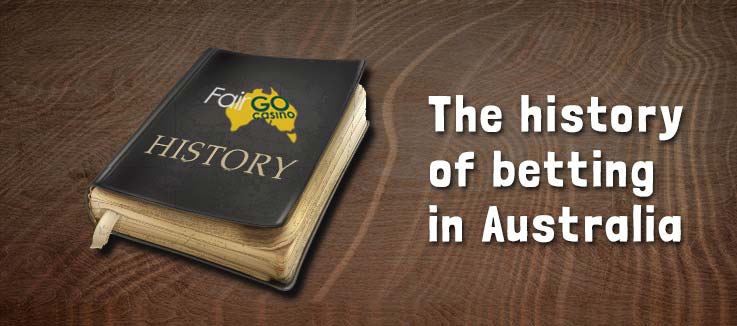 The majority of us Australian's are as passionate about betting as we are about our meat pies, Margaret River reds and the beauty of our natural landscapes. No matter who you are, where you come from or how long you've actually lived in the Lucky Country, chances are your life has been touched by at least one form of sports, casino or lottery betting in one way or another.
That's because in Australia, betting is literally everywhere. There's the famous Melbourne Cup horse racing event, otherwise known as the 'race that stops the nation', plus pokie machines in just about every pub, club and RSL in the country. Not to mention the fact that we are an incredibly sporty nation, which means there's always a cricket game, footy match or even surfing competition to wager on.
Yep, the thrill of the win is something that all Aussies have in common, but there's a reason for our love affair with betting. In this article, Kev the Koala has wrestled with history books and overturned old newspaper articles to create a timeline of betting in Australia, dating all the way back to when the first fleet first began to colonise the continent. Read it now and learn all about the history of betting in Australia.
1788 - Wagering on the flip of a coin
The very first evidence of betting in Australia can be traced back to early settlers of Australia who developed a coin flip game called 'two-up'. This game, which is said to have already been popular in Greece, Ireland and Great Britain, involved betting with small pennies.
Two pennies are placed on a small board – one facing up, the other facing down – that looks somewhat like a miniature cricket bat. The coins are then tossed into the air, but not before bets are taken based on whether punters think that two heads, two tails or one head and one tail will land.
Since these days, two-up has become one of Australia's most time-honoured games. It became especially popular during the first World War when soldiers would play it as a form of lighthearted entertainment. Funnily enough, two-up is actually illegal in Australia. It is, however, able to be played on ANZAC day.
1810 - The birth of horse racing betting
By the early 19th century, horse racing had been successfully transplanted from England's wet racecourses to Australia's dry tracks. There were events held in most major towns throughout New South Wales and many English racing traditions had also been readily adapted. 
Of course horse racing wasn't just a sport, with gambling on the horses deemed a dignified pastime for some of the more privileged settlers. The first official horse racing event to be gambled on took place in 1810 at Hyde Park, Sydney. It then spread to other states and territories, with Tasmania, Queensland, Victoria, Western Australia and South Australia all following suit, so that by the mid 19th century, horse racing was just about everywhere.
The Victorian Racing Club in particular sought to take advantage of the boon in horse racing popularity. This was achieved by organising a small derby dubbed the Melbourne Cup, which still runs to this very day and is considered Australia's most prestigious horse racing events.
1913 - George Julius and the Totalisator
As Australians became fonder and fonder of horse racing, track attendance skyrocketed. With more people betting there was a greater amount of money involved. This led to horse racing being almost hijacked by unsavoury elements, such as local gangs and small-time crooks.
In order to prevent horse racing from descending into a cheaters paradise, systems were going to be needed to reduce the sheer amount of voter fraud. Enter George Julius, an engineer working out of Sydney who had plans for a vote calculating machine that could improve the legitimacy of track meets and make betting on horses fairer for all.
Called the totalisator, it removed the burden of bookmakers having to handle all trackside bets and instead tallied all wagers, added them up and determined their accumulative value. This in turn helped said bookies to work out just how much each winner had won.
The totalisator gave birth to what we know today as 'tote betting' and it soon caught hold in New Zealand, the UK and the United States. As such, the invention is now considered an utter icon when it comes to the history of betting in Australia.
1916 - Lottery in Australia becomes a thing
There had been illegal lotteries run in Australia well before the early 20th century, but the very first lottery game to be recognised by the government wasn't introduced until 1916. It was called the 'Golden Casket Lottery' and its main purpose was to raise funds for various charities and community organisation throughout the nation.
As an added feature, the Golden Casket Lottery also helped support veterans returning from the first World War. One of the funds that was set up specifically for returning soldiers was called the Australian Soldiers Repatriation Fund. There were however many other causes that the lottery contributed to, such as the Child Welfare and Hospital Fund, Surf Life Saving Association and even the Red Cross.
In 2007 the Golden Casket Lottery was incorporated into the Tatts Group, a leading lottery operator in Australia. These days there are a number of other not-for-profit lotteries that are run in Australia, many of which are state owned. Monday and Wednesday Lotto, Oz Lotto, Powerball, Soccer Pools and Mega Jackpot are just a few examples.
1956 - Pokie machines or bust
Slots were already setting fingers and wallets alight in the United States, but in Australia there was a giant gap in the market for electronic gaming machines. A gap that was initially identified by a company called Aristocrat, who then proceeded to fill said gap by creating our country's first pokie machine – the Clubman.
After its initial success, the Clubman was replaced by a follow up machine, the Clubmaster, in 1955. The New South Wales government then went on to legalise gaming machines in certain clubs and pubs throughout the state. Soon, other states followed and playing the pokies became as much a part of going to the pub as ordering a chicken parmy and schooey.
With pokie machines in nearly every pub and club, the gambling landscape in the country was totally changed. Betting became more accessible to the average punter and pokie machines themselves became more and more advanced. Jackpot features were introduced and the number of paylines increased. Then came video slot and linked progressive machines, which provided further incentive for punters to play.
Nowadays pokie machines are a massive industry, and estimates put the number of machines in Australia at just over 200,000, with roughly half of them in New South Wales. This makes Australia 7th when it comes to countries with the greatest number of pokie machines, behind nations such as the UK, USA and Germany.
1973 - Our first ever casino
Despite Australia making a name for itself as a country of keen bettors, we still didn't have a legal casino. Instead, punters would flock to the pubs and clubs to play the pokie machines.
This all changed in 1973 though, when a century after the inaugural Melbourne Cup was run, the Wrest Point Hotel Casino in Hobart, Tasmania opened for business. Suddenly it was possible for Australians to play a wide range of casino games including blackjack, roulette and baccarat… except now they didn't have to worry about being thrown in jail for illegal gambling.
More and more casinos were opened up throughout the 70s and 80s, with states such as Queensland, South Australia and Western Australia the next locales to welcome casino operators into their cities. 
2001 - The rise of the internet casinos and online betting
Since the early 2000s, mobile betting has expanded rapidly thanks to the advent of handheld phones and tablet devices.
Now it's possible to wager on the run using your mobile phone as a pocket-casino. The popularity of mobile gaming has given rise to online casinos such as Fair Go, but it's also made playing the pokies more accessible than ever. We're proud to ride this wave of popularity and will continue to provide a world-class, fair dinkum, absolute bonzer online casino experience to all those who become Fair Go members.
Blog Bonus!
Redeem code HISTORYOZ for 15 free spins on Diamond Fiesta
T&C's apply. Bonus expires on the 17th of December.
Play more, win more at Fair Go Casino today.