The top 10 most scenic winter travel destinations in Australia
Expired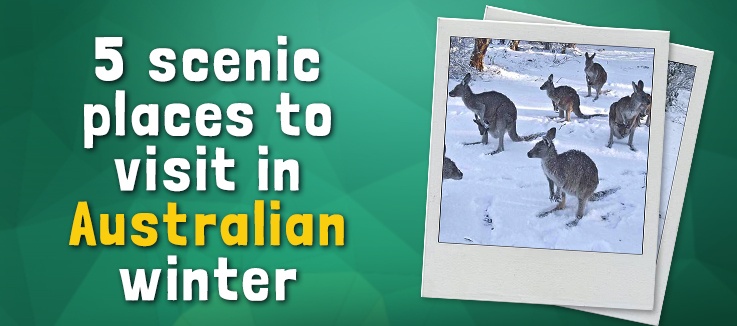 One of the best things about living in Australia is that you can actually chose whether or not you want to experience winter.
                       
If playing your favourite Fair Go casino game in front of a fire while it's snowing outside sounds like your idea of a good time, you can head to the southern parts of our continent. If you'd rather bet with Fair Go while lounging around in the sun on a tropical island, the north of Australia is where it's at.
Either way you can't lose when it comes to winter travel destinations in Australia. So if you're thinking about getting away for a short trip or an extended holiday during the cooler months, Fair Go has you covered. Check out the following article and discover some of the best places to visit in each state during winter.
Here you'll find a good mix of sunny seaside getaways and alpine retreats, which ensures there's something for everyone. Just remember to check your states travel restrictions and countrywide border closures before you book. 
The Snowy Mountains, New South Wales
The Snowy Mountains consists of some of the most beautiful winter scenery in all of Australia. It's also home to Australia's largest mountain, Mount Kosciuszko, and a number of ski resorts such as Thredbo and Perisher.
During the winter months the Snowy Mountains become a winter wonderland for skiers and snowboarders to enjoy. There are groomed runs for the kids and steeper hills for the more adventurous to test their mettle on. Then after a long day on the slopes you can check out the nightlife in Jindabyne or do some shopping at Nuggets Crossing.
Just remember that the temperatures in the mountains during winter regularly get below freezing, so remember to pack some warm clothing. After all… they're not called the "Snowy" Mountains for nothing.
Cradle Mountain, Tasmania
If you're not into winter sports but still like the idea of doing something adventurous, Cradle Mountain in Tasmania has plenty to offer the enthusiastic (and fit) outdoorsman or woman.
With sheet glass alpine lakes, wild mountain peaks and beguiling expanses of ancient bushland, Cradle Mountain is surely one of the most breathtaking winter travel destinations in Australia. The Overland Track in particular is a hike of resounding beauty, with plenty of sights and points of interest to discover. 
Book a tour with a local company this winter and enjoy all that this hike has to offer, including fleeting glimpses of native wildlife, canyoning and even tobogganing when there's enough snow - it really is a once in a lifetime experience.
Barossa Valley, South Australia
Hiking through the mountains during the colder months in Oz might not be for everyone. If you're one of those people who like Kev the Koala prefer the warmth of a cosy log fire over the meagre heat of a butane camping stove, the Barossa Valley will be right up your… well… valley.
Located less than an hour from South Australia's capital city of Adelaide, the Barossa is full of comfortable accommodation options, superior quality wine and mouthwatering local food products. You can explore it on your own or book a tour at any one of the distilleries, wineries or artisan cheese places in the area to peek behind the scenes. Might we suggest though that you do everything at a half-pace?
This is, after all, a winter travel destination in Australia that delights in taking things slow. So stock up on regional shiraz, light that fire and get comfy on the couch with your favourite Fair Go online pokie. This is what staying in the Barossa is all about.
The Kimberley, Western Australia
The Kimberley region of Western Australia is synonymous with the phrase "outback adventure". Full of enchanting rock formations, virgin swimming holes and other incredible natural wonders, the Kimberley is guaranteed to make even the worldliest traveller's jaw drop in awe.
                                   
There's the Gibb River Road to Mitchell Plateau plus the Bungle Bungles in Purnululu National Park, Windjana Gorge and Tunnel Creek. There are also ample opportunities to 4WD, camp, cycle or put a kayak in the water for a unique perspective of this gorgeous part of Australia.
But do you know what the best thing about the Kimberley region is according to our mascot Kev the Koala? The fact that it's also a great place to escape the cold. With moderate temperatures during the day and cooler temperatures after dark, you can have fun in the sun and cuddle up next to a campfire by night. In short, the Kimberley offers the best of both worlds for the canny explorer.
The Bunya Mountains, Queensland
You might not think that a winter wonderland exists in Queensland, but it seems that the Bunya Mountains are the smart state's answer to the more snowcapped peaks south of the border.
Located roughly three hours inland from the ocean at about 1,100m above sea level, the Bunya Mountains are full of aromatic pines, shy but adorable wildlife and majestic views. You can hike, explore the native bushland or simply enjoy a weekend away in what is Queensland's second oldest national park.
Visitors here will quickly realise that a trip to the Bunya Mountains is like taking a step back to a time when things were simpler. Do yourself a favour and book a trip to this region pronto. You won't regret sucking in some of that thrillingly fresh mountain air or getting a big dose of Mother Nature.
Phillip Island, Victoria
When it comes to Phillip Island in Victoria, there's a bunch of fun things to do and places to explore. But the most popular thing to check out while in this part of the world is the island's main attraction – a penguin parade.
                                
The penguin parade is the name for a phenomenon that occurs nightly when swaths of fairy penguins come ashore to feed and socialise before turning in for the day. They're cute and cuddly and well worth checking out, although Kev still maintains that koalas are a way more elegant animal.
In any case, a trip to Phillip Island is a great way to escape the rat race. Nature-lovers will cherish the rugged coastline and glistening blue ocean while those with their heart set on good food and cosy accommodation will enjoy the many boutique restaurants and stylish Airbnb's that dot the island.
Darwin, Northern Territory
Located in Australia's Top End, Darwin is the ultimate scenic winter travel destination for those who want to outrun the cold.
Stop by the Mindil Sunset Markets, run every Thursday and Sunday night, and sample an expansive range of cuisines from all over the world, including Indonesian, Greek, Sri Lankan and Brazilian. You can also shop for trinkets and knickknacks at market stalls that sell clothing, jewellery and locally made artwork.
When you want to turn up the heat in terms of your activities, it's comforting to know that Kakadu National Park is only just down the road (relatively speaking). Here you'll be able to witness spectacular displays of natural beauty and see a diverse array of unique wildlife up close and personal.
Port Douglas, Queensland
Another fantastic winter travel destination for Australians is the bright and brilliant Port Douglas. With sun pretty much year-round and access to the glorious Great Barrier Reef, it's perfect for those with very little patience for cold weather.
Book a stay at an eco-lodge and make day trips to the magnificent Daintree Rainforest or go snorkelling out on the reef and enjoy the vibrant bursts of colour and tropical fish that've have made Port Douglas famous the world over.
You can also dine out, go shopping or take long walks along nearby beaches. There's so much to see and do in this chilled-out coastal town that you'll never want to leave. At the very least you won't be in a rush to return to those colder environs anytime soon.
Margaret River, Western Australia
Margaret River is an epic winter travel destination for so many reasons, but chief among these is the fact that it's the wine capital of Western Australia.
This means that no matter whether you're a wine lover or prefer something stronger, Margaret River has you covered. Check out the gourmet restaurants in town, take an off-season tour of a local winery or throw on some hiking boots and do the Cape-to-Cape walk from Cape Leeuwin to Cape Naturaliste.
Did we mention that the waters of Margaret River also offer primo whale watching opportunities? Simply head on over to Flinders Bay for a glimpse of these magnificent creatures in their element.
Sapphire Coast, New South Wales
The jewel in the crown that is the New South Wales South Coast, the Sapphire Coast is an underappreciated but abundantly beautiful part of Australia that definitely deserves a spot on everyone's list of winter travel destinations.
Covering an area from Bermagui in the north to Eden in the south, here you can find incredibly gorgeous beaches, fantastic fishing and delicious oysters. What's more, each town on the Sapphire Coast is just as beautiful as the next, which makes it the perfect place to road trip during the colder months.
Bring a surfboard, bring your friends and get ready for an adventure in the far South Coast. It might not be a diamond in the rough, but it sure is a gem of a place to visit.
Blog Bonus!
Redeem code: BLOG-VISIT for 15 free spins on the new game Cash Bandits 3
Coupon code expires on Friday, 7th August. General terms apply.
Check out more articles like this at Fair Go Casino today.