The top 5 best casinos in Australia
Expired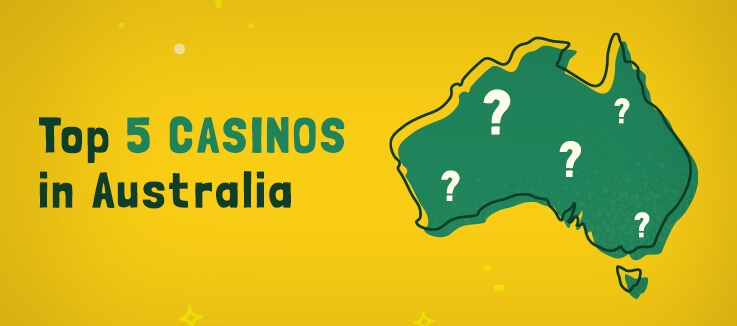 As the 6th largest country in the world by area, there's no shortage of cool stuff to discover in Oz. From our bloody awesome natural surroundings to our legendary hospitality, people love to experience all that we have to offer.
One thing that people don't really associate with Australia though is our casinos, when in fact we have some of the most luxurious, well-built and impressive casinos on the planet. Of course, we prefer online casinos to their land-based counterparts (for obvious reasons). But let's be honest…
When you feel like mingling with friends, throwing down a few stubbies and enjoying some atmosphere, it's hard to beat the vibe of a bricks-and-mortar casino. And these are the "Top 5 best casinos in Australia in Australia" (although we probably should've called this article "The top 5 least imaginative casino names ever").
1. Crown Casino – Melbourne, Victoria
The Crown Casino in Melbourne is undoubtably the best casino in Australia. Situated on the banks of the Yarra River in the centre of the city, it covers a total area of 510,000 m2 (roughly 25 AFL ovals). This makes it the biggest casino in the country and the largest in the entire southern hemisphere as a complex. It's also Australia's most visited tourist attraction… beating out the likes of Uluru and Kev the Koala.
The actual building was completed in 1997 and since then it's had several upgrades. There are now multiple bars, nightclubs, restaurants and three luxury hotels (with a 1,600-person capacity). You can also shop till you drop in high-end stores from brands by Bvlgari, Prada, Hugo Boss and Louis Vuitton.
In terms of food, you'll never go hungry. There are quick bites for when you don't want to leave the table plus dining presented by celebrity chefs such as Gordon Ramsay, Nobu Matsuhisa and Heston Blumenthal. As the best casino in Australia, it's also the number one place to hold functions in Melbourne – with the Australian Formula 1 Grand Prix Ball and the TV Week Logie Awards regularly held on its grounds.
The most awesome thing about the Crown Casino in Melbourne though? It's got an absolutely whopping gambling floor with 2,500 licensed gaming machines, 3,500 poker machines and more dice, wheel and card games then you could ever hope to play in one stay, including Rapid Blackjack, Poker War and Pontoon Pandemonium.
However, the biggest attractions for serious punters are the Aussie Millions poker tournament (considered to be the richest tournament in the southern hemisphere) and the WSOP Asia-Pacific tournament.
2. Star Casino – Sydney, New South Wales
While the Crown in Melbourne is the best casino in Australia, the Star Casino in Sydney runs a close second. It's point of difference to Melbourne is that it focuses more on the boutique market, while the Crown has a "go big or go home" attitude.
There are 350 rooms and 130 luxury suites, each of which is beautifully furnished with absolutely breathtaking views of the harbour. This means that punters can wake up after a night on the town and feel instantly refreshed thanks to vistas normally reserved for wealthy Sydneyites who can afford our famously outrageous inner-city property prices. But the rooms aren't the only thing that'll have you gasping…
The casino itself has two separate floors – the main gaming area on the first floor and the Sovereign Room on the second floor. The main gaming area consists of 1,500 poker machines, 200 table games and 30 poker tables. The Sovereign Room floor, which is the high rolling room, is where you want to be though.
Just apply for a membership in order to get your foot in the door. Someone will then determine whether you have what it takes to bet with the big boys and girls. Upon being accepted, you'll quickly discover that most bets in the Sovereign Room range from $25 and $75,000, but that's not even the half of it.
Within this room is another even more exclusive room called the Inner Sanctum. Bets in here are practically exorbitant, ranging anywhere from $100 right up to $500,000. Of course, it's only exorbitant if you lose. If you win, you'll be doing a tango on the table or at the very least shouting everyone a drink at the restaurant and bar that's also found with the Inner Sanctum.
Lastly, there's but another room on level three called the Vermillion Room. This is the next step above the Inner Sanctum and no amount of fancy dressing and sucking up will get you into here. You need to be invited and hold something called a Vermillion Card to enter.
What makes this room so extraordinary is that the table games are adapted to your wishes as a punter. This doesn't necessarily mean that you make the rules, but it does mean that there are practically no limits… so don't hold back.
3. Star Casino – Broadbeach, Queensland
Somewhere between the extravagance of the Crown Casino in Melbourne and the no-holds barred gambling of the Star in Sydney is the Star Casino in Broadbeach. Situated on the same site as the now defunct Jupiter's Hotel, the Star can claim to be the first casino established in Queensland.
There are almost 600 in rooms in total with excellent views of the surrounding area plus a spa, dining and relaxation areas for guests to enjoy. The real treat for visitors though is a section of the casino called the Star Grand. This part of the complex has its own concierge, touch-of-a-button service and top tier amenities. Decked out in a dazzling white, it's tailored to guests who love to be pampered. There's even a private pool and spa for those using the Star Grand area.
In addition, there are also two areas strictly for high rollers - the Sovereign and the Oasis. Entry is by invitation only and there are private gaming rooms, dining halls and plenty of places to kick back and enjoy the night or day with a drink from the bar. For more serious gamers, there's even a few secret gaming rooms with awesome vistas over the Gold Coast. But naturally these rooms aren't for everyone. In fact, the only way to get in here is if the casino deems you worthy (in other words… knows that you have the cash). 
In regard to the casino amenities available to your average punter (see: you and us), there are literally hundreds of table games to try. This includes all the classics such as craps, roulette, blackjack, baccarat and several different varieties of poker. Plus 1,600 around the clock electronic gaming machines, a fully working TAB section with a separate 10-screen sports bar and pai gow tables for when you really want to mix things up.
4. Treasury Casino – Brisbane, Queensland
Brisbane has a lot going for it. The proximity to world famous beaches, a passionate rugby league supporter base and some of the nicest weather in Australia just to name a few. But another big drawcard for people visiting Brisbane is the Treasure Casino.
Located within a building that's listed as a world heritage site, the Treasury has benefited from a $57 million cash injection that went into repurposing, restoring and maintaining the original property's historic significance. It now shines as the city's most adored casino, with hotel accommodation, a sauna and gym, multiple bars, restaurants and coffee shops plus TAB facilities featuring live races and sporting events.
As for the casino side of things, the entire Treasury complex covers three floors. Here you can find over 1,600 electronic gaming machines and 80 plus table games (including pontoon, mini baccarat and sic bio). And since it's open 24/7, you never have to wait for the doors to open in order to enjoy your favourite bricks-and-mortar gambling games.
5. Crown Casino – Perth, Western Australia
Finally, we have the Crown Casino in Perth, Western Australia.
Formerly known as Burswood Island Casino, this gambling and entertainment premises rivals the Crown in Melbourne when it comes to size. There are countless bars, 32 restaurants, a nightclub, theatre, a convention centre, three hotels and two ballrooms. There's also a huge spa and plans to renovate that would see another 6-star hotel be added (in addition to more entertainment and leisure venues and gambling facilities).
Speaking of gambling facilities, there are currently 220 gaming tables plus over 2,000 electronic gaming machines. Titles run the gambit from much-loved variants to more traditional games. There are also 12 poker tables, some of which are located in the exclusive Pearl room and are strictly reserved for private sessions.
As for live entertainment, you can't beat the Crown. It's home to the biggest sports screen in Australia and you never have to go far to find a drink. It's reputation as an outstanding purveyor of sporting and racing events has even earned it an award for the Best Sporting Entertainment Venue 2016 and the national award of excellence from the Australian Hotels Association. And given the sheer number of things to do at the Crown Casino in Perth, it's easy to see why it's called a city within a city.
Spin and win with Fair Go today – our digital doors are always open too.