The top 5 record-breaking jewels, stones and precious metals ever found
Expired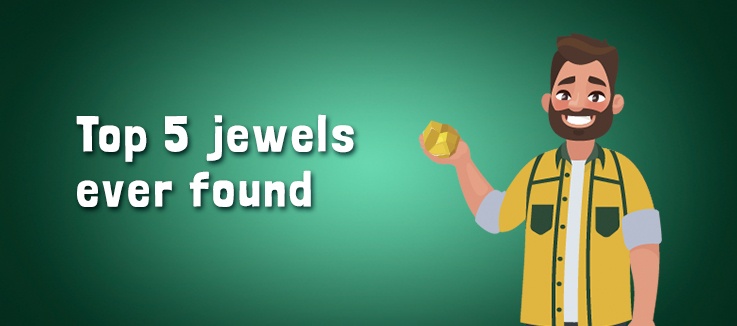 One guaranteed way of changing your life for the better is by winning a jackpot on one of our many online pokies. Another way though, if you've got the time, money and resources, is to go on an expedition to find a record-breaking jewel, stone or precious metal. Oh… and did we mention you'll need a lot of luck too?
Unearthing a record-breaking jewel, stone or precious metal isn't as easy as digging around at the beach or turning soil on your mate's farm after all. First off you'll probably need your own mine, which may prove to be quite a hurdle for your everyday battler. Secondly you'll need to know where to look and what you're actually looking for. If you manage to acquire a mining site in the right place though, well you may just stumble upon some riches.
The truth is though that there's no better path to fortune than playing with Fair Go. You can play our titles every day from home, work or on the go. Heck… you can even play them while you're sitting on the dunny. At least you won't be distracted by anyone.
If, however, you're curious as to what some of the biggest, most expensive and rarest jewels, stones and precious metals are, this article is for you. Read our list of the top 5 record-breaking jewels, stones and precious metals ever found and discover just how profitable digging around in a sandpit can actually be.
The Cullinan diamond
The blue-white Cullinan diamond is the largest diamond to ever be found. Discovered in a South African mine back in 1905, it comprises of 3,106 carats and weighs just over half a kilo.
Unlike some of the other jewels, stones and metals on this list, the Cullinan diamond was found completely by accident after mine's supervisor stumbled upon it during a routine inspection. He quickly dug it up, cleaned it and presented that day to the owner of the mine, Sir Thomas Cullinan.
Cullinan, instantly aware of the fact that this was an absolute monster of a diamond, sold it to the Transvaal provincial government who then gave it to the king of Britain as a birthday gift. Last thing we got as a birthday gift was a card from Kev the Koala's grandma with some gum leaves in it, but anyway.
To ensure the diamond arrived at its destination, it was setup so that a fake diamond was sent aboard a steam ship to London. This fake diamond was guarded by a bunch of detectives while the original was sent in a plain brown box. It arrived successfully at its destination and was cut into 9 different diamonds, which are now held in the Tower of London with the rest of the royal family's crown jewels.
The Bahia emerald
At an outstanding 1.9 million carats and with a value of over $900 million, the Bahia Emerald is the largest single cut emerald ever to be found. Given both its weight and its staggering worth, it's no surprise then that at least 10 individuals, three corporations and an entire government have tried to claim it since its discovery in 2001 in a mine in Brazil.
Currently the emerald is located in a vault in Los Angeles. Previously though it was stored in New Orleans, where it was almost claimed by Neptune and dragged out to sea by flood waters caused by Hurricane Katrina. After being salvaged it was flogged by someone in 2008 before finally being tracked down and recovered.
In 2015 a judge ordered that the stone was to be retained solely by a company that consisted of three businessmen with a stake in the emerald. However, the government of Brazil filed a court order that said it had been mined illegally. This has thrown the whole ownership debate back into disarray. Nobody knows if it will ever be sold.
The Star of Adam blue sapphire
Unearthed in Sri Lanka in 2016, the Star of Adam blue sapphire is believed to be the biggest of its kind ever discovered. Its name comes from the Muslim belief that Adam arrived in Sri Lanka after being turned away from the Garden of Eden. He then took refuge on the hillside of a large mountain which are now known as Adam's Peak.
The Star of Adam weighs in at 1,404 carats and received its name due to the dazzling six-point star that appears whenever light is projected onto it surface. This one stone is said to be valued at around the $150 million mark, however, recent estimates put its value as high as $300 million. This means that the Star of Adam is worth more than the entire annual export earnings of the Sri Lankan gem industry, which averages just over $100 million per year.
The popularity of blue sapphires has increased in the last decade or so. This rise in interest is said to be because of the royal wedding in 2011 when Kate Middleton wore a 12-carat blue sapphire engagement ring given to her by her husband, Prince William. And to think that Kev the Koala only has a ring made from gumnuts to give to his significant other…
The Puerto Princesa pearl
The Puerto Princesa pearl is proof that not all record-breaking jewels, stones and precious metals need to be sold in order to hold value. Found roughly 10 years ago off an island in the Philippines by a local fisherman, the Puerto Princesa pearl is a certified giant, weighing in at an unbelievable 34 kilograms.
The story goes that the fisherman tried to pull the anchor up from his boat in order to escape from an incoming storm. The anchor unfortunately wouldn't budge though so the fisherman has to dive overboard in order to free it. It's then that he discovered the giant pearl wedged against the anchor. 
Funnily enough, the fisherman who found it kept the massive gem underneath his bed for good luck but ended up forgetting about it after a year or so. It wasn't until he moved homes that he actually rediscovered the pearl hiding away under his bed. Instead of selling it to the highest bidder upon rediscovering it he gave it to a relative who worked at the local tourism office.
It remains there to this day, which is actually quite astonishing given that it has a value of approximately $10 million dollars. Perhaps the town is benefiting from its name and the good fortune that it brings. If that's the case and you're a Filipino Fair Go member, there's probably no better place to play our online casino titles.
The Olympus Australis opal
Finally we have the largest opal in the world, which was discovered in our very own backyard in 1956 in the world famous Eight Mile opal field in Coober Pedy. Coober Pedy, as some of our curious members will know, is where the majority of the world's opals come from. There are 250,000 mines in operation and no large-scale mining permitted. Instead, individual prospectors get about 15 metres squared to work within.
The Olympus Australis, named after the Olympic games that were held in Melbourne that same year, is estimated to be more than 17,000-carats and worth $2.5 million if it were to be sold at auction. As one of the purest examples of an opal to ever be discovered, it's said that there could be 7,000 carats cut from a single piece. To this date though it remains as a whole, unpolished and uncut with blemishes and all to bear.
The actual length of the Olympus Australis is 280 millimetres, its thickness is 120 millimetres and its width is 155 millimetres. It also weighs nearly 3.5 kilograms and is currently kept under lock and key in Sydney at the offices of Altmann & Cherny Ltd jewellers.
Blog Bonus!
Redeem code: FINDGEMS for 15 free spins on Gemtopia
Coupon code expires on, Friday 22nd January. General terms apply.
Uncover some glittery wins at Fair Go Casino