Top books to help you win!
Expired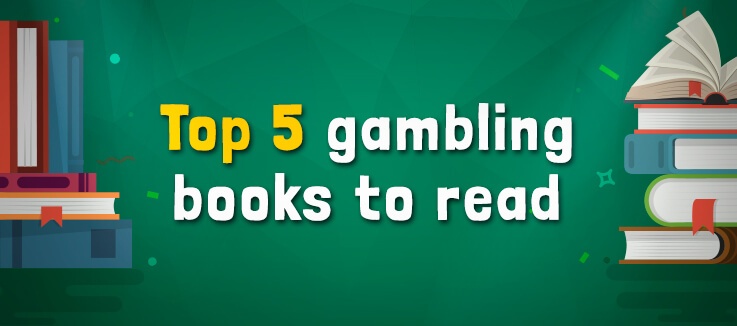 If you're looking at this blog article right now, then there's a fair chance you're an avid reader. And why wouldn't you be? Reading, and more specifically reading our online blog, is one of the most intelligent ways to boost your gambling skills. But beyond the Fair Go blog there are plenty of other resources for ambitious bettors.
In our latest article titled "Top 10 books to make you a better gambler", we'll give you a rundown on the best books out there for members that want to take their online casino IQ to the next level. So whether you're new to online casinos or you've been slapping away on pokies back when they were in black and white, you'll find some gold below. Become a better gambler thanks to Fair Go and these books today.
Gambling books to boost your betting skills
All of these books are available to buy online, but to make things easy for you we've written up a quick synopsis on each one. Some you'll be able to apply to our online casino while others will be more suited to brick-and-mortar establishments. Either way they're your ticket to becoming a better gambler.
Casino Gambling for Dummies - Kevin Blackwood
Casino Gambling for Dummies is more than just a guide for neophytes. It will teach you how to bet wisely, understand the house and reel in some serious moolah.
There are insider tips from the author that were once tightly held secrets within the industry. There's also plenty of information on winning strategies and how to manage your losses so they don't spiral out of control. It's content heavy, but that's not a problem when all the content is valuable. Really anyone who has some interest in betting like a pro will get some serious kilometres out of this book.
There's even a great section that has a bunch of top tens, such as the coolest places to gamble and common gambling mistakes. Easy to read, insightful and chocka-block full of useful information, Casino Gambling for Dummies is one of the best guides for beginners we've come across.
Gambling 102 - Michael Shackleford
The only wizard we usually hang with is that magical maestro in Panda Magic. But for Michael Shackleford, the man known as the Wizard of Odds, we'll make an exception.
The reason for this is that his book, Gambling 102, gives punters such as yourself accurate, comprehensive and easy to implement tips on how to play a whole bunch of casino games. It's not what we would call a beginner's read, more for those who already know the basics. If you're somewhat familiar with casino betting already though, this is a book you can trust.
Enjoy the many strategies that Shackleton himself has used in Las Vegas casinos and put them to the test the next time you're having a slap. You can do a lot worse than Gambling 102 when it comes to improving your wagering capabilities.
Roll The Bones - David G. Schwartz
While betting tips, advice from professionals and case studies will most definitely help you become a better gambler, it doesn't hurt to read up about the history of gambling as well. Roll The Bones by David Schwartz helps with this by giving you a detailed rundown on the timeline of gambling, starting with the stone ages and moving right on up until the age of the internet.
You'll get to learn about gambling in Western Europe, China and even in pre-colonial America plus gain a better understanding of gambling's importance in modern society. If this sounds like a book with some serious academic weight that's too difficult for the average bloke or sheila to digest, you're dead wrong. Roll The Bones is easy to read and the entire book is played out in chronological order.
For those of you who like gambling but want a broader perspective as to what 'gambling' actually is, this book is for you.
Video Poker for the Intelligent Beginner - Bob Dancer
If you want to read a book about how to become a more refined video poker player, it's best to read one that's authored by someone who makes a living from it. Enter Bob Dancer, the man behind the book, Video Poker for the Intelligent Beginner.
Dancer is famous for besting video poker machines across every major continent. So talented is he that he's made a fortune and a name for himself as the number one video poker player in the world. In his book, he shares some of his more successful strategies for winning on video poker, which we should mention have nothing to do with the pokies or slots we host on our site. Regardless, the book reveals some effective techniques that you could possibly apply to our online pokies.
Blackbelt in Blackjack - Arnold Snyder
Blackjack is probably the most widely enjoyed card game in the world. And while not as popular as online pokies at Fair Go casino, we still have heaps of members who love to play a few hands every once and a while.
One of blackjack's biggest appeals is that it's relatively easy to learn and play when compared to other card games such as poker. That being said, Arnold Snyder's book, Blackbelt in Blackjack, does prove that there's a big difference between simply playing blackjack and skewing the odds in your favour. Not only does he go into impressive detail on how to achieve this, he also provides experienced blackjack players with a great strategy for getting consistent results.
As the title infers, it will take you from white belt to green belt before finally bestowing you with enough useful information that you'll more than earn your black belt in blackjack.
1000 Best Casino Gambling Secrets - Bill Burton
Just because pretty much everyone at Fair Go plays our online pokies, doesn't mean you can't dip your digital toes in the water and try new casino games.
If the sheer amount of different titles overwhelms you though, then perhaps Bill Burton's book, 1000 Best Casino Gambling Secrets, will be right up your alley. It manages to do what other books on gambling don't, which is provide a straightforward and easy to understand introduction to a wide range of casino games. It does this by not only informing you on the many games that are played in casinos around the world, but also by providing some unique tips for players to implement.
1000 Best Casino Gambling Secrets is a light read for sure, but it'll equip you with the knowledge you need to take over the casino world… or at the very least win at Fair Go.
Repeat Until Rich - Josh Axelrad
Here at Fair Go we're known for being above board when it comes to gambling practices. We're not called "Fair" Go for nothing, but sometimes it's interesting to learn about other less fair parts of gambling. Professional card counting is one aspect of casino betting that we're not on board with but find somewhat alluring, which is why Josh Axelrad's Repeat Until Rich is borderline un-put-downable.
For those who don't already know, Axelrad was a professional card counter who was in a blackjack team called 'Mossad'. Within this team were members known for different skills, such as the ability to spot opportunities at other tables and alert members if they were being watched. Axelrad talk about his adventures and close calls in his book, which will make you sweat, laugh and furrow your brows in frustration all at the same time.
There's no embellishment here, partly because the story doesn't need it, and the storytelling is frank and honest. If you'd like to discover what life is like as a professional card counter, then Repeat Until Rich needs to go on your Christmas list right now. It won't help you become a better gambler, but it's a ripping good read nonetheless.
The Frugal Gambler - Jean Scott
There's a misconception that in order to be a proficient gambler, you need to be flush with cash. The truth is though that anyone can win big on an online pokie or in a land-based casino. All you really need is a strategy.
In Jean Scott's book, The Frugal Gambler, Scott talk about her life as a well-revered gambler that was known amongst the professional casino players' circuit as the 'Gambling Grandma'. A true hero but without the cape and spandex, Scott discusses how low rollers can also profit as long as they have the right knowledge. Her speciality is of course poker, but her words could be applied to just about any casino title.
For those who think gambling on a budget is impossible, The Frugal Gambler is essential reading. If only for the humorous anecdotes and many pearls of life wisdom that it contains.
Become a better gambler today with help from these books