6 underrated regions and cities in Australia you need to visit
Expired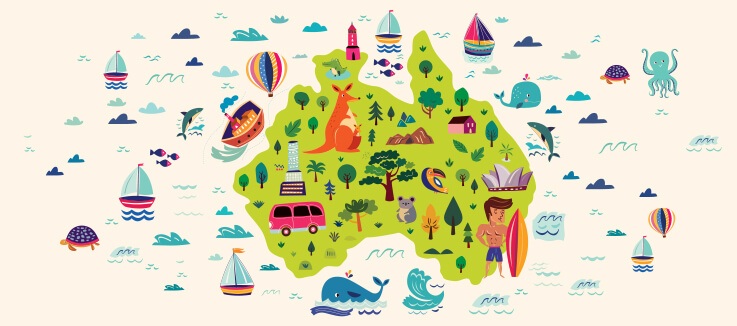 Australian is a big, beautiful country. As such, there's so much here for you to see and experience that it can be difficult nailing down where the best places are located. Sydney, the Great Barrier Reef, Melbourne, Margaret River and Byron Bay are some of the more popular destinations for tourists and locals alike. But if you want to escape the crowds and discover parts of Oz that'll blow your hair back and inspire your soul, Fair Go casino has got the inside scoop.
From unspoiled Tasmanian wilderness to the country's paddle-steamer capital, we're taking you on a virtual tour of a few underrated regions and cities in Australian you need to visit. So read on and allow yourself to be whisked away by the beauty of these stunning locations. One of which is home to everyone's most beloved online casino mascot, Kev the Koala.
1. Derwent Valley, Tasmania
If you're craving an authentic Tasmanian experience and an abundance of natural beauty, the Derwent Valley should go to the top of your bucket list.
Located only a short drive from the island state's capital of Hobart, the Derwent Valley encompasses Granton to Mt. Field, Lake St. Clair to Lake Pedder. Within this area you'll find a breathtaking mix of gourmet food and exciting outdoor activities in addition to some of world's tallest trees. If that's not enough, the Derwent Valley also features an interesting history, complete with a cast of hellraising bushrangers and runaway convicts.
Talk a walk through the Mount Field Nation Park, fish for huge trout in the pristine rivers, gaze upon quaint stone houses and check out the local whisky distilleries. There's really so much to see and do in the Derwent Valley that you'll no doubt leave full of memories and new experiences. This makes it a truly underrated region in Australia that's ready to visit right now.
2. Newcastle, New South Wales
Once regarded as New South Wales' roughest and toughest towns, Newcastle is a city with a proud history. A history that begins in earnest with the opening of the BHP steel plant back in 1915. Attracting thousands of Australian men both young and old to relocated here for work, they formed a culture built on hard labour and even harder drinking sessions. Come the 1990s, however, and BHP was no longer able to compete on a global scale.
Shutdowns and layoffs ensued and since then Newcastle has transformed. Turning into a city that embraces its working-class heritage while at the same time manages to change with the times. These days Newcastle is known has a city with immense charm due to its world-class beaches, thriving café culture and up and coming art scene. Located only a couple hours north of Sydney, one could be forgiven for choosing to visit the state's capital over Newcastle. If you're looking for a city with a big town vibe that's both endearing and exciting though, "Newy" deserves a visit.
3. Echuca, Victoria
On the border of Victoria and New South Wales you'll find Echuca. A frontier town on the mighty Murray River that's home to the largest paddle steamer collection in the world. Located two and a half hours from Melbourne, it's a town steeped in heritage that offers visitors an insight into country Australia.
With a discovery centre, a landmark wharf and a town centre full of significant buildings, Echuca is memorable in more ways than one. Rather than being a one-trick town though, Echuca boasts a wide selection of activities and experiences to indulge in. Award winning eateries, live music festivals and plenty of places to camp, caravan or set up your swag ensure there's always something to keep you entertained.
Echuca is also home to the largest river red gum forests on the planet and a host of vineyards, wineries and cellar doors to peruse. So while it may not be on your radar when it comes to travel destinations in Australia, you can rest assured it has more to offer than meets the eye.
4. Great Southern, Western Australia
Anyone who has travelled to Western Australia will no doubt tell you just how remarkable the Margaret River region is. What they won't tell you though is that a little further south of Margaret River lies one of the less touristy and arguably more beautiful regions in the state; the Great Southern.
Making up the southwest corner of Western Australia, this stunning and unspoiled part of the world is a veritable treasure trove of natural beauty. A place where pristine beaches, quaint seaside towns, historic landmarks and a smorgasbord of delicious restaurants and dining establishments are never too far away. For the curious traveller looking to take a trip along the road less travelled, the Great Southern region is in a league of its own.
Join a killer whale expedition, sample some of the areas refreshing Rieslings, check out the National Anzac Centre and otherwise explore Australia's most dramatic coastline while you're there. It's definitely one of the few destinations in the world that you can come with high expectations, only to have them blown away time and time again.
5. Kings Canyon, Northern Territory
What the Great Southern region is to Margaret River, Kings Canyon is to Uluru. The reason being that the Kings Canyon is often overlooked for more popular attractions in the Northern Territory. Although truth be told, this isn't an issue if you're a fan of rugged settings and stunning destinations that aren't overrun with tour groups.
Situated 323 kilometres southwest from Alice Springs, Kings Canyon sits on the western end of the George Gill Range in the Watarrka National Park. Essentially, it's a natural ravine formed by millions of years of erosion that has no equal when it comes to impressive environmental beauty.
From its soaring sandstone cliffs to the exotic Garden of Eden and the strange formations within The Lost City, Kings Canyon is unique in the sense that it will leave you both humbled and happy. Throw on some walking boots and explore the many hiking trails on your own.
Just remember that you're literally in the middle of nowhere, so preparation is key. If you'd rather go with a guide, there are four-wheel drive tours and camel treks on offer. Of particular awesomeness is the 6-kilometre Rim Walk that includes outstanding views of the canyon's rim and the uninterrupted views it offers of Australia's red dirt heartland.
6. Eyre Peninsula, South Australia
The world's longest unbroken sea cliffs, bucolic landscapes, untapped beaches and ocean to plate fare… the Eyre Peninsula in South Australia is a truly special region. Surprisingly though it's also relatively underrated on a domestic front. Maybe it's because as Australian's these features don't seem particularly remarkable.
However, we guarantee that it only takes a brief glance of some photos from the peninsula's incredible coastline for you to begin looking at accommodation options. Remarkable scenery aside, the Eyre Peninsula is big on wildlife experiences. Swim with sea lions, cage dive with great white sharks or watch the whales as the play just off the shore during winter from the comfort of the region's stunning cliffs.
For those who prefer to stay inland, there are also some incredible vistas from the Organ Pipes in the Gawler Ranges plus the epic salt pan that is Lake Gairdner. Although the fact you can eat fresh seafood 365 days a year is what really draws in the crowds.