The future of online casinos - Virtual Reality Casinos
Expired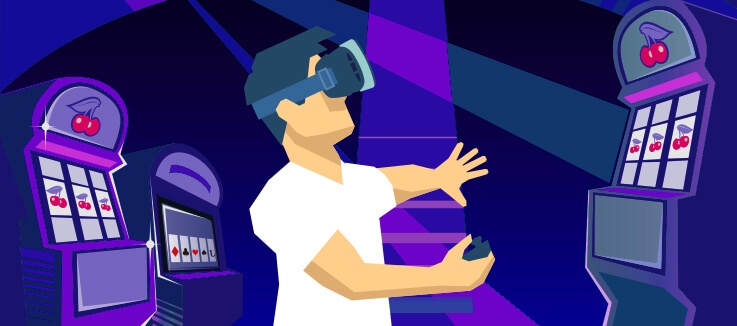 The world of technology has grown exponentially over the last decade, spearheaded by the rise in personal electronic devices such as tablets and smartphones.
These products have not only revolutionised the way individuals communicate with each other and share information, they've also completed transformed various industries and businesses around the world.
Online casinos have felt the effects of this changing landscape and adapted on the go. Implementing new graphics, more advanced gameplay and generally making their offerings infinitely better than what they were even a few years ago.
One way in which new technologies are making a big impact on the online casino area comes in the form of virtual reality, or VR, which is already reshaping the way people access and enjoy their online pokies and casino games.
With this in mind, the team here at Australia's favourite online casino thought that virtual reality deserved an article of its own. So sit back, get comfortable and become an expert on the future of digital casinos with a little help from Fair Go.
What is virtual reality?
Virtual reality is essentially a digitally constructed world that's accessed via some form of wearable headset or viewing apparatus. More than just a few moving images and some music though, virtual reality strives to create a simulated experience that's perceptible, yet computer generated using cutting-edge technology.
Senses such as vision, hearing, touch and even smell can all be replicated in the virtual reality world, making it vastly superior to traditional gameplay when it comes to drawing you into the moment. Many virtual reality systems also utilise the same rules found in real life whilst creating the illusion that the world you're in is never lost. This ensures you feel both mentally and physically present at all times with almost boundless possibilities for exploration.
The implications of virtual reality regarding online casinos is clearly obvious – players can now step into a completely different world whenever they don a headset and gamble as if they were standing on the floor of an actual casino... because sometimes a trip to Vegas just isn't possible, right?
What are some of the most popular virtual reality headsets?
More and more virtual reality headsets are being released every year, however, some of the most popular virtual reality headsets available right now include:
Oculus Rift: The Oculus Rift was launched in March 2016 by Oculus and is perhaps the most well-known headset on the market. After raising over $2.5 million dollars through a crowdfunding campaign and going through a variety of development stages, it is now owned by Facebook.
Google Daydream View: The Google Daydream View is a first-generation headset released in 2016 that's compatible with mobile devices. As such, it has earned a fantastic reputation amongst users as an accessible virtual reality headset. The second-generation version was released roughly one year later in October 2017.
Samsung Gear: The planning for this mobile virtual reality headset began back in 2005, when Samsung filed a patent for a 'Head Mounted Display'. It wasn't until 2015, however, that it was officially released. Interesting side note: The Samsung Gear VR was actually developed in collaboration with the company behind the Oculus Rift, Oculus.
HTC Vive: The HTC Vive is a virtual reality headset developed by HTC and Valve Corporation that was originally unveiled back in 2015. It can be run with Microsoft Windows, Linus and Mac. Like the Oculus Rift VR, the HTC Vive has had number of upgrades since its release, including the Vive Pro Eye, Vive Focus and Vive Cosmos.
When will we see virtual reality technology and online casinos come together?
Virtual reality technology is already being utilised in a few online casinos, but with mixed results. The truth is that virtual reality is still in its infancy, which means there aren't a lot of opportunities to play some of your more obscure but equally as well-loved casino games.
Many players are therefore reluctant to spend the extra money in order to bridge the gap between reality and a simulated experience for a few key reasons. The chief of which is the fact that you cannot interact with the world outside the virtual reality casino. This then begs the question; is it really worth forking over the extra dough for an experience that's only marginally better than what current casino games offer, even though it doesn't capture the excitement of an actual casino as promised by virtual reality technology?
The answer to this is of course subjective, but for the most part, many keen online casino gamers are still curious as to how these virtual reality casino work. At the very least, you can take comfort in the knowledge that some of the more well-known casino titles such as poker, roulette and blackjack can all be played right now at a virtual reality casino.
How do these virtual reality casinos actually work?
The few online casinos that have successfully implemented virtual reality technology are changing the way digital casino titles are played. For those of you interested in signing up and having a go in one, you can expect to be greeted with a simulated casino floor populated by a variety of different table games and pokie machines for you to select from.
These games and machines can then be interacted with in the same way you would use them within a real casino. Simply stand in front of a pokie machine and hit the spin button to send the reels flying or throw a pair of dice on a roulette table and watch as the ball bounces around the wheel. Once you've had your fill with one game, you can simply walk as if you were on foot to another section of the casino, taking in the flashing colours and the sounds of jackpots going off as you move around.
Since you will have an in-game avatar to represent you, you can even mingle with other players or the casino dealers while in this world. This allows you to watch their facial expressions change and read the room as you play, something that would only otherwise be possible if you were in an actual casino.
What's next for virtual reality technology and online casinos?
The next chapter in the story that is virtual reality technology and the world of online gambling is bound to offer up some welcome surprises. Our prediction here at Australia's favourite online casino is that these devices will become more and more popular as the headsets become more affordable and other games are released.
Playing an online casino game is more than just a means to and end for many people after all. And virtual reality will only make your gambling experience more entertaining, due to the sensory stimuli that this ground-breaking innovation offers. From the perspective of an online casino player, it's going to be incredibly interesting to watch the next few unfold.
Our advice to anyone looking to dip their toes in the simulated world of virtual reality is to hone your skills with an online casino such as Fair Go and get ready for one hell of a ride once the technology finally catches up to your enthusiasm.