What are the most popular pokies amongst New Zealand players?
Expired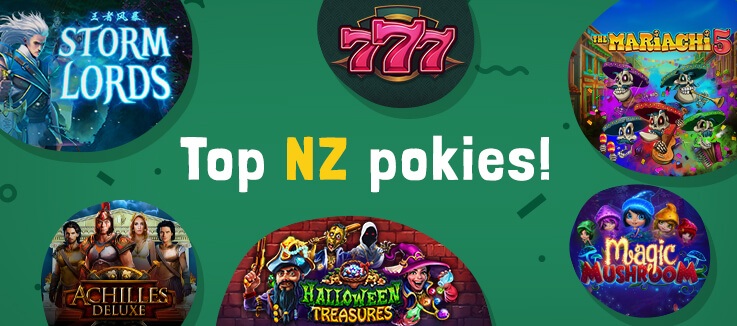 Welcome to our breakdown of the most popular pokies amongst New Zealand players. Compiled by our very own Fair Go casino, this article will give you the lowdown on real cash slots that are becoming super widespread in the Land of the Long White Cloud.
Before we launch into the types of pokies on offer in New Zealand, we're going to give you some background info. You can then play with confidence knowing you've got all the facts (plus the inside edge when it comes to playing New Zealand's most popular online pokies).  
Why is it important to discuss New Zealand's most popular pokies?
The primary reason why it's important to discuss New Zealand's most popular pokies is… quite frankly… that we rarely hear about our mates across the ditch.
What are they playing? Which bonuses do they like to redeem? How the heck do they deposit money with so many sheep always getting away? Funny New Zealand jokes aside, there's a lot of mystery surrounding New Zealand's most adored pokies. With any luck, this article will help you come to grips with online casino gaming in Kiwi land.
What type of online casino pokies are available in New Zealand?
The types of popular online pokies available in New Zealand are very similar to those in Australia. The themes of course vary, as do the amounts that players bet and the average duration of their session. Essentially though, our Kiwi cousins play very similar types of online casino pokies. The most common of which are the following:
3, 5 and 7-reels
Progressive jackpot
Speciality titles
Classic slots
Fixed jackpot amounts
Guaranteed bonus pokies
Real cash slots
Can New Zealand players redeem Fair Go casino bonus offers?
Our top bonuses and promotions are all available to New Zealand players. This includes any new game, Game of the Month or special cashback offers that we host.
This means that it doesn't matter whether you call Oz or NZ home - you can access all of our latest bonuses and promotions. Don't just take our word for it though. Why don't you try redeeming some right now? The most well-liked offers at the moment are as follows:
30% Surfing Weekend: Play on Friday, Saturday or Sunday and get 30% cashback on every busted deposit made without a bonus
Fun Monday: Deposit at least once between Saturday and Monday to claim 25 free spins on Monday
Fair Draw: Deposit between Friday and the following Thursday every week to go in the running for a bonus reward worth between $50 and $500
Welcome Bonus: Get a 100% up to $200 Bonus when you first sign up to Fair Go (available to redeem 5 times)
Is it possible for New Zealand punters to play for free?
Like many online casinos, we offer punters such as yourself the opportunity to play with real cash or to try an online pokie for free. The latter of these two choices is ideal if you're slightly apprehensive about a game or you're not sure if you want to sink your money into an online casino.
After getting confident in your skills, you can then go on to play for real cash. This is where the big boys and girls hang. By playing popular New Zealand pokies for real cash, you can take aim at progressive jackpots and large base game wins. If this happens, you can join the ranks for past Fair Go winners.
What are the best deposit methods for Fair Go players?
Before you can start betting for real cash, it's important to know that we have plenty of deposit options for both New Zealand and Australian players.
These deposit options are 100% safe and backed by encrypted technology. This technology is then bolstered by an additional layer of security provided by the deposit method in question. Use the following services to top up your bank account then win big on popular New Zealand pokies:
The most widely played pokies in New Zealand
Wondering what the most popular pokies in New Zealand are? Well wonder no more. We've done all the hard work for you and uncovered the best performing real cash slots across the ditch. Funnily enough… the majority of New Zealand's most popular pokies are similar to Australian players' most popular pokies. I guess we're not that different after all.
777
Paylines: 1-fixed
Volatility: Medium
Jackpot: Yes
Reels: 3
Top award: 1,680-times the bet
Miss the days of traditional one-armed bandit pokie machines? Then you're going to love 777. Styled like an old school poker machine complete with neon lights and a single payline, 777 is an old timey title with youthful charm. Pull the digital lever and try to trigger the jackpot prize or activate the hold feature, which can stop reels for maximum wins. Don't miss playing 777. It blends simple fun with prize multipliers for an experience that'll have you reminiscing about the good old days.
The Mariachi 5
Paylines: 243-AWP
Volatility: High
Jackpot: No
Reels: 5
Top award: 2,000-times the bet
Kiwis love to party, but even they can't compete with the skeleton band in The Mariachi 5. They love to get down with the getting down on 243-all ways pay paylines. Would you care to join them? If your answer is yes, get ready to win free games with x8 multipliers, retriggerable free games and a 2,000-coin top award. Throw in some epic animations, lively music plus a few crazy winning combinations and The Mariachi 5 becomes a fun fiesta.
Storm Lords
Paylines: 50-variable
Volatility: Medium
Jackpot: No
Reels: 5
Top award: 50,000-times the bet
New Zealand is known for its wild weather. More specifically though, the crazy cold and winds that ravage the South Island. Perhaps that's where the two terrifying tempests in Storm Lords live? They love whipping up top awards worth 50,000-coins, striking down 6 retriggerable free spins or throwing thunderous top prizes. Prepare to be swept away by Storm Lords today. If you play your cards right, it may just start raining payouts.
Halloween Treasures
Paylines: 243-AWP
Volatility: Low
Jackpot: Grand, Major, Minor, Mini
Reels: 5
Top award: 50,000-times the bet
Are you afraid of things that go bump in the night? Because you needn't worry. The only ghosts and ghouls in Halloween Treasures will award you some frighteningly fantastic payouts. Enjoy trying to land that Grand, Major, Minor or Minor jackpots or take aim at that 50,000-coin top award. If that doesn't rattle your chains, there's also x5 prize multipliers plus a retriggerable free games bonus round that awards 12 freebies instantly. It may not be the spooky season just yet, but that doesn't matter. Embark on the hunt for Halloween Treasures with Fair Go today.
Magic Mushroom
Paylines: 27-AWP
Volatility: Low
Jackpot: No
Reels: 3
Top award: 540-times the bet
Don't let the bewitching woodland theme fool you. Magic Mushroom is more than neon caps and glowing stems. This 27-all ways pay real cash pokie takes you on a mystical adventure. Not only can you score a 540-coin top award, there's also the opportunity to unearth big, mega or even huge wins. Enjoy the expanding reel bonus round that'll make your odds of winning grow and marvel at the mythical graphics that Magic Mushroom offers.
Achilles Deluxe
Paylines: 20-fixed
Volatility: Medium
Jackpot: Major and Minor
Reels: 5
Top award: 40,000-times the bet
The man, the myth, the legend is back. Give a big Greek welcome to Achilles Deluxe. Set in a time of war and riches, this epic sequel boasts more payout offers than the Trojans have soldiers. Seize the Major or Minor jackpot and capture the 40,000-coin top award. If you really want to etch your name in the history books though, strike down the Wild Free Games or Free Games features. This will see you earn 25 free games with winnings tripled or 10 free games that can be retriggered. It seems that not even an arrow to the heel can stop the wins in the progressive pokie, Achilles Deluxe.
Discover some of New Zealand's most popular pokies today.