What exactly are progressive jackpots?
Expired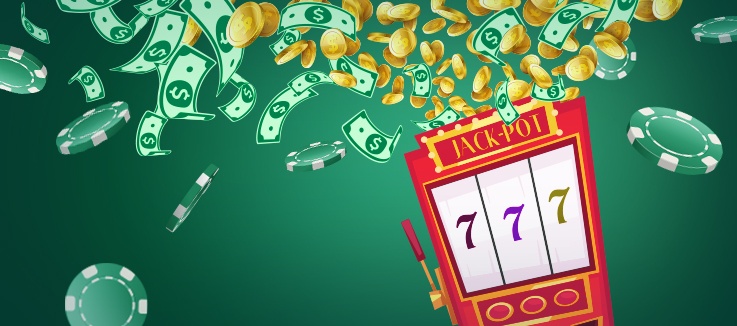 Blog Bonus:
Redeem code "JACKPOTBLOG" for 15 free spins on Achilles Deluxe if you've deposited this week.
General T&C's apply.
No doubt you've heard about progressive jackpots before - those wonderful pokies that come with a jackpot that's linked to multiple machines and can therefore climb higher than Mount Kosciusko.
They're the bees knees. The ducks butts. The koalas ears when it comes to online casino games, but do you know what progressive jackpots actually are?
When we put this question to other member, all that they can say is that progressives are titles with large jackpots. That's correct, but there's more to them than meets the eye.
For this reason, we thought we'd roll up our sleeves and do the hard yakka for you. Now you can learn everything there is to know about what progressive jackpots are simply by reading this here article.
It might not make you an instant winner. It might not double your prize money in one week. What this article will do though is give you an edge… and everyone knows that having an edge is what separates the rookies from the pros.
The definition of a progressive jackpot
Firstly… it's important to note that a progressive jackpot can be applied to a number of online casino games. It's even used in the lottery. When we talk about what progressive jackpots are in this article though, we talk about them in terms of pokies.
With that being said, the definition of a progressive jackpot pokie is a pokie with a jackpot that increases each time the game is played but the jackpot isn't triggered. Unlike fixed jackpot pokies, progressives can be worth hundreds if not millions of dollars. This makes them incredibly popular for punters looking to pick up a motza.
Another point we should make is that the reason why progressive jackpots can reach such staggering amounts is that the total prize money is linked to machines from around the world.
This means that you're not the only bloke or sheila contributing to the pool. However, it also means that other people can claim a progressive jackpot win that you've added to… and that's a bit of a bummer.
How do progressive jackpots work?
If you want to know what exactly progressive jackpots are, then you need to know how they work.
It's not a complicated concept. Even Kev the Koala can pick it up quickly. Essentially, how progressive jackpots work is that the longer that the jackpot goes unclaimed, the more value it accumulates.
So for every non-winning spin, a small portion of the bet is added to the jackpot. You might see this bet called the 'meter' in some places.
Better yet, if a progressive jackpot pokie is highly popular it may be hosted on a number of different online casinos. This means that its exposure is bigger and that more people are able to both play and contribute to the total prize pool. But what happens when the jackpot is finally triggered?
Well, when a progressive jackpot slot goes off, the first thing it will do is pay out to the winning player. Once that's been sorted, the jackpot will reset to a predetermined amount and the fun starts all over again.
In regard to the different types of progressive jackpot, these are as follows.
Random jackpots
As the name suggests, this type of progressive jackpot is triggered at random - generally during any base game spin. As such, you can't predict when one of these jackpots will go off. This is what makes them so exciting. Random jackpot games are probably the most common type of progressive jackpot title that you'll come across.
Symbol combinations
In order to trigger a progressive jackpot of this variety, you must first line up different symbols on designated paylines.
Of course, you as the player have almost zero control over how the symbols arrange themselves on a gameboard. In this sense, symbol combination progressive jackpots could also fall into the category of random jackpots.
Bonus progressives
The third most common type of progressive jackpot that you'll come across is the bonus progressive.
This is activated during the bonus or feature round of a particular pokie. Somewhat elusive but insanely rewarding, bonus progressives can be quite a wild ride. For those lucky punters who manage to trigger a bonus round then trigger a progressive jackpot within that round though… hats off.
Where to find our progressive jackpot titles
If you want to play our progressive titles, you don't have to go far. Simply pull up your mobile device, whip out that laptop or take a seat at the desk and fire up your computer. Then, follow the steps below in order to find our best progressive jackpot pokies:
1. Go to the Fair Go casino game lobby
2. Click on the 'Progressives' button on your screen
3. Pick which game you want to play from the available previews
4. Confirm your selection
5. Hit the 'Play for Real' button for a crack at the progressive jackpot
Where to find our progressive jackpot titles
Now obviously progressive jackpot pokies are pretty bloody unreal, but that's not to say that fixed jackpot pokies are inferior. Both have their positives and their negatives. It really just comes down to which type of jackpot you're after.
For those who like the idea of winning hundreds of thousands or even millions of dollars, a progressive jackpot pokie is the way to go. They're lucrative in every sense of the word.
As such, they can turn you into a very wealthy Fair Go'er in an instant. But they do take a while before they go off. What's more, anyone can claim that progressive jackpot before you get a crack at it. In comparison to our fixed jackpot pokies, there's also not a massive range for you to choose from.
Fixed jackpot pokies, on the other hand, give you a set amount that can be won by you and you only. This means that you don't need to worry about someone swooping in and stealing your jackpot prize at the very last minute. On the flip side, fixed jackpot pokies don't offer as much prize money as progressives. With the majority only paying out tens of thousands of dollars at most.
But then again… $10,000 in your back pocket is better than nothing.
Tips for winning on progressive jackpots
Despite the fact that your chances of winning on a progressive jackpot are more or less determined by Random Number Generators (RNG), there are a few sneaky ways that you can up your odds.
These tips have been shared with us by former progressive winners. Handed down like a secret recipe for you to take advantage of. So don't take the advice below for granted. If you want to become a healthy and wealthy Fair Go progressive pokie winner, you only need to do the following.
Bet the max amount
It doesn't happen very often, but it's possible that you might miss out on a progressive jackpot win because you weren't betting the max amount. When it does occur, it's perhaps the most infuriating thing ever.
It's kinda like you've shot yourself in the foot… all to save what amounts to probably a few dollars. So learn from the success of past winners and bet big on every spin. Because you know what they say – big risk, big reward.
Play progressive jackpots regularly
The more you play, the more you give yourself a chance to win. It's pretty simple.
But playing more doesn't just equal more opportunities to win on the progressive pokie in question. It's also allows you to claim our many daily promotions and use them on that day. Because if you're not redeeming these goodies daily, then you're essentially leaving money on the table.
Find a game you love to play
This is a tip that's really underrated, but it seems pretty obvious when we talk to our most legendary punters. The reason being that you can always play for longer and be more loyal to a pokie if you actually like playing it. Fortunately, we've got heaps of solid progressive jackpot titles for you to choose from… which leads us to our next point.
Our top 3 most recent progressive jackpot pokies
Don't get us wrong – we've got more than a few progressive pokie titles that you can play. But we've recently released some absolute belters that'll have you licking your lips with excitement.
Announced to much acclaim earlier this year, the following progressive jackpot pokies are the cream of the crop when it comes to thrilling games. If you haven't played them yet, then you're missing out. The good news though is that you can get a bit of a taste for them by checking out the section below.
Shopping Spree II
If you ever wanted to go on a no-limit shopping frenzy, then now's your chance. Shopping Spree II encourages punters to play till they drop on 9-reels.
Following on from its successful predecessor, Shopping Spree II will have you checking out with some impressive payouts. It's highly volatile and the wild 'Sale' symbol can multiply prizes by x2, x3, x5, x10 or x20 when they appear in a winning combo.
But perhaps the biggest feature is the bonus meter, which comes into play when the bonus round kicks off. When this happens, you'll be awarded 9 free spins instantly. With 3 additional free spins granted every time the bonus meter climbs over 1,000 points.
If you don't fill that meter though, there are still consolation prizes in the form of bet multipliers that increase in value the less points that you collect.
Finally, we can't forget about that progressive jackpot – it's won when 5 Diamond Ring symbols occur on a payline. At a minimum you can earn over a hundred thousand dollars, but that amount can go way, way higher.
Jackpot Cleopatra's Gold
Rule the reels just like Egypt's most famous queen in the 25-payline progressive pokie, Jackpot Cleopatra's Gold.
Another high volatility title, this legendary real cash game is sleek, stylish and incredibly rewarding. There are in-game prize multipliers, free spins played at x3 plus double prizes when the queen herself appears in a winning combination. But that's not all…
15 free spins are awarded instantly when 3 or more Pyramid scatters land anywhere on the reels. All wins are then tripled while this bonus round plays out. And if that's not enough, it can also be retriggered.
The number one feature of Jackpot Cleopatra's Gold though has to be the progressive jackpot. It's bigger than any pyramids, more impressive than the Sphinx and more desirable than Egypt's most celebrated queen.
Simply take a trip down the Nile River in order to play this title today - a world of mysteries and untold riches awaits.
Jackpot Piñata Deluxe
Piñatas are an epic party treat, but for sure Jackpot Piñata Deluxe is way better.
Not only does it have a progressive jackpot that regularly cracks the one million mark, but it's brimming with summery fiesta vibes that'll bring you out of your cool weather doldrums.
Featuring 20-paylines and a high volatility style of gameplay, Jackpot Piñata Deluxe also comes with a pick your prize bonus round that can award 25 free games, cash worth 200 times your bet or double winnings.
Of course, we can't forget about the non-progressive top prize that can pay 40,000 times bet per line per paid spin.
It's a wild, loud and colourful pokie playing affair… and we just know that you're gonna love what Jackpot Piñata Deluxe has to offer.
Our other progressive jackpot pokies
Aztec's Millions
Spirit of the Inca
Megasaur
Have a dig at our progressive jackpot titles at Fair Go today