5 ways to celebrate World Oceans Day
Expired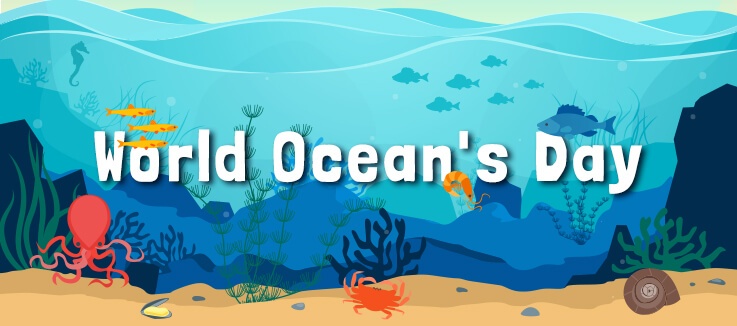 5 ways to celebrate World Oceans Day
Did you know that oceans produce between 50% and 80% of our oxygen and consume more than 25% of all the carbon dioxide in our atmosphere? This essentially makes them the lungs of our earth. Even more so than the world's forests.
In addition to helping us breathe fresh air though, these vast bodies of water also contain a number of incredible natural features, such as the Mid-Oceanic Ridge underwater mountain chain that runs for over 56,000 km along the centre of the oceans' basins, and of course the Great Barrier Reef which is the world's largest living structure and can even be seen from the moon.
The fact that we've only explored a little over 5% of our oceans is also incredible. Just imagine how many secrets we're yet to uncover or how many sea creatures we've yet to see for the very first time. It's enough to make anyone's mind spin, but especially when we consider that up to 80% of all life on earth is found under the ocean surface and that they contain 99% of the living space on the planet.
Taking all of this into account it's easy to see why our oceans are so important. So for these reasons the team here at Australia's favourite online casino decided to show you 5 ways you can celebrate World Oceans Day. Because as an online casino that calls the island continent of Oz home, we know a thing or two about looking after the waters that surround our awesome country.
1. Organise a beach clean-up at your local
According to Ocean Conservancy, 8 million metric tons of plastics enter our ocean every year, whether it's via bags or straws finding their way into gutters or large amounts of mismanaged plastic waste streaming from rapidly growing economies.
Most of this plastic then washes up on beaches, alongside other discarded refuse that's been either intentionally or unintentionally sent out to sea. One way in which you can combat this and celebrate World Oceans Day at the same time is by organising a clean-up at your local beach. It doesn't have to be a massive group, nor do you all need matching t-shirts. Simply send a few messages to your friends or call on a few family members to help you out.
You can still make a difference with only a handful of people. It's really more about actually getting out there and having a crack, given that every piece of trash you pick up is one less item that enters our oceans. So take 30 minutes out of your day and give it a go. We guarantee you'll be more than surprised by just how much plastic you find on the beach once you start looking. Just remember to think about all the good karma you'll receive, too.
2. Join a World Oceans Day activity or event
Over the last two decades, World Oceans Day has grown to include more than 2,000 groups and organisations around the planet. This includes youth groups, aquariums, zoos, museums, divers, swimmers, the maritime industry, surfers, the tourism sector, universities and many others.
This means that no matter where you're located around the world, there's bound to be a World Oceans Day community activity or event somewhere close by. Simply jump online and do a quick search for World Oceans Day and you're guaranteed to get a few hits. Better yet, you can even arrange to run your own World Oceans Day event if there's not one near you.
It could be something as easy as coordinating your very own beach clean-up as we've already suggested. Or you could take it one step further and organise a swimming race at your local rock pool. With everyone who participates wearing funny costumes and making a gold coin donation for an ocean-focused charity. This way you can raise awareness for world's oceans and bust out your Borat-style swim piece at the same time. Is nice!
3. Go for a swim and take a moment to appreciate the ocean
You might be surprised to know that out of all the Fair Go mascots, Kev the Koala is the one who loves the beach most. So when we approached him for some advice on how to celebrate World Oceans Day, he suggested to simply going for a dip in the ocean and take a moment to appreciate it beauty.
Of course, it's going to be pretty chilly in Australian waters unless you live somewhere up north. In that case, feel free to slip into a wetsuit before you hit the waves. If you're feeling plucky though, opt for the quick sprint down the sand or head to your local rock pool for a dip. At the very least, the cold water will wake you up if you go in the morning or reinvigorate you after a long day at work.
Kev even recommends grabbing your board and catching a few peelers if you're a surfer. For the sole reason that sitting on your board in the lineup can be a great opportunity to look around and really absorb just how spectacular the world's oceans are. Who knows? You may even put out enough good vibes that you end up riding the wave of your life.
4. Purchase a reusable coffee cup or drink bottle
Single use coffee cups and water bottles, like plastic bags and straws in some countries, will soon become obsolete throughout most of the developed world. The reasoning behind this is that a vast majority of these disposable containers aren't even recycled and end up finding their way into our oceans sooner rather than later.
Once there, carboard coffee cups can take 30 plus years to dissolve, with plastic water bottles taken infinitely longer. Need proof? The UK throws away 2.5 billion disposable coffee cups every year and less than 1 per cent of coffee cups are recycled. While here in Australia we use 1 billion disposable coffee cups each year, which equates to roughly 2,700,000 paper coffee cups thrown out every day, only a tiny fraction of which is recycled.
If you want to make a difference when it comes to our oceans and the environment in general, you can start by purchasing a reusable coffee cup or drink bottle. They're not expensive and these days they can be found in just about any store or shopping centre. Alternatively, you can just follow Kev's example and eat only renewable food with zero packaging. If you don't like the taste of eucalyptus leaves though then this may not be a very realistic solution.
5. Donate to an ocean-focused charity
If you really love the oceans and want to help protect them but you also don't know how one person can make a difference, why not throw your support behind an ocean-focused charity? There are countless marine conservation organisations to choose from so you'll have no trouble finding one that speaks to your motivations.
Oceana, The Ocean Conservancy and Sea Shepheard are just a few. For Australians who want to support a cause that's a little closer to home, you can also back one that is actively working to rebuild the Great Barrier Reef. The Great Barrier Reef Foundation, Marineconservation.Org, Coral Reef Alliance and the Coral Restoration Foundation are all fantastic charities who have the best interests of our incredible barrier reef at heart.
So celebrate World Oceans Day in 2019 by doing something positive for these vast ecosystems. They deserve our help and by following through with any one of these five ideas, you can learn more about them and enjoy that warm fuzzy feeling one gets from supporting a cause that's bigger than themselves. Not to mention that every dedicated online casino gamer should know that gambling with the health of our natural world is always a losing bet.