7 ways to win more money at Fair Go casino
Expired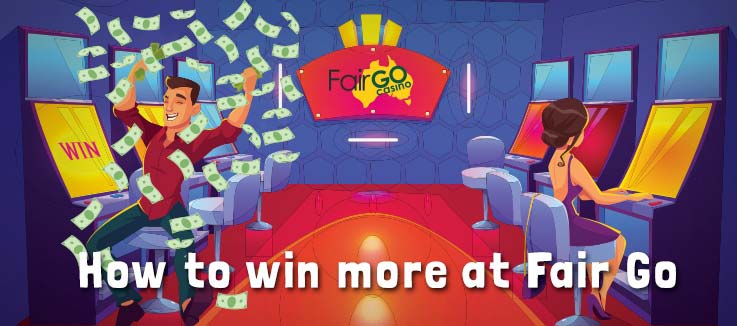 You don't have to be Kathy Freeman, the Kangaroos rugby league team or Rex Hunt to feel like a winner, but you do need some know-how. Fortunately for you, this know-how is easy to come by. All you've got to do is read the following Fair Go casino article.
It'll make you gasp and it'll make you smile. Most of all though, this article titled "7 ways to win more money at Fair Go casino" will give you a leg up when it comes to winning cash. Study like you would the weekend form guide and we guarantee you'll learn a thing or two.
Of course there's probably some information in here that you're already familiar with. There is, however, bound to be a few golden nuggets to help you unleash your inner champion. As always, let us know if there's anything that isn't clear.
Stay up to date with the latest blog articles
Little do most of our members know, reading is actually one way that you can win more money at Fair Go casino. We've already talked about some of our favourite gambling books, but our blog is also a treasure trove of incredibly helpful tips and tricks on how to bet smarter and better. 
This article is but one example, but there are countless other blogs that are jam packed with information. Not only can they fast track your path to high roller success, but they'll also give you something to laugh about. We're not called Australia's favourite online casino for no reason. In fact, mixing humour, entertainment and genuinely advantageous betting tips all in the one article is what we do best.
Remember to check Kev's diary
The adventures of Kev the Koala are famous throughout our online casino. He's the bear that does it all, from skydiving to hanging with friends and discovering this great country. There's almost nothing Kev loves more than getting onto the wide-open road to experience all that life has to offer.
Now, we say almost because the thing he loves most in the world is documenting his trips and handing out bonuses in his online diary. How it works is that for every new activity he tries, friend he meets or place he visits, he awards Fair Go member with a special reward.
This reward could be in the form of a deposit bonus or it could be free spins. That really depends on how Kev is feeling on that day. All we can say is that his journal is updated every week, which means there's a fresh reward to claim every 7 days. Simply follow the steps below in order to access Kev's diary:
Step 1:

Login

to Fair Go casino account using your login details
Step 2: Click on the

'Koala's Diary'

button at the bottom of the homepage
Step 3: Redeem the coupon code provided on his latest entry
Find the game that suits your style… and stick to it
There's no shame in saying that you've got a favourite pokie or virtual casino game. We all have that one title that calls to us from the screen and bring us a considerable amount of joy just to play. Personally, Kev the Koala loves titles such as Panda Magic… but we suspect that's because it's about a fellow bear.
In any case, playing the games that you have an affinity for can actually be a great motivator. And obviously the more you play, the higher your chances of winning are. It also doesn't matter whether you're into card games, pokies or speciality titles – it really comes down to just how much pleasure you get out of said game.
So the next time you're agonising over which game to try, take a scroll through our roster and look for an old favourite. Because newer isn't always better.
Keep one eye on your email and casino inbox
We can't even begin to count the amount of times that members have missed out on awesome bonus offers or promotions that only run for a limited time, purely because they forget to check their email or casino inbox.
So take it from the players who are REALLY rolling in the dough: visiting your email or casino inbox at least once daily will vastly improve your odds of becoming a Fair Go VIP. This is where we send all the good stuff, but they're especially important to check on considering we regularly run special holiday-themed promotions.
Halloween, Christmas and Easter are just a few of the special dates that we run promotions. That means it's a great time of the year to not only chill out, but also to pick up free spins or deposit bonuses. Just remember that if you only have time to check one inbox, opt for your email. The reason being that you'll be notified via email whenever you're sent a casino inbox message.
Take advantage of our Game of the Month promo
You've all heard of our Game of the Month promo, right? Because if you haven't, you're missing out on one heck of a promotion. How it works is that instead of rewarding you with 1 point for playing a particular title, we'll double that and gift you 2.
The advantage here is that you can then exchange these comp points for cold hard cash, with every 100 points able to be swapped over for $1. With our Game of the Month promo, you essentially get to collect comp points twice as quickly as you ordinarily would.
What's more, our Game of the Month is always a classic pokie from the past. This means it's also an excellent opportunity to revisit older titles and play some of our favourites. Of course, the biggest benefit is most definitely the fact that you can actually earn money for playing an online pokie. Trust us… there aren't many other online casinos who are that generous.
Don't be led astray by superstition
Wearing red in a casino, carrying a luck charm and avoiding betting a hand when the number seven is involved. These are all the weird and wacky superstitions that tend to haunt gamers. The truth is though that superstitions generally play on your fears and therefore they cloud your judgement.
This can wreak havoc with your betting strategy and cause you to make decisions based on emotion rather than probability. Besides… all of our online pokies are powered by a random number generator (RNG). This ensures that every reel that's spun, every dice that's thrown and every card that's flipped is done so at random.
There's no way to predict what's going to happen. All you can do is play smart and stick to your betting strategy. The outcome at the end of the day comes down to fate.
Don't be led astray by superstition
Last but certainly not least is one tip that we believe deserves your attention. Now we're not saying you like to gamble drunk but given that land-based casinos prey on people in this vulnerable state, it's worth mentioning - you should never ever wager while under the influence of alcohol.
Like many vices, alcohol can impair your ability to make informed decisions. This can in turn lead to you chasing your losses or betting more than you can afford. In short, it totally messes with your capacity to limit yourself. Not to mention you won't get the full online casino experience if you're bleary eyed and half cut.
Our advice? Always approach your online casino gaming section with a clear mind. That means no gambling on alcohol or anything else that could affect your judgement. Your part of the Fair Go family now and what we want most is for you to enjoy yourself. That shouldn't mean getting blind then betting on our casino games.
Blog Bonus!
Redeem code WINBIG for $5 free bonus
T&C's apply. Bonus expires on the 10th of December.
Play more, win more at Fair Go Casino today.