All about Fair Go's Game of the Month
Expired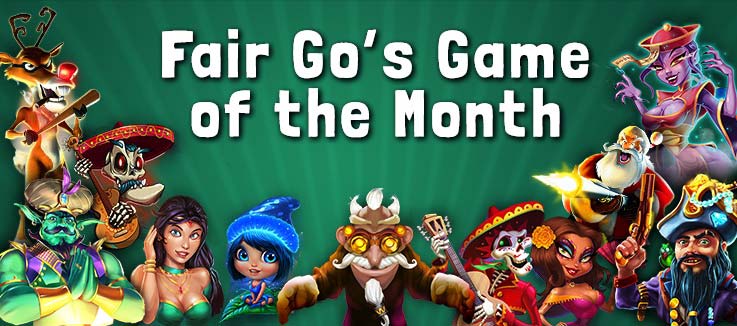 Every month at Fair Go we like to run a little promotion called the Fair Go Game of the Month.
Created by the one and only Kev the Koala, our Game of the Month promo is something that many of our members really look forward to. The reason being that the Fair Go Game of the Month isn't just a chance for us to feature a particular title, it's also a way for members such as yourself to get your paws on some delectable special offers.
Of course, if you're new to Fair Go or you've been out of the loop, you may not be all that familiar with the many aspects of this promo that make it so damn popular. So to ensure you're clued up with our Game of the Month campaign, we've decided to dedicate an entire article to it.
Learn all about this awesome promo and discover just how it can help you maximise your odds of winning by reading on below.
What is our Game of the Month promo?
Every month we choose one game to feature as a must-try title. We also give away special prizes to those who try it. You'll never know which game we're going to feature until it's actually announced, which means there's always a small chance it could be one of your favourite games. For members, this promo provides the perfect opportunity to rediscover classic titles. However, it's also an awesome way to boost your winning potential.
How does it work?
The mechanics of the Fair Go Game of the Month promo are pretty straightforward. First, Kev the Koala selects a title that he would like to feature. After that we put together a small campaign in order to promote this pokie. Those who play this game throughout the month will then be treated to a couple of special offers that can be redeemed either daily or every time you wager.
Double Comp Points
The first of these special offers is double comp points, which are essentially reward points that you can collect and exchange for cold hard cash once you manage to accumulate 100 of them.
Normally when you play a Fair Go casino title and wager $10 in bets, you're given 1 comp point. During our Game of the Month promo though you get 2 comp points for every $10 you bet. What this means is that you can actually earn comp points twice as quickly as usual and trade them in for actual money. Seasoned players never miss a chance to take advantage of this offer, given that it allows them to earn credits no matter whether they win or lose.
Daily Bonus
The other special offer that we provide to players during our Game of the Month promo comes in the form of daily free spins and a deposit bonus.

Once again, the mechanics of this offer are simple. You're provided with a special coupon code that can be redeemed once daily in exchange for free spins and a deposit bonus that are valid for our featured title. To make the most of this offer, you should come back every day and redeem it. After all, it's what the professionals do, and they're not called professionals for nothing.
What type of games do we feature?
Our aim with the Game of the Month promotion is to highlight a popular game from the past. You won't find any brand-new releases here, just much-loved titles from months gone by.
When it comes to Game of the Month titles, we also only select games once. This means that if your favourite online pokie is featured but you're unable to play it, you won't have a chance to claim double comp points or a daily bonus on it in the future. Past titles that we have featured to be our Game of the Month include:
What's so good about comp points?
Comp points are one of the main things that veteran players look for when choosing an online casino. This comes down to the fact that comp points provide a massive advantage in terms of helping you win the big money.
Win or lose, comp points can be accumulated as long as you're wagering. And with our Game of the Month promo, you can actually earn twice as many as you would normally. This means that you're essentially doubling the speed in which you collect them. Once you exchange these comp points for credit, you can then use them again on either the featured title or on another one of your favourite games. 
We wouldn't go as far to say they're the next best thing to free money, but comp points certainly sweeten your Fair Go Game of the Month experience. So don't let a chance to claim them slip through your fingers.
How do I know when the promotion is running?
To ensure you never miss out on a fantastic opportunity to score double comp points and a daily bonus on our Game of the Month, we'll be sending three messages to your casino message centre plus three messages to your email inbox.
These messages will announce the arrival of the Fair Go Game of the Month promotion and remind you to play it before the month is out. So unless you're hanging with Kev the Koala in a remote gum tree or hiding under a rock, you're guaranteed to hear about this epic promo as long as you check your email or casino inbox regularly.
Has anyone ever won big on a featured game?
Of course. In fact, our Game of the Month promo is one of our most profitable promotions for both new and expert members. This is because it runs over an entire month, with means you have multiple days to take advantage of it.
                                                             
Last month's Game of the Month was the 1,024-all ways pays title, Panda Magic. Enchanting, adorable and fantastically fun, Panda Magic dished out some incredibly bewitching wins for some of our members. Alex R for example won $2,376, while Simon W pick up $4,932 for his efforts. The biggest prize winner of the month though went to one lucky member by the name of Kaley F, who conjured up a whopping $18,329 on this charming title.
Now that you know exactly what to expect from our Fair Go Game of the Month promo, all that's left is for you to try it. Head on over to our promotions page now and play our most recently featured title, Achilles, to win double comp points plus a daily bonus. Just don't forget that this promo runs every month of the year, so you can pick up back to back wins if you play your cards right.
Blog Bonus!
Redeem code: BLOGGOTM for 5 free spins on Achilles
Coupon code expires on Thursday, 16th July. General terms apply.
Play this months Game of the Month today.