4 Ideas to Celebrate the End of Daylight Saving Time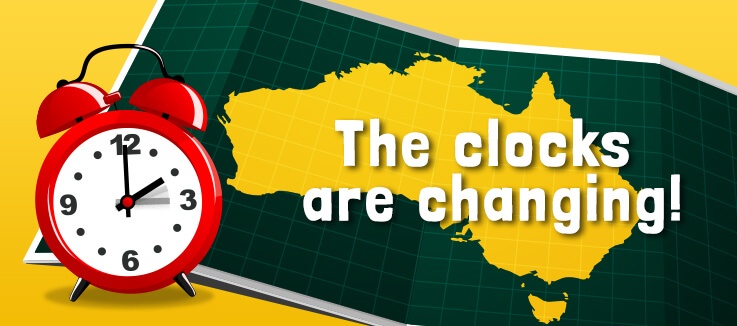 4 Ideas to Celebrate the End of Daylight Saving Time
In fact, we're downright spoiled when you consider all the awesome things you can do with an extra 60 minutes, like watch a couple more episodes of your favourite Netflix program or use the added time to try your hand at winning big on a new Fair Go casino game.
Unfortunately, the end of Daylight Saving Time also reminds us that we'll be getting less time in the sun. Which is fine if you're on the pastier end of the skin complexion spectrum, but not so good if you love the outdoors as much as our mascot Kev the Koala.
With that in mind we've come up with 4 ideas to help you celebrate the end of Daylight Saving Time – otherwise known as that time of the year in Australia when (nearly) everyone gets to enjoy layering up, getting cosy and spending more time indoors.
But first...
What Is Daylight Saving Time?
Daylight Saving (not savings) Time is the practice of putting our clocks one hour forward on the first Sunday in October within Australia and then winding them back one hour on the first Sunday in April.
It is observed in New South Wales, Victoria, South Australia, Tasmania and the Australian Capital Territory. This has resulted in three time zones becoming five during the daylight-saving period.
Daylight Saving Time is not observed in Queensland, the Northern Territory or Western Australia.
Why do we have it?
Contrary to what Kev the Koala reckons, Daylight Saving Time is not so we can all squeeze in an extra hour of surfing during the warmer months.
He is, however, half right. Since Daylight Saving Time was actually introduced so we could make better use of the daylight hours.
In fact, popular belief suggests that the man behind the invention of Daylight Saving Time was the famed American polymath and one of the founding fathers of the United States, Benjamin Franklin.
This theory has been somewhat debunked though, with one of his letters titled "An Economical Project for Diminishing the Cost of Light" simply stating that one could get the most out of their candle usage by simply getting out of bed earlier in the morning. Nowhere does this paper involve the turning back of clocks, which has led some to believe Benjamin was trying to make a joke.
I guess it was one of those had to be there ones, hey Ben?
When Did Daylight Saving Time Begin in Australia?
Daylight saving was first used by all states in Australia during World War I and then again during the Second World War.
Afterwards it was reintroduced in Tasmania in 1968, with New South Wales, Victoria, Queensland, South Australia and the Australian Capital Territory following suit in 1971.
Western Australia and the Northern Territory did not introduce daylight saving times, however, and Queensland went on to abandon Daylight Saving Time all together a year later in 1972.
Which Countries Use Daylight Saving Time?
Parts of southeastern Australia observe Daylight Saving Time, as do our neighbours across the pond in New Zealand.
Most areas in North America and a few places in the Middle East also observe it.
In South America though, the countries nearest the equator do not observe Daylight Saving Time while Paraguay and parts of southern Brazil do. The reason why most countries along and below the equator don't participate in Daylight Savings Time is due to the fact that the daylight hours don't change much from season to season, so there's no need to turn their clocks forward or back.
Most areas of Africa and Asia don't observe Daylight Saving Time and interestingly, while the European Union and the rest of Europe all change their clocks, Iceland chooses not to.
This puts the estimated amount of countries in the world who do observe it around 70.
With that in mind, let's take a look at a few ideas to help you celebrate the end of Daylight Saving Time.
1. Pick a Few Awesome Autumn Destinations to Visit in Australia
The end of Daylight Saving Time in parts of Australia is also the start of the autumn season.
It's during this time of the year when trees all over our sunburnt country burst forth with gob-smacking beauty and put on a kaleidoscope of colour for everyone to witness.
The awesome hues of orange, red and yellow aren't the only great thing about this time of year though, with the beginning of those cooler months also kicking off a range of seasonal events.
That means you can celebrate the end of Daylight Saving Time by picking a few autumn-y destinations to visit, because nothing is more exciting than the anticipation of a little adventure!
Orange in country New South Wales for example serves as an ideal place to visit during autumn once you've wound your clocks back, with its leafy streets, stunning parklands and a proactive council who add around 300 trees to the streetscape each year.
Of course an outing to the aptly named Orange in Autumn isn't complete without a visit to the Orange Botanic Gardens, where you can discover 17 hectares of seasonal flora, including fiery maples and rows of red and gold apple trees.
Taking all this into account it's no wonder Orange has been nicknamed Australia's 'Colour City'.
2. Hunt for a New Book or Netflix Series to Get You Through the Shorter Days
Another way you can celebrate the end of Daylight Saving Time is by going on the hunt for some cool books to read or an interesting new Netflix series you've been dying to see.
Simply make a plan with friends or by yourself to hit as many different second-hand bookstores as possible and make a day of it. We guarantee you'll be amazed at some of the gold you can find tucked away on those dusty shelves.
The best thing is you'll have something to do as night time begins to descend earlier and earlier going into the cooler months. Then when it's all over, you can swap books with your friends and read them over the spring and summer.
If you'd prefer to lose yourself in a Netflex series, however, this can also be done in the name of celebration. Just do a bit of research for a program you'd be interested in watching then share it with your friends so they can watch it too.
With any luck you'll be able to watch your new TV show at the same time your friends are watching from their place, giving you an extra reason to enjoy the long nights that inevitable come after Daylight Saving Time has ended.
3. Prepare Yourself for the Cooler Weather by Learning to Cook Some Hearty Soups
Australia as a whole may not experience the increasingly chilly air that accompanies the end of the warmer months in the northern hemisphere. And we certainly don't need to shovel snow off our driveways come winter. But who says we can't enjoy a bowl of warm soup on a chilly autumn or winter's night - not us here at Fair Go that's for sure!
With that in mind, we reckon a great idea for celebrating the end of Daylight Saving Time is to jump in the kitchen, channel your inner Jamie Oliver or Martha Stewart and learn a few new recipes – beginning with some hearty soups.
Now, we're also aware that this isn't a very traditional way to usher in the day when you finally set your clocks back an hour. But we thought what the heck… soups are easy, and nothing says good times like good food, right?
So if you'd like to get on board the soup train and try your hand at learning a new recipe, we recommend a good ol' Aussie favourite – the classic sweet seafood soup.
To make it, all you'll need to do is sauté onion, garlic and sweet potatoes in oil, then stir in some vegetable broth and bring to a boil. After that you can reduce the heat and let it simmer for 15 minutes.
Once that's done, add scallops, prawns and clams and stir in milk and cream. Simmer again over a medium-low heat for 7 minutes and then remove from the heat and let it stand for a few minutes.
Last but not least, stir in a couple of egg yolks and season to taste with pepper, savory and thyme and taadaa.You've got yourself a delicious soup that celebrate the end of Daylight Saving Time and Australia.
Not to mention this particular broth is Kev the Koala's favourite… after gumleaf consommé of course.
4. Go on a Shopping Spree and Search Your Local Op-Shops for Warm Clothes
If you really want to go all out in an effort to get excited for the end of Daylight Saving Time though, nothing beats a fun-filled shopping spree to some local op-shops to find some autumn and winter apparel.
This is especially awesome if you're on a bit of a budget or have a few epic little thrift stores nearby that stock some killer clothing.
Not to mention you'll enjoy getting out and about while you've still got the extra sunlight.
That makes going on a shopping spree to find an end of Daylight Saving Time essential all the more exciting. You can even take a few of your spring and summer clothes in and donate them if you're feeling particularly generous.
Which may not be a bad idea after all, considering some good karma won't hurt when it comes to betting big on your favourite Fair Go casino titles.
So if you're looking for ways to usher in the end of Daylight Saving Time then why not check out all the action happening over at Fair Go casino. With so many new online casino games on offer plus plenty of promos and freebies to win, you'll always have something exciting to do… even when it's dark outside. Just don't forget to wind your clock back at 2 am (which is 3 am Daylight Saving Time) on the first Sunday in April and use that extra hour to have a little fun with Fair Go casino.