Pack your trolley full of payouts in Shopping Spree II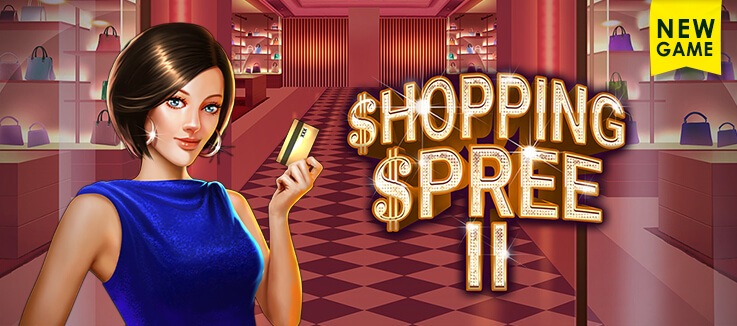 Shopping Spree II is sending Kev the Koala into a frenzy… with consolation prizes, a generous major jackpot plus a substitute symbol that multiplies your wins. This 9-payline pokie is giving out prizes at bargain basement prices.
Game Details
Developer: SpinLogic (formerly Realtime Gaming)
Reels: 5-reels
Top award: 50,000-times the bet per line
Substitute: SALE
Scatter: SHOPPING SPREE II
Special: Diamond ring
Jackpot: Major progressive jackpot
Paylines: 9-paylines
Bonus round: Yes
Bonus type: Free games, prize multiplier
Platforms: Instant Play, Mobile
About
If money wasn't an issue and you could choose to go on a shopping spree in one store, where would you go? Because when Kev was asked the question… he didn't want to go in any store. He just wanted a crack at the 9-payline payout extravaganza that is Shopping Spree II.
Available to play right now at Fair Go. This progressive pokie comes with all the bells and whistles. There's an absolutely massive top award plus a generous jackpot. But there's also a nifty bonus round that offers consolation prizes so you can never really lose.
It's better than Woolies and better than Coles. Because Shopping Spree II has you raiding its digital aisles for cash payouts. So grab the nearest trolley before it's too late. Your new game bonus is waiting to be redeemed.
For more info about our latest pokie Shopping Spree II, read this article. In it we breakdown everything from gameplay to symbols and that barnstorming bonus round. It's kinda like your ticket to a better gaming experience…
Gameplay
The first thing you'll notice about Shopping Spree II is that it's colourful. Like… really colourful. We actually think it may be modelled on a shopping centre from 80s Australia. But the gameplay is anything but outdated.
                    
The gameboard is made up of 9-fixed paylines and 5-reels. The volatility is high, which means the wins will come quicker than a stampeding Black Friday crowd. There's also a progressive jackpot that's triggered when 5 Diamond Ring symbols appear. 
The maximum you can win on any payout (not including jackpot prizes) is 50,000-coins. This is pretty bloody lucrative when combined with the progressive. Throw in some retro graphics and a soundtrack that's a fair few notches above shopping centre music and you've got yourself a formidable title.
As for the layout, well that's a little bit special. The reason why we say this is that it has all the standard game controls PLUS a special little Bonus Tally Meter up above the gameboard. We'll talk more about this later, but all you need to know now is that this meter is pretty damn important.
Symbols
Prepare for a jewellery and clothing overload. Shopping Spree II is packed to the rafters with symbols that emulate some of the more desirable goods one might find in a store.
This includes low and high paying items such as shopping bags, high heel shoes, watches, credit cards and one very savvy shopper. But there's also a few special symbols for you to scoop up at the checkout too.
The SHOPPING SPREE II symbol, for example, will trigger the bonus round when 3 or more land on the reels. The SALE wild will also appear grouped on reel 3 and substitute for all other symbols except the SHOPPING SPREE II scatter. Better yet… it'll also multiply prizes by 2, 3, 5, 10 or 20 when forming part of a winning combo.
Finally we have the Diamond Ring symbol. This one is a bit of a dark horse. You'll see it often enough, but unless you see 5 line up on the reels with a x20 SALE then there's no reason to celebrate.
If this does happen though then you should begin planning a shopping trip with the lads or ladies ASAP… because you just triggered the progressive jackpot.
Bonus rounds
Now of course the jackpot is great. We love it, you'll love it and we know Kev loves it too. But the bonus round in Shopping Spree II is really where it's at.
                      
Activated when 3 or more scattered SHOPPING SPREE II icons pop up onto the reels. You'll be awarded 9 free games instantly. With all scatter wins added to line wins and multiplied by the total bet. But that's not all…
During this bonus round, 100, 200, 300, 400 and 500 point symbols may appear on reels 1 through to 5 respectively. When one of these point symbols appears, it'll be added to the Bonus Tally Meter that we mentioned previously. And since your aim is to fill that meter up, the bigger point symbols are the best point symbols.
Once all free games have come to a close, the bonus round will then kick into its second phase. Reel 3 will be made up entirely of SALE wilds and 3 additional free games are awarded for every 1000 points that you've accumulated in the Bonus Tally Meter (maximum 12).
What happens if your Bonus Tally Meter is less than 1000 points though? Well in that case there's no need to ask for the manager in anger. Because you'll be awarded a consolation prize multiplier based on the following table:
500 – 900 points = x3 multiplier
400 points = x5 multiplier
300 points = x10 multiplier
200 points = x20 multiplier
100 points = x40 multiplier
0 points = x100 multiplier
Taking this into account, you may even find that NOT reaching 1000 or more points still awards you a whopping big prize. In this sense… Shopping Spree II is pretty awesome. Just note that scatter and point bonus symbols do not appear during this bonus round.
Where to Play
Kev the Koala is giving Shopping Spree II two fuzzy thumbs waaay up. So why don't you slip on down to this virtual shopping centre today.

Use your mobile, your laptop or even your desktop computer to play. It's all good. This 9-payline pokie will make you shop till you drop. But instead of simply spending money on things you don't need… you can win money to buy the things you want.
This fantastic new pokie is coming to Fair Go casino on the 24th of March!