The 10 most awe-inspiring Australian wonders of the world
Expired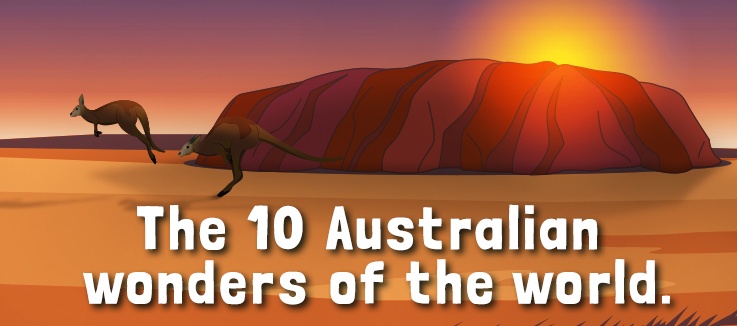 Australia is full of magical places and stunning destinations.
From the wet and mysterious rainforests of Northern Queensland to the vast and striking mountain ranges of Tasmania, the country is blessed with a diverse array of unique environs.
For World Earth Day, we've put together a list of the 10 most awe-inspiring Australian wonders of the world. They'll make you say "wow" and they'll make you think fondly of this varied and picturesque nation.
Most of all though, they'll get you excited to win some money with Fair Go and book a holiday to see them in person.
1. The Great Barrier Reef, Queensland
The Great Barrier Reef is Australia's most famous and well-documented natural wonder. Stretching for 2,300 kilometres north to south off Queensland's coastline, it is the largest coral reef structure in the world.
It includes 3,000 separate reefs and more than 900 islands and coral cays. It's also home to over 1,500 different species of fish, 200 types of birds plus roughly 600 types of hard and soft corals. These hard corals form the actual support system of the reef, providing shelter for a wide range of marine animals that include molluscs, fish, algae and plankton.
The Great Barrier Reef is breathtaking by anyone's standards and conservation organisations have gone to great lengths to protect it. It was first recognised as a World Heritage Area in 1981 by UNESCO, becoming the first reef ecosystem to hold this title, and is considered one of the most well-managed marine ecosystems on earth. A true-blue Australian wonder of the world if there ever was one.
2. Uluru, Northern Territory
More than just another stunning Australian wonder of the world, Uluru is a place of profound spiritual significance for the Anangu, who are the local indigenous people of the area. To witness it for yourself is to not only behold the fact that it is an oddity in terms of its formation and setting, but also feel its mighty presence.
Situated in the World Heritage listed Uluru-Kata Tjuta National Park, it stands at 348 metres high and is one of the world's largest monoliths. It's age only adds to its reputation as a place of deep reverence, with many putting it at some 550 million years old.
Often referred to as the heart of the 'Red Centre' of the Northern Territory, Uluru is an instantly recognisable landmark that will capture your imagination and leave you feeling as if you've glimpsed something truly special.
Watch the rock change colours with the movement of the sun, marvel at the shadows as they highlight its scarps and listen to the many dreamtime stories that demonstrate its importance to the Anangu people.
3. Cradle Mountain, Tasmania
As far as popular tourist destinations go, Cradle Mountain in Tasmania is up there with the best of them. Located inside the Tasmanian World Heritage Wilderness Area, it is a site of great natural beauty that has become the posterchild for outdoor activities on the island.
Visitors will find ample accommodation options within the park, including cabins and campgrounds, plus a fantastic array of walks that range from 'a piece of cake' to 'you better pack your survival kit'.
These walks dip, weave and scale Cradle Mountain and give tourist plenty of opportunity to drink in the distinct landscape and wildlife, from grasslands and ancient forests to rock shelves and endemic plants, plus a whole host of animals that includes platypus, echidnas, quolls and of course Tasmanian devils.
Cradle Mountain is the place to visit if you seek an adventure that also provides a telling cross section of Tasmania's rich variety of flora and fauna. As such, it is an Australian wonder of the world that's suited to wildlife lovers and outdoor enthusiasts alike.
4. Kakadu National Park, Northern Territory
Australia's biggest national park is a place of great beauty, replete with jaw-dropping landscapes, spectacular native fauna and the oldest living culture on in the world.
Encompassing an area of approximately 20,000 square kilometres, this World Heritage listing has no equal in terms of its ability to leave an impression on one's soul.
There are gushing waterfalls, verdant forests, exotic wildlife and rock art that dates back tens of thousands of years. To say that Kakadu National Park encapsulates all that we find appealing about outback Australia is no understatement.
Visit any one of the 5,000 aboriginal rock art sites, observe the emphatic sunsets from the Kakadu escarpment or try to spot crocodiles and migratory birds in their native habitat from the famous Yellow Water Billabong.
5. Horizontal Falls, Western Australia
Described as "Australia's most unusual natural wonder" by Sir David Attenborough, Horizontal Falls is a fascinating natural phenomenon that has no equal either within the country or anywhere else in the world.
Located in the Buccaneer Archipelago, the appeal of the Horizontal Falls or "Horrie" as it's known locally is that fact that the waterfall flows horizontally rather than cascading over a precipice like a traditional waterfall.
This peculiar effect is a result of a fast-moving tidal current that propels an almost incomprehensive amount of water through two narrow gorges in the McLarty Range, creating rapid-like formations that squeeze through these gaps and produce a waterfall that's essentially turned on its side.
The tides that cause this strange miracle of nature can reach more than 10 metres, and with both an incoming and outgoing tide, the water of the Horrie flows in two different directions each day.
Since the waterfall isn't accessible by vehicle, your only hope of seeing it by booking a scenic flight or a boat, which has been somewhat humorously named "Split Second".
6. Shark Bay, Western Australia
Shark Bay is actually made up of two unique bays that are shielded from the open ocean by a long island and multiple peninsulas.
Known for boasting an irreplaceable combination of flora and fauna plus scenery that attracts tourists from all over the world, it is where the west coast falls away and the Indian Ocean begins to reveal its true beauty.
Covering an area of over 2.2 million hectares and with a coastline that runs for approximately 1,500 kilometres, Shark Bay only has a maximum depth of 9 metres which makes it perfect for scuba diving and snorkelling. 
Those who wade into its warm waters can expect to come across meadows of flowing seagrass, whale sharks and marine stromatolites, which are essentially living fossils representing the oldest forms of life on Earth.
7. Twelve Apostles, South Australia
It's off the coast of Australia's Great Ocean Road that you will the 12 Apostles – a dozen limestone sea stacks that were once attached to the cliffs that have been sculpted by the powerful Southern Ocean.
Rising up over roughly 45 metres in height, these rocky columns are under constant attack from the elements, with both waves and wind eating away at them via sheer force. Of course, there was always going to be a breaking point during this relentless assault, and now there are actually only eight Apostles left standing.
Despite this, the remaining sea stacks are still an Australian wonder of the world that is worth your attention. With majestic archways that give way to sea caves and rugged tufts of vegetation on top that are home to numerous sea birds, there is still plenty to see from the various coastal viewing platforms surrounding them.
Nobody knowns when the final Apostles will fall, but there is some hope. Experts say there is evidence that new Apostles will be carved out of the mainland cliffs at some point in the near future. Perhaps, with any luck, the 12 Apostles will return to their former glory sooner rather than later.
8. Blue Mountains, New South Wales
Hills dotted with a bluish hue and covered in eucalyptus trees roll on as far as the eye can see, while hulking limestone plateaus break up the monotoned yet impressive landscape and provide another point of interest.
This is the Blue Mountains World Heritage Area, a place of abundant natural beauty that has 140 kilometres of walking tracks, native bush and monolithic rock formations that are dotted with caves.
These mountains get their name from the tiny droplets of oil that are released from the eucalyptus trees, which then mixes with water vapor and sunlight to create a distinctive azure haze.
A day in the Blue Mountains World Heritage Area can include a tour with local aboriginal guides, the exploration of sparsely visited valleys, a trip to the Jenolan Caves or even a rock-climbing expedition for the more adventurous Fair Go members.
At just two hours by train from the centre of Sydney, you really don't have any excuse not to visit this marvellous destination.
9. Daintree Rainforest, Queensland
The World Heritage listed Daintree Rainforest is the oldest rainforest in the world. So old, mystical and entrancing are its ferns, vines and canopy, that it was cited as inspiration for the movie Avatar and called "the most extraordinary place on Earth" by Sir David Attenborough.
Beyond just being home to a spectacular mosaic of odd and wonderful plants, it's also possible to zipline, undertake hiking tours and cruise along the canals of the Daintree River till you reach Cape Tribulation, where the forest meets the Great Barrier Reef.
If you would like to see an area of outstanding natural beauty and lay eyes on rainforest fauna and flora of all types and rarities, a trip to the Daintree is a must. Just don't forget to bring your mosquito repellent.
10. Fraser Island, Queensland
Fraser Island is the largest sand island in the world and the only place on earth where you can stumble upon rainforests in sand dunes. It also contains half of the world's perched lakes, which are essentially depressions in dunes that are filled with rainwater year-round.
These facts alone make Fraser Island an incredible place to visit, but throw in the fact that it is home to the purest dingoes in eastern Australia and one of the best places to see humpback whales and it's enough to make any bucket lister go week at the knees.
A World Heritage listed destination, there are also shifting sand dunes, secluded swimming spots and more 4WD tracks than you can hope to traverse in one visit.
Fraser Island, it seems, is one of the best places on planet earth to get lost and go wild with only your closest friends or family in tow.
Did we mention it's got some of the best fishing in Australia, too?
Explore our roster of exotic pokies today – visit Fair Go for fair dinkum online casino fun .