The top 10 richest gamblers in the world
Expired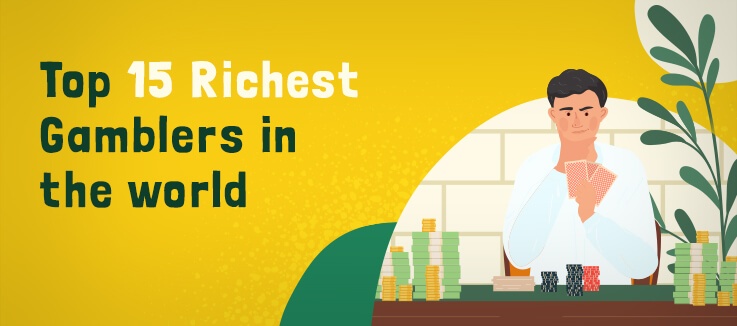 Do you want to know how the richest gamblers in the world came to be so rich?
It's all here in our latest article about the top 10 most wealthy punters. Of course you won't find Kev the Koala's name on this list. He's too busy surfing and chasing female koalas. What you will find is an exhaustive breakdown on the who, how and why of these magnificent wagering wizards.
So read on if you need some inspiration or you're just curious. And don't forget that while some of these fortunes took a lifetime to accumulate, a life-changing win is only ever one spin away at Fair Go online casino.
1. Bill Benter - $100 million annually
Bill Benter is the first cab off the rank. A blackjack hall of famer and one-time professor of maths, Benter made his money counting cards in Vegas casinos.
After years of counting cards, he became so good that casinos began to ban him from their tables. They just couldn't afford to lose any more money to this card shark. Despite this, Benter still figured out a way to win more money – switching from blackjack to horse racing.
It was here that Benter made a name for himself. After developing a model that helped him better predict the outcomes of races, he then proceeded to share this model with other bettors. Due to his successes in the horse racing world, it's said that Benter rakes in a tidy $100 million every year. Not bad for a glorified school teach. Now he's the richest gambler in the world.
2. Anthony (Tony) Bloom - up to $1.7 billion
Owner of the UK's biggest gambling consultancy firm and chairman of the Brighton & Hove Albion football club, Tony Bloom needs no introduction in the Mother Country.
He is believed to make hundreds of millions of pounds every year through his gambling consultancy firm, which uses complex algorithms in order to offer incredibly precise football odds. These odds, which are often better than the odds that bookmakers offer, are then sold to select punters for a premium price.
One of the reasons for Bloom's success is the fact that he began gambling as a wee boy. He would use his pocket money to play fruit machines and create fake IDs that would enable him to place wagers in betting pubs. He then became an accountant before taking up a career as a trader – two professions that would serve him well in his climb to the top of our richest gamblers in the world list.
3. Edward Thorp - $800 million
While our number one slot was filled by an ex-professor, our number three spot is filled by a man with a Ph.D. in mathematics. Called Edward Thorp, this number cruncher was able to accumulate vast amount of money by combining his love for gambling with his love for maths.
One interesting fact about Thorp is that he actually invented the strategy of card counting. By doing so he was able to tip the odds in his favour and sweep casinos throughout the United States. After raking in some serious dough using card counting strategies, Thorp did what every other successful punter does – write a book.
This book was the first book ever published on the subject of card counting. To this day it's still considered to be the definitive guide to playing blackjack like a pro. Still not content with being a writer and an effective gambler though, Thorp went on to play the financial markets. All in all, it's said that when combining his book sales, gambling winnings and stocks, Thorp is worth roughly $800 million.
4. Andrew Black – $670 million
Andrew Black is the only punter in our top 5 richest gamblers in the world list who made his fortune on the races. However, that's not his only talent when it comes to winning ludicrous amounts of cash.
Black is also a pro bridge player and the co-founder of Betfair. Before becoming famous for these two things though, he worked in a derivatives business whilst gambling on the side. It wasn't long before Black began making more money gambling than he did at his business. This led him to quit his job and use his winnings to establish a software firm.
Black then proceeded to team up with Edward Wray. The two went on to launch Betfair in 2000. 10 years later, Betfair was listed on the London Stock Exchange at £13 per share. This made Betfair worth £1.4 billion and Black worth about £200m.
5. Zeljko Ranogajec - $600 million
As the only Australian on this list, Zeljko Ranogajec deserves a special mention. Born with a photographic memory and an intuitive understanding of mathematics, one might say he was destined for a life in gambling.
The fact that he dropped out of university though may have made his Croatian parents think otherwise. Fortunately for Ranogajec, he was quickly earning outrageous amounts of money in casinos and private games. This led him to gain a certain level of notoriety throughout online casinos in Australia. Eventually, he was banned from entering some of the more prominent gambling institutions in our great country.
Never one to let a setback knock him down, Ranogajec turned to other types of betting. Keno and the trots were his two favourite sources of revenue, and to this day, Ranogajec is a world record holder for keno winnings ($7.5 million).
6. Billy Walters - $200 million
Billy Walters is a high roller gambler that is estimated to make about $15 million a year at the tables. This isn't an especially significant amount, however, Walters is known to make massive bets. As an example, he once made $2 million in a single day. Not bad, Walters.
Now you might think that someone who bets this much has had some massive losses. The crazy thing is though that in his almost 40-year gambling career, he's only had one year with noteworthy losses. This has made him one of the most celebrated bettors in the world, with many sport superstars and famous individuals coming to him for advice.
Unfortunately, Walters is probably just as well known for his gambling proficiencies as he is with his run in the law. The story goes that in 2017 Walters was found guilty of insider trading. For most people this would mean immediate jailtime. Thanks to Walter's crafty nature and almost unlimited resources though, he's been able to appeal the verdict and stay out of the clink.
7. Terry Ramsden - $200 million
Another pom that's carved out some cash for himself his Terry Ramsden. An English investor with an almost uncanny knack for horse betting and the Japanese stock market, Ramsden is one of the most successful gamblers in all of the Isles.
He started out as the owner of a Scottish business with a mediocre annual turnover of just less than £20,000. Within a few years he had grown the business into a fully-fledged company earning in excess of £3 billion annually. This propelled Ramsden to the top of England's rich list.
Perhaps more importantly to Ramsden though, this vast increase in personal wealth allowed him to create an empire filled with luxury vehicles, prestige properties and high-performance racehorses. He even owned a stake in the Chelsea football club at one point in time.
Like our mate Billy Walters though, Ramsden also had some rather unfortunate experiences with Johnny Law. This includes being arrested in the USA back in 1991 and doing 6 months in jail while waiting to be deported. He also tried to hide about £300,000 worth of assets in 1997, which saw him do another stretch in jail… albeit for 10 months.
8. Phil Ivey - $100 million
We've covered Phil Ivey in another article about the top poker players in the world, but here we'll take a deep dive into the man known as the 'Tiger Woods' of poker.
As a decorated poker hall of famer, Ivey really needs no introduction when it comes to the world of casino games. He has 10 World Series of Poker bracelets (the youngest ever to win) plus an insane amount of wealth as a direct result of his prize money winnings. What's more, Ivey also holds a championship title from the World Poker Tour.
His current net worth is estimated to be about $100 million but keeping track of his winnings is a job unto itself. Most of this wealth has come from the poker table, but he also has a number of other ventures that keep his bank balance in the green.
The only blotch on his otherwise flawless record is that his wife, Luciaetta, divorced him in 2009 and claimed literally millions of dollars in the settlement. This included a collection of purses valued at $1.2 million, 40% of all their business interests and $180,000 in monthly alimony payments. Oh well… you can't win them all.
9. Chris Ferguson - $80 million
Another man who made his money on poker is Chris Ferguson. Ferguson, who began playing poker online when he was only 10 years old, has since gone on to win six World Series of Poker events and the 2008 NBC National Heads-Up Poker Championship.
But besides being a master at the poker table, Ferguson also holds a Ph.D. in computer science and is the founder of Full Tilt Poker. The later accomplishments saw his wealth soar to ridiculous heights, but (and we're sensing a theme here) all was not above board behind the scenes.
At the apex of his success, Ferguson's Full Tilt Poker license was suspended. It was later revealed that the reason for this suspension was that Ferguson, along with two other owners, we're siphoning money out of their clients' accounts and using the money for their own motives.
10. Doyle Brunson - $75 million
Like Phil Ivey, Doyle Brunson is another poker pro that we discussed at length in another article about the top earning poker players in the world. If you haven't read that article but you're still familiar with the world of poker though, you've probably already heard about this prolific punter.
With a career spanning 50 plus years, two World Series of Poker main event championships (including 10 World Series of Poker bracelets) and a name that's in the hall of fame, Brunson has seen it all, done it all and won it all. In fact, it's estimated that he's won in excess of $40 million at high roller poker games. If that's not impressive enough though, he was also the first person to ever win $1 million in poker tournaments.
Since retiring in 2008, Brunson has still managed to stay in the spotlight. He came in 6th place at a World Series of Poker match in 2018, authored a book and otherwise made his presence felt at tables around the world. What's the secret to his longevity and success you ask? We're not sure, but if you figure it out… make sure to let us know!
Redeem code "HIGHROLLERS" to enjoy a 20 free spins on Asgard.
This bonus expires on the 31st of March. This bonus is redeemable once. Max cashout is $180. T&C's apply.
Become one of

Fair Go's

favourite online pokie players today.