What does your choice of online pokie say about you?
Expired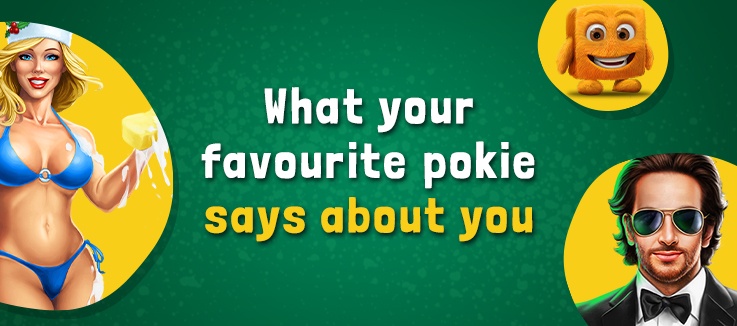 With over 250 different online pokies on our roster, it's no stretch of the imagination to say we've got games for every preference. When it comes down to it though, there's really only ever one pokie that you love to play. The reason for this could be that you previously won an absolute motser or perhaps you just like the style of gameplay. One thing that we've found though is that certain types of people are drawn to certain online pokie games. So if you'd like to find out what your favourite recently released online pokie say about you, check out the following article today. In it we quickly glance over a few basics about online pokies before launching into a detailed breakdown of the different titles and the prevalent traits of those who play them.
Online pokies: what you need to know
Online pokies are essentially the virtual version of a pokie machine. They are similar in many ways (such as their basic layout and game mechanics), but the truth is that online pokies are way more popular than their land-based counterparts.
There are a few reasons for this. The fact that online pokie machines cannot be tampered with by another punter is one.
Some more reasons include that you can play online pokies as long as you have access to your phone, a network signal and Fair Go casino plus the fact that progressive machines can award astronomical payouts.
One thing worth pointing out is that pokie machines are more or less the same as slots, which is the term used for a pokie machine in every country around the world besides Australia and New Zealand.
Like koalas, online pokies also come in all different shapes, sizes and types.
Most offer your standard 5x3 grid layout with either one or multiple bonus rounds, jackpots and game themes. However, there are some speciality titles that are heavily influenced by video or arcade games.
No matter what type of online pokie you choose to play though, you can bet your last dollar that it'll feature any number of the following elements:
Volatility:

Refers to the amount of risk inherent to a specific online pokie. High volatility pokies offer larger payouts, but these payouts are few and far between. Low volatility pokies, on the other hand, dish up regular payouts. However, they'll rarely allow you to quit your job and live off the winnings.
Reels: The columns of symbols on a grid that spin or rotate to reveal different types of base game of bonus game symbols. The most common number of reels for a game to have is 5, however, there can be 6, 7 or no reels at all depending on the game.
Paylines: The winning lines that are programmed into the reels. These lines can be straight or they can criss-cross the reels. When symbols line up with these winning lines a win is rewarded. Pokies can have a single payline or as many as 1,024 or more.
Jackpots: These are winnable prize pools that are attached to a pokie. Jackpots can be either fixed or progressive. The latter of which refers to jackpots that offer a prize pool connected to a number of other machines or systems that can award accumulative payout amounts. Some games might have 1 jackpot while others will have up to 4.
Theme: Every online pokie has a theme that's designed to make the game more interesting or appeal to a certain player type. This means that a pokie could have a wild west theme, an adventure theme or even an Aussie theme. Other pokies may be branded pokies, which means they borrow their theme from a popular brand, TV show, pop culture icon or movie.
Substitute symbol: The substitute symbol (a.k.a. wild symbol) will substitute for all other symbols on the reels and link winning combinations that would otherwise not have resulted in a win
Scatter symbol: Scatters are symbols that activate a special function of the game when they land on the reels. This function could be an instant payout, free spins or a jackpot. Most of the time though, scatter symbols trigger the bonus round or rounds.
Bonus round: A round within the pokie that increases your chances of winning by awarding free spins or multiplying your prizes. They may also offer stacked wilds or a number of other additional features. Generally, bonus rounds offer the most lucrative payouts.
What your pokie choice says about your personality
Now that we know exactly what an online pokie is and how they function, here's some interesting information as to what your pokie choice says about your personality.
Please note that this research was conducted by Kev the Koala and his fuzzy mates after a few eucalyptus cocktails, so the results may not be entirely accurate. Nevertheless, we thought it would be fun to list what traits you're most likely to possess based on your choice of pokie.
Achilles Deluxe

– adventurous, heroic, history buff
The 20-payline pokie Achilles Deluxe is the epic follow up title to the hit online pokie Achilles.
It features the same classic Troy versus Greek theme that made its predecessor so popular. This time though… everyone's favourite hero from antiquity is back with bigger, bolder and better rewards.
What this means is that all those who play Achilles Deluxe will need to be adventurous and brave. What's more, they'll need to enjoy ancient history since this all takes place over a thousand years ago. For those with these qualities though, you're in for a treat.
The Wild Free Games bonus round can reveal 15, 20 or 25 free games with all additional scatter symbols substituting for wilds and the highest paying base game symbols. Did we mention that all wins during this round are also tripled?
After that there's the Free Games bonus, which is triggered when 3 or more scatters land on the reels. You then get 10 free games instantly plus all wins doubled. There's even a progressive jackpot that's bigger than the Trojan Horse. Don't just take our word for it though. If you love to play Achilles deluxe then chances are that you're already a hero.
Mardi Gras Magic

– happy, outgoing, loves to dance
If Mardi Gras Magic is your pokie of choice, well, we know exactly what type of person you are.
Given the jubilant theme of this 25-payline title, you probably love a good night out with your closest mates. We also think the 20,000-coin marks you as someone who likes to dance up big payouts.
Then there's the Random Wilds and Bursting Wilds bonus rounds, which can award instant prizes and turn symbols into wilds for additional payouts, plus the Free Games with Bursting Wilds round that delivers 10, 15 or 20 free games with Bursting Wilds.
But you don't need to hire your own float to play Mardi Gras Magic. Instead, all you've got to be is a little bit outgoing. The festive real cash title is a bundle of fun… just like the people who choose to play it.
Football Fortunes

– sporty, athletic, adrenaline junky
Soccer may not be the most popular sport in Oz… but let's face it. You probably love sports so much that you'll watch it, play it or wager on it no matter what shape or size the ball is. This makes the 50-payline title Football Fortunes your favourite pokie.
In addition to being a sport fanatic though, you probably love the fact that Football Fortunes comes with two fantastic jackpots plus two different game modes - one that can award 100 free games with triple wins and one that can award 8 free games.
Of course, since you're an adrenaline junky you most likely prefer those 100 free games and triple wins. But you also most likely love the 50,000-coin top award and the Penalty Kick Bonus round, which can triple your prizes not once but twice.
Yep, our Football Fortunes fans are generally active, energetic and keen for a thrill. This makes you the ideal punter to enjoy all sports-themed pokies at Fair Go casino.
Epic Holiday Party

– party animal, loves Christmas, stylish
Hey, party animal. We know you're an absolute hound for a good time. And there's no better good time than the 243-all ways pays online pokie Epic Holiday Party.
With its jolly theme and stylish characters, Epic Holiday Party makes every day feel like Christmas. As such, we reckon the punters who enjoy this real cash title never say no to a few drinks and some serious seasonal socialising.
Speaking of, there's nothing more entertaining than socialising with the 4 jackpots, 2 feature rounds and the very merry top award in Epic Holiday Party.
The most amazing aspect of this pokie though is that you can progress through different levels to pick up larger multipliers and prizes as you go, such as x5 prize multipliers with 12 free games
Let's not forget that Mr Claus is looking as dashing as ever. With a sharp suit and a tidy hairstyle, he rocks nearly as much as that 50,000-coin top award…
Cash Bandits 3

– rebellious, crafty, ambitious
Don't get us wrong… we don't think that people who prefer the 25-variable payline pokie Cash Bandits 3 are crooks. But we do think that they're rebellious, crafty and a little bit ambitious…
The good news is that these three traits make you the perfect punter to play Cash Bandits 3. Why? Because in this title you're on a mission to trigger that Vault free games feature, crack the code on 6 different vaults and win up to 390 free games at x23.
Of course, you're also someone who strives to always do one better. Fortunately, Cash Bandits 3 has both a Major and Minor jackpot plus a top award worth 115,000-times the bet per line. Although in order to be successful when it comes to pulling off the perfect heist, you may just need a getaway driver.
So, do you see some of these traits in yourself? If you believe that these recent releases and your personality go together like Fair Go and meat pies, let us know. No matter who you are or which part of the Oz you come from though, we love all of our Fair Go members.
Play these exciting recent releases at Fair Go today