What slot volatility should I play?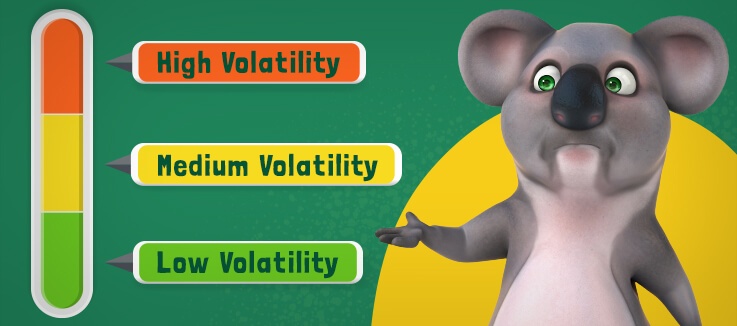 Blog Bonus:
Redeem code "16VOLATILE" for 16 free spins on 777 if you've deposited in the last week.
General T&C's apply.
We've talked about volatility at Fair Go before… but it's so bloody important that it's worth mentioning again.
Instead of harping on about the fundamentals of volatility though, we're going to help you answer the question – "what slot volatility should I play"? Because there's a chance you've asked yourself this question before. And it might be a hard one to answer if you're not 100% familiar with the many technical terms that apply to online pokies. So without further ado… let's get stuck into it.
Slot volatility: what is it?
Before we launch into our comprehensive breakdown of the different types of slot volatility, let's just have a quick little rehash. According to more intelligent blokes and sheilas than us, slot volatility is defined as being the risk factor associated with a particular pokie title.
Put simply… it's a marker that helps to indicate just how often and how much you can expect to win (or not win). So from now on when you see volatility, you can essentially substitute the word for 'risk'. This makes it an essential element when deciding what slot to punt on.
Slot volatility also gives you a pretty good idea as to your odds of triggering a jackpot win or coming away with some prize money.  
Volatility types
If you want to know what slot volatility you should play, then you need to know the different volatility types.
There are three main ones in total, plus a fourth one called 'very high volatility' that makes the odd appearance. For now though we're only going to focus on the primary volatility types. These are low, medium and high volatility.
Depending on which level of slot volatility that you're playing at, you can expect the game to behave a certain way. For example: a low volatility slow will offer up lots of small wins while a high volatility slot will pay out large amounts but only very rarely.
Of course there are a number of other factors that come into play when trying to decide what slot volatility you should play. This includes return to player (RTP) rate, your maximum bet amount and whether or not the game is 'hot' or 'cold'. 
Slot volatility isn't something that we're required by law to present at Fair Go. However, we strongly believe that in order to live up to our reputation as being a fair dinkum online casino, it's worth going into detail about.
Return to play rate (RTP)
Another thing that comes into play when trying to decide which slot volatility you should try is the return to player rate.
We'll talk more about this a bit later, but for now you should keep in mind that RTP is shown as a percentage on most online slots and pokies. And that this percentage refers to the total bets that will be paid back to a player over the lifetime of the game.
Variance versus volatility
Variance is another term that you might come across when trying to decide what slot volatility to play. Although truth be told… it's not exactly that important. The reason being that variance is practically a synonym for volatility.
More seasoned Fair Go'ers or those who've been playing online casino games might be more accustomed to seeing variance. This is because it's a pretty old school term. Both variance and volatility, however, mean exactly the same thing – they are terms that are used to describe the amount of risk inherent in an online pokie or real cash slot.
That being said, some online casinos might tell you that variance is more to do with the distribution of wins in the long term while volatility refers to the risks involved when playing over a short period of time. You can look at it this way if you want to split hairs, but for us here at Fair Go… variance and volatility are simply markers of how much you can win.
How to determine slot volatility
Some days you might be frothing for a high volatility slot, while other days might call for a volatility level that's a little bit tamer.
There's no hard and fast rule that you need to play one or the other in order to win - the choice is totally yours at the end of the day.
The problem lies in not knowing what slot volatility you should play because you cannot find where volatility is listed. If this is something that you've experienced before then fear not… you can find out what a pokie's volatility level is by checking out the following locations.
1. Read the accompanying game guide blog article
Did you know that for every new real cash pokie that we release, we also release an accompanying game guide in the form of a blog article?
It's actually super helpful if you want to maximise your betting experience on a particular game. With heaps of information, details regarding the bonus rounds and advice on how best to win money on the game in question. These game guides are your shortcut to a fruitful career as a Fair Go member.
Better yet, we display the volatility of every new release right at the top of the article. This means you don't even need to read it if you don't have time or you simply don't feel like it. However, we recommend checking out the info inside.
It may just be the X factor that sends your bank account abuzz.
2. Find the game in the Fair Go lobby
You can also find the volatility of an online slot when you click to preview it in our game lobby. This is perhaps the fastest and therefore the easiest way to find what slot volatility you can play. To do so, simply follow these steps:
Login to your Fair Go account (or create a new one)
Navigate to our game lobby
Choose an online slot category from the available options
Click on the pokie in order to bring up the preview
Volatility will be listed in the game details
The best thing about finding out a game's volatility in this way is that you can click through to then play that game for free. By doing so you can get a good feel for what slot volatility you should play. It also eliminates the risk that you'll lose cash, given that you're playing the demo version.
Check out the return to player rate (RTP)
Another good indicator of a slot's volatility is the return to player rate, otherwise known as RTP.
RTP is a very different metric to volatility, however, they both offer somewhat of a projection as to how much you can expect to win. If a slot is programmed to offer a high RTP, there's a chance that it will also be high volatility. This means that while you might not immediately come away with a lot of wins, you should collect a decent amount over a long period of time.
If you do have a chance to read a game guide or click on the game preview in our lobby though, we suggest going with those two options first. This is because RTP doesn't actually directly indicate slot volatility. As we mentioned earlier, it's more of an indicator.
When should I play…
So this is probably one of the most important aspects of this article. If you want to know what slot volatility you should play, this little section will be incredibly helpful. Just remember though that the choice is ultimately yours. The following tips are merely to give beginners and those new to the concept of volatility a bit of background. This way you can make your own informed decisions.
A high volatility slot
If you've ever dreamed of becoming a millionaire, then high volatility slots should be your bread and butter. Of course they're high risk, but if you have a betting strategy then it's only a matter of when.
Play high volatility pokies if you prefer large payouts over small prizes and you've got a decent bankroll. Oh… and you'll need a little bit of patience too given that that high volatility slots only go off every now and then.
5 tips for winning on high volatility slots
Stick to your budget: If you choose to play high volatility pokies then you better have a budget. More importantly though… you better stick to it
Remember to take breaks: High volatility slots don't pay out all that often, but when they do it's a thing of beauty. With this in mind, remember to take breaks every once and a while
Start small: Don't bet big from the get-go. Start with smaller amounts then increase your wager size gradually. You don't want to lose it all within the first few spins
When should I play…
For those looking for the perfect compromise between high and low volatility slots, you can't go past a medium volatility title.
In theory, they should offer larger wins than low volatility titles. They should also pay out more regularly than a high volatility pokie. So if you're someone who likes to balance moments of excitement with some fun then a medium volatility slot is probably for you. 
5 tips for winning on medium volatility slots
Choose titles with a high RTP: In order to maximise your payout potential on a medium volatility slot, we recommend only playing titles with an RTP that's 90% and above (Achilles Deluxe, Bubble Bubble 2)
Manage your expectations: To avoid disappointment, always approach each game with a fresh mind. This way you'll be prepared in the event you get a lot of smaller wins and don't manage to snag a biggie
Look for medium volatility progressives: Supplement your medium volatility wins with a title that also boasts a progressive jackpot. For bigger, better and more exciting payouts
A low volatility slot
Finally, we come to low volatility slots. These types of pokies give you a greater chance of winning but the payouts are pretty modest. This makes them less exciting than their high or even medium volatility counterparts. That being said, they'll still appeal to people who love the thrill of a win no matter how big it is.  
5 tips for winning on low volatility slots
Don't neglect your bankroll: Just because you're not betting a lot of money doesn't mean that you don't need a bankroll. After all… the biggest earning games in a casino are always the 1c slots
Look at the bonus rounds: A low volatility slot can still have some pretty lucrative bonus rounds. Feel free to check out the accompanying game guide in order to discover if a low volatility title has some potential for payouts
Celebrate your wins: A win is a win… no matter how small it may be. So don't forget to celebrate each one. After all, playing at Fair Go is no fun if you don't appreciate every victory
Discover the best low, medium and high volatility slots at Fair Go today